Who should star in a movie about your life? Inspirational writer Elizabeth Gilbert now joins Erin Brockovich in getting to say Julia Roberts.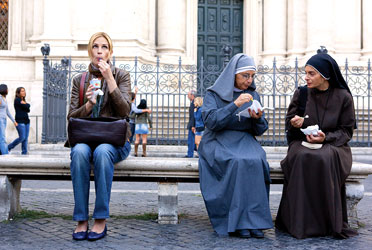 Eat Pray Love
(Photo by F. Duhamel)
Often found in the Religion & Spirituality section of the bookstore, Gilbert's 2006 memoir, Eat Pray Love, has urged millions, mostly women, to dream of changing their lives in profound ways. Those who have imagined following her lead but who haven't booked that trip yet can now get one step closer to recreating her life-changing experience by seeing the film, which promises to transport you if not transform you.
Recently divorced and desperate to break her pattern of serial relationships, Gilbert packs her belongings into storage and begins a year-long, three-country quest to learn about herself through different cultures. Director Ryan Murphy, creator of Glee and Nip/Tuck, leaves behind all the sarcasm and angst that these shows are renowned for to create a movie that's simply told and completely earnest.
Gilbert's first stop is Italy, where pasta is a girl's best friend. In between decadent meals and bottles of wine, Gilbert learns to embrace the simple pleasures in life and builds a new community of friends. Once she's sated, it's off to India for some meditation and prayer, trying to feed her soul in the same manner. After four months there, her final destination is Bali, where an old medicine man (Hadi Subiyanto) once predicted that she would return.
Murphy incorporates the location and theme into every aspect of that section of the film. The gorgeous plates of pasta are accompanied by stirring operatic arias, while scenes of India are more jarring with a kinetic and pulsing soundtrack. Most importantly, in every country, the scenery is absolutely idyllic. Lingering shots of Italian countryside, Indian gardens, and the coast of Bali make the film a travelogue of beautiful places filled with impossibly beautiful people.
At the end of the day, or rather the year, it's abundantly clear that the film version of Eat Pray Love belongs to its star, Ms. Roberts. The question is, will she eclipse even the book's author in terms of importance to the project? In the opening scenes, it appears that Roberts will be required to do little more than smile and look sweet. Fortunately, she manages to get out of her own way and while she never fully transforms into someone else, she does become more than just Julia Roberts. For example, her familiar laugh bursts out a couple times, but she manages to keep it in check for most of the film.
Roberts is strongest when playing off the rest of the cast, ranging from the wonderful Viola Davis as her best friend to the talented Richard Jenkins as her biggest challenger. However, while Gilbert meets a range of friends along her path, it's not until she meets Felipe (Javier Bardem) that there's real chemistry. It's tough to know if Bardem is melting hearts with his sexy charm or his tenderness and vulnerability, but he's clearly the champion of the film.
While each section is important to Gilbert's story, some translate to the screen better than others. The Italy portion is little more than food porn, and that's a wonderful thing. It's the perfect submersion into the story and a needed break from the angst that drove Gilbert to pack her bags in the first place. Capturing the comforting nature of meditation is naturally tougher than displaying a culinary feast, and the end of the pray section becomes too, well, preachy. Additionally, by this point, patterns in Murphy's script, which he co-wrote with Jennifer Salt, have become apparent: Gilbert struggles with a challenge, others provide her with lessons that she repeats in voice-over narration, she moves on to the next stage. It's enjoyable to watch, but it's still predictable. By the time Gilbert meets Felipe, it's clear what path the two will take.
EAT PRAY LOVE




Starring
Julia Roberts,
Javier Bardem
Rated PG-13
133 Minutes
Opens Aug. 13
Area Theaters
While Murphy masters the scenery, soundtrack, and feel for each section's theme, balancing the critical events is a nagging problem for the film. Moments that are clearly turning points for Gilbert lack a sense of catharsis on screen. On the other side of the spectrum, several scenes are blatant manipulations of emotions. The story has enough beautifully handled touching scenes that Murphy could have avoided the cheap shot to the heart.
In addition to always wanting an attractive actor to play you in the movie version of your life, you also want to ensure it's a happy ending. And that's the beauty of Eat Pray Love. Gilbert risked it all and she was rewarded. While the film is undoubtedly geared towards an audience wanting to embrace her journey, it's a pleasure that doesn't feel too guilty in allowing you to eat, pray, love, and sigh.