With the recent economic anxiety, finding a new job can seem an impossible task, especially for those who are unemployed. But whether you're looking for a new job or a better one, the area's LGBT community offers a wealth of resources.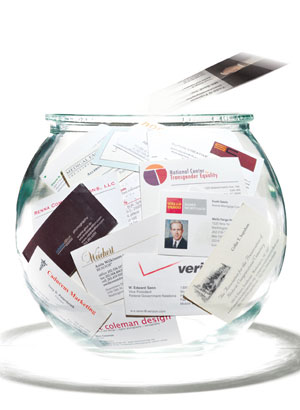 The Center, the Washington area's LGBT community center, recently resumed its career-development program in The Center's new home on U Street. Career coaches around the region can help job seekers plan where to go next. The Capital Area Gay and Lesbian Chamber of Commerce (CAGLCC, aka The Chamber) offers regular networking events, as do numerous other social and professional groups. And job boards targeted to the LGBT community list plenty of opportunities in the Washington region and around the country.
And there's more good news for locals: If you're looking for a job in the D.C. area, you're looking in one of the best local job markets in the country. The Washington region's unemployment rate in May 2010 was lower than that of any other large U.S. metropolitan area, and lower than the national unemployment rate, according to the Bureau of Labor Statistics.
However, while the District, Maryland and Virginia all saw lower unemployment rates in June than in April, the size of the labor force has dropped in all three places. That could mean increasing numbers of people have given up trying to find work.
However one interprets the data, CAGLCC members are optimistic about local economic conditions, says Mark Guenther, the organization's executive director. The Chamber's membership includes business owners and working professionals from private, nonprofit and government sectors.
"The doom and gloom feels like it's behind us," he says. "We're all hoping that our businesses are going to continue to grow."
When it comes to trying to be part of that growth, one bit of advice is not to bury the market in copies of your résumé. That tip comes from Ron Clayton, who runs the career-development program at The Center. Clayton favors quality over quantity.
"If every HR person has that résumé, nobody's going to bring you in for an interview," Clayton says, describing what can happen to someone with a poorly designed résumé. About half of the people accessing The Center's career-development program are unemployed, and Clayton says he spends most of his time with them working on résumés.
Ten years ago, many résumés were chronological. But those résumés don't work best for most people he sees. Rather, he encourages candidates submit a résumé that is a hybrid of the chronological and functional forms, one that emphasizes skills rather than where or when they were acquired.
Thanks to a $7,500 grant The Center received in July, Clayton will have more software at his disposal to help job seekers craft their résumés. The grant, provided by The Wachovia Wells Fargo Foundation, should also provide more printed materials for the program. And Clayton says he plans to recruit more counselors to work with him.
But résumés are just one way job seekers can get noticed. Numerous networking events happen all over the metro area. The Chamber offers monthly networking events on Thursdays; regular "speed networking" events where attendees spend a few minutes chatting with a set number of people; and plans to launch a women's networking event on Wednesdays in September that will be held every other month. Other networking events targeted to the LGBT community include those available for lawyers and journalists, and chances to network with organizations that welcome everyone, gay and straight.
When it comes to networking, advises Joe Rosenlicht, a career coach and founder of InMotion Coaching, what really counts is consistency. Whatever your situation, a true professional will always be plugged in.
"Even if you're happy in your job," he says, "it's always smart to know what's going on and network."
Here are some networking groups and professional organizations geared to the LGBT community. For additional resources, visit MetroWeekly.com
Capital Area Gay and Lesbian Chamber of Commerce
The Washington D.C. Gay Professionals Group
meetup.com/dcgayprofessionals/
The NOVA Gay & Lesbian Professionals
Gay, Lesbian, Bisexual and Transgender Attorneys of Washington
Federal GLOBE (Gay, Lesbian, Bisexual, Transgender Federal Government Workers)
Gay Digerati – Metro D.C.'s LGBT New Media Professionals
National Lesbian and Gay Journalists Association, D.C. Chapter