Members of the Pentagon working group reviewing "Don't Ask, Don't Tell" repeal implementation are looking for opportunities to meet with the same-sex partners of current servicemembers, a Pentagon spokeswoman told Metro Weekly on Aug. 18.
The news came as word spread that the Pentagon would be mailing 150,000 surveys – since mailed on Aug. 20 – to opposite-sex spouses of current servicemembers. The spouses' surveys will be due back to the working group by Sept. 27.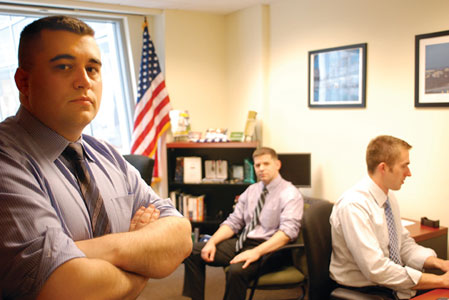 Alex Nicholson
(Photo by Todd Franson)
Among the questions asked in the survey, a copy of which was obtained by Politico on the evening of Aug. 20, was, "Has your spouse ever worked on a daily basis with an individual he or she believed to be a homosexual Service member?"
Alex Nicholson, the head of Servicemembers United, criticized the survey in statement released Aug. 23: "While it is wise to solicit and consider military spouse input on policy changes that will have a major impact on military families, it is extremely unwise to do so for issues that have minimal impact on spouses while also using poorly designed, biased and derogatory survey instruments."
Another survey question – similar to one asked of servicemembers themselves in an earlier survey – asked, "Would the attendance of a gay or lesbian Service member with his or her partner affect how often you attend these types of military social events." The choices included attending "more often" or "less often," saying that it "would not affect" attendance or not knowing.
In response to an inquiry from Metro Weekly about the working group's efforts to reach out to spouses or partners of gay, lesbian and bisexual servicemembers, Pentagon spokeswoman Cynthia Smith said that it is a "high priority" of the working group to meet with same-sex partners.
"We have reached out to groups – OutServe, Servicemembers United, [Servicemembers Legal Defense Network] and other organizations – to determine how we can meet with partners of servicemembers who are gay and lesbian and serving currently," Smith said, "in order to identify unique issues of those partners."
J.D. Smith, the co-director of OutServe and an officer currently serving in the U.S. Armed Forces, confirmed to Metro Weekly that the Pentagon working group had been in touch with his group about the issue.
"I believe that the efforts of the Pentagon working group to reach out are sincere," he said, adding that "they were just initiated with us this week."
While noting that the no formal plan for involving partners or spouses of gay or lesbian servicememebers in the repeal-implementation review yet exists, the Pentagon's Smith pointed out the difficulties that DADT places on organizing such outreach.
"We want to make sure that it's a confidential dialogue and make sure that if they disclose any personal information that it won't be used against them or their partner," she said.
One day after Cynthia Smith's comments, Aug. 19, Servicemembers United announced that it "will also host a first-ever meeting in Washington for military partners from around the country" on Sept. 16. The meeting is being held in conjunction with the group's fall lobby day for DADT repeal supporters.
While dismissing the importance or need to survey opposite-sex spouses regarding DADT repeal, J.D. Smith said, "LGBT military couples do need to be brought into the discussion." Pointing to issues about the lives of same-sex military couples and military benefits, among other issues, he said, "I think that those discussions need to take place."
When discussing efforts to engage same-sex couples in the working group's process, Cynthia Smith noted that "there are ways already that a partner could provide us with a comment. They could use their partner's 'common access' card" to log in to the DADT comment "inbox" and leave a comment for the working group about the policy's repeal.
The deadline for responses to the working group's survey of servicemembers themselves was Aug. 15. According to CNN, the Pentagon reported that 104,000 of the 400,000 surveys had been returned as of Aug. 13.