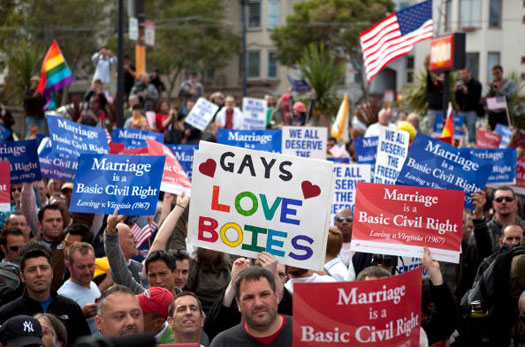 (Photo by Justin Sullivan)
Rush Limbaugh today launched into what has become a customary attack for him following any court decision that favors LGBT equality, saying the Aug. 4 court decision striking down Proposition 8 "has just put people over the edge."
Referencing U.S. District Judge Vaughn Walker's ruling, Limbaugh said, "It's as if we have absolutely no say in what is going on around us. … We have these institutions, the federal judiciary now, run by leftist nutjobs picking us apart."
"We have been predicting this is exactly what would become of the judiciary," he lectured his radio audience. "Pollute the judiciary, put a bunch of liberal activists – not judges – on the court and impose your will by fiat, by way of law. This is tyranny."
The "tyranny," however, lacked a certain push when the man leading the charge to overturn Proposition 8 is a darling of the conservative legal movement, Ted Olson.
Olson, who argued Bush v. Gore before the U.S. Supreme Court to secure President George W. Bush's election, is a prominent member of the Federalist Society, the conservative legal group that has had great success in getting its members appointed to judicial positions under Republican presidents since its founding in the mid-1980s. As recently as June 2007, Olson introduced Robert Bork – Reagan's failed Supreme Court nominee who was kept from appointment by Democratic and liberal opposition – by saying that Bork "personifies, for me, what a judge should be."
Olson, according to Limbaugh, made the case for "tyranny" from "leftist nutjobs."
Having Olson litigate the Proposition 8 challenge for the American Foundation for Equal Rights along with David Boies, however, personified the legal duo's stated intent, as Boies said simply when announcing the lawsuit, "[T]his is not something that is a partisan issue. This is something that is a civil rights issue."
Other LGBT legal organizations, in describing the decision, further made the argument that there was nothing tyrannical – or even all that unusual – about Wednesday's ruling.
Jennifer Pizer, the national marriage project director at Lambda Legal, said in a statement, "In holding that Prop 8 cannot stand because it violates the equal protection and due process rights of California's lesbian and gay couples, this decision adds to the growing consensus in courts and legislatures across the country that there are no good reasons for excluding same-sex couples from marriage."
Nonetheless, the head of the Family Research Council, Tony Perkins, blasted the decision, saying in a statement, "[S]hould it be upheld on appeal and in the Supreme Court, [Perry] would become the 'Roe v. Wade' of same-sex 'marriage,' overturning the marriage laws of 45 states."
"As with abortion, the Supreme Court's involvement would only make the issue more volatile," Perkins said. "It's time for the far [l]eft to stop insisting that judges redefine our most fundamental social institution and using liberal courts to obtain a political goal they cannot obtain at the ballot box."
Freedom to Marry's Evan Wolfson, who has been engaged in marriage litigation and advocacy for more than 15 years, saw Wednesday's decision differently, writing to his organization's supporters, "Judge Walker's decision will be appealed and litigation will continue, but what we witnessed in the clear light of his courtroom cannot be erased."
More than all of that, Limbaugh's reliance on a word like "tyranny" is interesting for its inevitable conjuring up of concerns about the tyranny of the majority, a misstep of democracy that judges – in their independence from the political process – are able to correct.
As Alexander Hamilton wrote in The Federalist Papers, "This independence of the judges is equally requisite to guard the Constitution and the rights of individuals from the effects of those ill humors, which … sometimes disseminate among the people themselves, and which … have a tendency … to occasion dangerous innovations in the government, and serious oppressions of the minor party in the community."
Walker's ruling, though appeals remain, was a textbook example of a judge taking aim at the "serious oppressions of the minor party" that are caused by those "ill humors" – whether caused by centuries or decades of stereotyping and prejudice or by a radio talk show host on a Thursday afternoon.
And that personifies, for me, what a judge should be.