Having to be away from your home on your birthday is hard enough. Having it happen when you are getting ready to turn 40 is really rough. Luckily for me, however, some work took me to one of the best cities in the United States to simply let loose and enjoy: West Hollywood, Calif.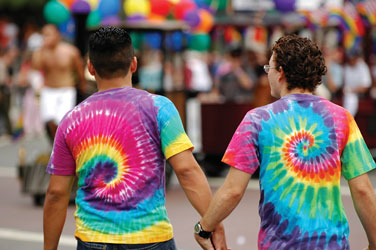 West Hollywood
(Photo by Eric Wood)
While "WeHo" was once an unincorporated part of Los Angeles County at the foot of the Hollywood Hills just to the west of downtown L.A., an eclectic mix of residents – including a large population of gays – voted in 1984 to incorporate and become the City of West Hollywood. Today, it is known for its hotels, restaurants, nightlife and shopping. In addition, a third of the approximately 40,000 residents identify as gay, one of the highest concentrations in the county.
During my stay, I hopped between three of the city's hotels. First, I stayed at the Ramada Plaza on Santa Monica Boulevard, one of the gayest streets in the world, running directly through the heart of West Hollywood's gay district. The hotel is moderately priced and all of the rooms were recently updated in a colorful, art deco style.
I also spent one night each in the cool Andaz, an ultra-modern hotel brand by Hyatt, and the stylish Chamberlain, a local boutique property catering to the luxury travel market. The Andaz is located on Sunset Boulevard and the Chamberlain is nestled in a residential area.
Roughly two square miles, WeHo is walkable and easy to navigate, which is good because parking can be difficult to find – and expensive once found. Plus, walking the streets gives you a better chance of sighting a celebrity. I actually bumped into RuPaul outside a Starbucks during my visit.
During the day, I explored the many shops and galleries in a section of WeHo called The Avenues, comprised of Beverly, Melrose and Robertson Boulevards. You can easily put a dent in your credit card here, or just as comfortably spend some quality time window-shopping. In the same area is the Pacific Design Center, with 130 showrooms and an extension of the Los Angeles Museum of Contemporary Art.
To the north and running parallel to Santa Monica Boulevard is the "Sunset Strip" of Sunset Boulevard, home to such notorious nightclubs as The Viper Room, Whisky a Go Go and The Roxy Theatre. It is a very touristy area but an experience not to be missed. I spent an evening sipping pricy cocktails poolside at the Mondrian Hotel's Skybar feeling oh so Lohan. And on Sunday morning, I went to the Gospel Brunch at House of Blues, where I was invited onstage for a special "Happy Birthday" serenade. I felt truly blessed. And maybe a little drunk from all the mimosas.
WeHo is also well known for its spas. As a special birthday treat, one of my friends arranged for me to spend the afternoon at The Gendarmerie, a full-service, unisex spa with a very sizable and loyal gay following. And while I had one of the best massages of my life, the level of customer service really showed when the owner, Topper Schroeder, upon learning it was my birthday, bought a cake to surprise me.
As mentioned, Santa Monica Boulevard is where you find the hub of the gay community. The sidewalks serve as a runway for gay men showing off their famed chiseled bodies, WeHo being practically the birthplace of the 24-hour gym concept. It was here that I devoted most of my time checking out the eclectic restaurants and bars catering to nearly every taste.
For restaurants, I enjoyed Fiesta Cantina, which offers casual Mexican cuisine, as well as the slightly more upscale East/West Lounge and the neighboring Eleven, both offering popular happy-hour menus.
As for the bar scene, it was both ends of the spectrum for me.
One night I met up with a friend at Fubar, located at the far eastern edge of WeHo. It was a Thursday night, which just happens to be the night the edgy bar holds its weekly "Big Fat Dick" contest. And while I cannot reveal all the details, it involves patrons volunteering to have very creative photos taken of their members and the crowd voting for their favorite entry. Among Fubar's other weekly events is The Betty, a ladies night on Wednesdays.
My other adventure was at The Abbey, which has been a fixture in WeHo for two decades. I dropped in on Sunday afternoon and found a crowd of beautiful people wearing very expensive sunglasses and enjoying fabulous weather on the large outdoor patio. While there, I spied openly gay actor Darryl Stephens, star (and all-around hottie) of Noah's Arc. Fueled by a few cocktails, I introduced myself and struck up a friendly conversation. While I was preparing to leave, he kindly agreed to pose with me for a photo. As I stood next to him, I found myself thinking two things: One, this guy is much shorter than I thought he would be. And two, this could only happen in West Hollywood.
For more on West Hollywood, visit gogaywesthollywood.com.