In 2006, Jim Webb, the former Navy Secretary to President Reagan, had become a Democratic and was running to unseat Sen. George Allen (R-Va.), in large part based on Webb's opposition to the war.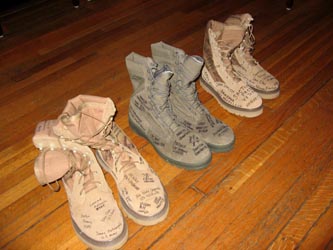 Boots signed by former servicemembers impacted by the "Don't Ask, Don't Tell" policy were left at the office of Sen. Jim Webb (D-Va.) by members of Get Equal on Friday, September 17.
(Photo by Ward Morrison for Get Equal)
As was oft-noted at the time, Webb's son, Jimmy, was in the Marines and was sent to Iraq during the campaign. Webb kept that news front and center with the physical symbol of the shoes he chose to wear. As The New York Times reported at the time, "[Webb] wears his son's old combat boots on the campaign trail, in tribute to him and 'all the people sent into harm's way."'
Webb, the Times noted, "tells his audiences that the idea came from his son."
This morning, another group of veterans had an idea to share with now-Sen. Webb (D-Va.).
They, also, thought that boots can send a message. This time, though, their message is about the military's "Don't Ask, Don't Tell" policy.
Webb, who voted against the amendment aimed at repealing DADT when the Senate Armed Services Committee passed the amendment to the National Defense Authorization Act in May, has been the target of criticism and persuasion in the months since.
As people and organizations prepare for Tuesday's floor vote in the U.S. Senate on whether to proceed on consideration of the NDAA, a Webb spokesman reiterated that the senator has not said what will do next week, writing to Metro Weekly on Friday afternoon, "He has not indicated how he intends to vote on this in the future."
Cpl. Evelyn Thomas was one of several former servicemembers who went to Webb's office on Friday morning as part of an action organized by Get Equal, H.E.R.O. and the Sanctuary Project. Thomas was arrested earlier this year for handcuffing herself to the gate in front of the White House in protest of perceived inaction by President Obama to repeal DADT.
Thomas spoke with Metro Weekly on Friday about her visit to Webb's office, saying that they went "to remind him how the DADT impacts on LGBT servicemembers" and "how its essential for him to vote for the" NDAA including the DADT repeal language.
Thomas said that she and the others met with Webb's "military liaison," who, she said, "tried to force us, in a diplomatic way, out of the office. But we stood our ground.
"He was trying to get us out of his office as soon as possible. We will not back down until their equality is recognized."
Speaking of the glass case in his office that now contains his son's boots that he wore during the campaign, Thomas said, "He wore his son's combat boots … to show his opposition to the Iraq war."
They came to Webb's office wearing boots of their own, boots signed by servicemembers who had been affected by DADT.
"We wore those boots in solidarity for servicemembers who must compromise their integrity to serve," she said, sharing that they then took off the boots and left them at the foot of the case. "We want him to walk in their shoes."
Talking about "witch hunts" that had gone on to out LGBT servicemembers when she had served, Thomas said of the impact of the closet forced on LGBT sevicemembers, "It's a nightmare. It is a psychological, emotional nightmare."
Of their action today, Thomas said of Webb, "We were just following his lead.
"He did that when he wanted to send a clear message to President Bush about his opposition to the war in Iraq," she said. "He stood up for something he believed in; we're standing up for something we believe in."
Asked if today's physical reminder of the DADT policy would have an impact, Thomas didn't hesitate.
"Yes, it will. You can't deny what we did, and you can't ignore it," she said. "It'll begin to put a seed in their mind, 'Maybe I've been going about this in the wrong way.'"
On Friday afternoon, Webb spokesman Will Jenkins wrote to Metro Weekly, "Our office has heard from constituents with a range of views on the issue, and we take seriously each person's thoughts.
"As you know, Sen. Webb opposed the DADT provision on its own in committee and then voted to pass the entire bill, including that provision, out of committee. He has not indicated how he intends to vote on this in the future."
Jenkins expanded upon Webb's thinking on the matter, writing, "Senator Webb has said that the careful review of the current 'Don't Ask, Don't Tell' policy launched by Secretary of Defense Gates and Admiral Mullen was appropriate and timely.
"As someone who has spent his life in and around the military, he strongly agrees that this approach must involve the full, open input and engagement of those serving in uniform today, including our military leadership, our active duty service members in all services and at all levels, and their family members."