Parties and Places
Bounty of different ballots mark D.C. primaries
Washingtonians have a reputation for living and breathing politics. Certainly that's more true for some than for others. There are probably quite a few who have not even bothered to open the "D.C. Voter Guide/Primary Election" they should've gotten by mail days ago.
If this is you, fear not. The drill is pretty easy. On Sept. 14, polling places around the city will open for the 2010 Primary Election. Early voting for the wise and well-organized began Aug. 30 at the Old Council Chambers. But if you're reading this, chances are that ain't you. Keep reading.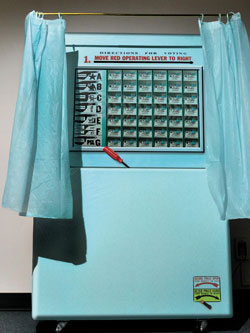 (Photo by Todd Franson )
What matters most in the primaries is the ward in which you reside, and party affiliation. If you have no party affiliation, you are excused – until November's general election.
Considering this city is a Democratic stronghold, chances are you're a Democrat. Regardless of ward, you'll be casting a vote for a Democratic candidate to run for delegate to the U.S. House of Representatives, for U.S. representative, mayor, council chair and one At-Large councilmember. And, again, because this is a Democratic stronghold, the winners of each of these five races stands a stellar chance of winning in the general election Nov. 2.
For Democrats living in Wards 2, 4, 7 and 8, your duty is done. For Democratic residents of Wards 1, 3, 5 and 6, you'll also need to choose a Democratic candidate to run as your ward's City Council candidate in November.
For Republicans, this gets much simpler. You have the same five races that all the Democrats have to consider. However, Republicans have only stepped up to run for delegate to the U.S. House of Representatives and for U.S. representative. And in those races, it's only one apiece. Of course, you can always write in a candidate for any primary race.
As with the Dems, Grand Ol' Partiers in Wards 2, 4, 7 and 8 can call it a day. For Ward 1 Republicans, you have one candidate vying to be your City Council candidate. Same goes for Wards 3, 5 and 6.
For D.C.'s third recognized party, the D.C. Statehood Greens, you'll need to choose between two Greens running to be your candidate for delegate to the U.S. House of Representatives, and two for the At-Large seat on the council. For mayor, U.S. representative and council chair, it's one each. No Greens have thrown their hats into the races for Ward 1, 3, 5 or 6 councilmember, so the Green ballots are even simpler than their GOP counterparts.
For a complete voter guide, visit the D.C. Board of Elections and Ethics online at dcboee.org.
–Will O'Bryan

Colorful Competition
It's Brown vs. Orange in the race for council chair
As D.C. Democrats – the ones who didn't vote early, that is – head to the primary polls, one race they'll be looking at is that of chair of the City Council. With no declared Republican candidates for the seat, a single Statehood Green candidate, Ann C. Wilcox, and no independent candidates yet listed with the D.C. Board of Elections and Ethics, the winner of the Democratic primary will almost certainly be a shoe-in for chair of City Council come the general election in November.
And although Dorothy Douglas is listed as a Democratic contender, for all intents and purposes this is a race between Democrats Kwame Brown and Vincent Orange. Brown currently holds an At-Large seat on the council. Orange risked – and lost – his Ward 5 seat on the council when he ran for mayor in 2006.
It's that race that has understandably left some confused about Orange's true colors. As five candidates vied for D.C.'s top spot in 2006, a race that current Mayor Adrian Fenty eventually won, Orange seemed to be falling by the wayside. Fenty and then-Council Chair Linda Cropp were the leaders in that race for the office being vacated by then-Mayor Anthony Williams. Then, a month before the Democratic primary, Orange dropped his political bomb.
"I am the only one [of the mayoral candidates] that is opposed to same-sex marriage," Orange said, broadcast citywide on WTTG Fox 5 News, long before marriage equality was a reality in the District. "The other four, they say they believe in God, they go to church, but they're also for same-sex marriage…. I don't think they're morally fit to run this city."
Orange may have been speaking the truth of his opinion, though his record prior had shown him to be an ally to the LGBT community. He may have been attempting a "Hail Mary" pass as his only remaining strategy for winning. If the latter, he fumbled. If the former, he has changed his tune ahead of the 2010 primary. Today, Orange presents himself as a changed man.
But though he's running for council chair as a candidate who now supports marriage equality, his change of heart was a hard sell to the LGBT Gertrude Stein Democratic Club as members voted on an endorsement in the chair's race July 12. At that meeting, 80 percent of the votes went to Brown, easily securing the club's endorsement.
It's not as though Orange had no support at the meeting. Well-known activist David Mariner, executive director of The Center, metro D.C.'s LGBT community center, even spoke on Orange's behalf before the vote. These weeks later, he remains a strong Orange supporter.
"I found that Vincent Orange has come out as an ardent supporter of marriage equality," says Mariner, adding that he's speaking on behalf of himself alone and not The Center. "People can change over time."
Mariner also points out that the change he's seen in Orange, who spoke with Mariner at length, is the change many in the gay community would like to see of President Obama, who has fallen short of supporting marriage equality.
"I'm glad I got a little time to talk to him personally about his experiences," says Mariner. "He started his own business. My parents have their own small business. I'm excited that he's in the race, that he's articulating some concerns I think a lot of us have. Vincent Orange is an accountant. He's managed finances – personally and with a business – successfully. He lends a lot of credibility around funding issues."
The fiscal flags are ones that Orange would certainly be happy to see waving. After all, his campaign sent a recent mailer to D.C. residents saying little about Orange, but plenty about Brown's personal – and substantial – debts.
Lane Hudson, for one, isn't buying what Orange is selling, though. Hudson also spoke during that Stein Club meeting, asking Orange pointedly about his homophobic campaigning in 2006. Orange responded that he's changed, which fell far short of an answer that could change Hudson's mind.
"I feel like his position now is more couched in politics than morality," says Hudson. "He hasn't made a moral argument of why he's for [marriage equality]. … It's a no-brainer for me. I feel like Kwame is someone more in touch with our community, about what issues are important to us."
If the Stein Club endorsement is a good indication, Hudson is certainly not alone in his assessment of these council chair candidates. Mariner, meanwhile, says his gay tent in the Orange camp hasn't been as lonely as one might imagine.
"I haven't gotten any flak from folks," says Mariner. "Most of the LGBT folks who are politically savvy in D.C. recognize it's good to have folks connected to all the candidates, folks who can be that voice to talk about our issues."
For more information about the Kwame Brown campaign, visit kwameforchair.com. For the Vincent Orange campaign, visit orangeforchair.com.
–Will O'Bryan
Confusing Contest
Heated Ray-Mendelson race hits apparent identity hiccup
Looking back over his 12 years as member of the D.C. City Council, Phil Mendelson (D-At Large) says one of his proudest moments occurred most recently when he spoke in front of the Gertrude Stein Democratic Club, a gay political organization that has endorsed him for re-election.
"I was very pleased to stand before them and to be able to say that I had delivered on my promise, which is the marriage equality," says Mendelson, who has been living in D.C. since 1970.
Local gay activist Bob Summersgill, one of Mendelson's greatest supporters, celebrates Mendelson, who is straight, as a true ally, saying that marriage equality would not have been possible without his efforts.
"It's likely that we would have lost in court," Summersgill says. "There's absolutely no evidence that we're not getting something done in D.C. on gay rights, as the marriage-equality law shows, and that was led by a straight person – not the two gay members of the Council."
If he were to be re-elected this year, Mendelson says he wants to focus his efforts on hate-crime tracking and prevention, as well as enforcing heavier sentencing for such crimes.
"I'm very troubled with how people are arrested for a crime and then ultimately are prosecuted for a far less serious crime," Mendelson says, citing the Tony Hunter case.
Clark Ray, a Democratic candidate challenging Mendelson, is a former director of the Department of Parks and Recreation, making him Mayor Adrian Fenty's most prominent openly gay appointee at the time. He has been living in the District for 23 years.
"As far as the LGBT community is concerned, you have your allies and then you have your members," Ray says.
"They try to paint me as someone who has not been active in the LGBT community. That is a farce. I can't be any gayer than I am. But being gay is just part of who I am. Being a qualified individual to serve on the city council, now that's another level.
"For the old guard that has had its access for the past 12 years with the incumbent, I would speak to them directly and say don't be scared of me. I am not going to cut your access off. What I am going to do is open up additional seats at the table and other voices are going to be heard."
Those voices include Rev. Willie Wilson. Ray faced some controversy during his campaign when he accepted an endorsement from Wilson, who opposed marriage equality in the District. But one of Ray's biggest supporters, local gay activist Peter Rosenstein, says it's Ray's ability to bring different people together that's deserving of acclaim.
"That ability to change hearts and minds out in the District for people who don't always support us is one of the things that I admire about Clark," says Rosenstein.
"Clark Ray is committed to school reform. … [He] has put himself on the line by being a reserve police officer and walking the beat with [Gay and Lesbian Liaison Unit]. Clark Ray is a community activist who is out in the community six nights a week helping people across the District."
Also running for Mendelson's seat is Darryl Loch. Loch is an ordained gay minister at Inner Light Ministries, running with the D.C. Statehood Green Party.
But while conventional wisdom would not place Loch in the middle of this race between Ray and Mendelson, another Democratic candidate, D.C.'s "shadow" Sen. Michael D. Brown has turned out to be a sort of wild card. Brown has said he has no serious goal of winning, but that he's using the race simply as an avenue to promote his most important political issue: D.C. statehood.
The problem is, there are two Michael Browns.
The other one, Michael A. Brown, is an independent, At-Large member of the City Council, and a supporter of Mendelson. But in a recent Washington Post poll, Michael D. Brown bested incumbent Mendelson in what appears to be a case of mistaken identity.
"I would hope that the LGBT community would take seriously that this friend is challenged by this name confusion and people can't sit back and watch it happen," Mendelson says.
"I'm very concerned about it and I think that people who support my candidacy, or do not want to see a change in what they know is a good record, need to take it seriously as well and alert their friends not to be confused. It's very pervasive, this confusion."
–Yusef Najafi
Mayoral Mix
Fenty and Gray get the headlines, but they're not the only ones running for mayor
According to a telephone poll conducted by the Washington Post between Aug. 19 and Aug. 26, D.C. Council Chair Vincent Gray is in the lead in the race to be mayor, at least among likely Democratic voters, who the poll shows favor him by 17 percent over incumbent Mayor Adrian Fenty (D).
Fenty and Gray are competing alongside three other Democratic candidates in the primary election, with early voting already begun and traditional voting Sept. 14. One of the five will go on to compete in the general election in November. The Democratic candidates include Leo Alexander, who stirred controversy during an Aug. 11 forum on HIV/AIDS by stating that he would advocate enforcing D.C. driver's licenses to include one's HIV status.
Local HIV/AIDS activist Justin Terry-Smith, who is HIV-positive, responded to that statement on his video blog on YouTube.
"That is almost one of the most ignorant things that I have ever heard in any election that I've been a part of," he says. "It's almost like a branding. … Being HIV-positive already has enough stigma. … For him to actually come out and say that just really made me upset."
The Gay and Lesbian Activists Alliance (GLAA) would seem to agree with that assessment, giving Alexander a "-3" rating in this election cycle.
"Alexander is running an explicitly anti-gay and anti-marriage-equality campaign," GLAA states on its website, adding that Alexander did not respond to its questionnaire and is endorsed by the National Organization for Marriage (NOM), which opposes marriage equality. NOM provided funding for Alexander's campaign, as well.
The remaining Democratic candidates for the mayor's seat are former Fenty 2006 campaign volunteer Sulaimon Brown, and Ernest Johnson.
While there are no Republican candidates filed to run for mayor, the Democratic candidate will face competition from several independent candidates. The D.C. Statehood Green Party also has an unchallenged candidate, who goes by Faith, seeking to be that party's nominee, who goes by Faith.
–Yusef Najafi
Grand Old Gays
Gay Republicans enter the primary mix
When D.C. Republicans select their party peers in this month's primary contest to run in the November general election, they might be interested in knowing that two of those D.C. City Council hopefuls are gay.
Marc Morgan, running to unseat Councilmember Jim Graham (D-Ward 1), who is also gay, is one of those candidates. The other gay candidate is Tim Day, seeking the Ward 5 seat.
"[They] are openly gay and have track records of working within the gay community," says Christian Berle, vice president of the D.C. Log Cabin Republicans. "Whether it's in the fights for marriage equality or increased funding for HIV and AIDS.
"I think it is great that the D.C. Republican Committee, which has a long record of reaching out to the gay and lesbian community, has sought to find candidates who will best represent their constituencies."
Berle says LGBT Washingtonians should consider voting for candidates running in the Grand Old Party in an effort to bring "a commonsense focus" to the City Council, "which by all estimations has not served the District well at all."
Also vying to become official GOP candidates on the Nov. 2 general election ballot are Jim DeMartino, running for Ward 6 councilmember, and David Hedgepeth for Ward 3.
Berle says that, unlike many Republicans in more conservative jurisdictions, these four candidates have careers that align them well with D.C. voters.
"I think if you look specifically at the District of Columbia, the Republican Party has been extremely progressive on LGBT issues," he says. "You can look at the track record that [D.C. Republican Board Chair] Bob Kabel has – as the only openly gay state party chairman in the country – on marriage equality, on support for D.C. hate-crimes laws, on increased funding for the [D.C. Fire and Emergency Medical Services] Task Force and the Metropolitan Police Department, in ensuring that the District maintains its workplace and housing nondiscrimination laws."
–Yusef Najafi
Rating the Runners
GLAA bypasses endorsements in favor of an exhaustive ratings system
When LGBT voters in the District look for candidate endorsements, plenty of them likely turn to the Gertrude Stein Democratic Club, arguably the city's most influential grassroots LGBT political group. And the Stein Democrats have indeed spent the summer delivering endorsements ahead of the Sept. 14 party primaries.
Those endorsements are for challengers Council Chair Vince Gray for mayor, Councilmember Kwame Brown (D-At Large) for council chair and Nate Bennett-Fleming for shadow U.S. representative; and incumbents Congresswoman Eleanor Holmes Norton, Councilmembers Phil Mendelson (D-At Large), Jim Graham (D-Ward 1), Mary Cheh (D-Ward 3), Harry Thomas Jr. (D-Ward 5) and Tommy Wells (D-Ward 6).
The local Gay and Lesbian Activists Alliance (GLAA), the nation's longest-running LGBT political advocacy group, meanwhile, goes about things a bit differently. First, GLAA is nonpartisan. Second, the group makes no endorsements. Instead, it rates. And as anyone who has ever sat through a GLAA ratings meeting knows, it's an exhaustive process.
"Nothing is 'by the numbers,"' explains Richard Rosendall, GLAA's vice president for political affairs. Rosendall mailed questionnaires to the candidates July 11, and he and eight other club members scrutinized those answers Aug. 24, releasing the ratings the following day.
"There are judgments one has to make," Rosendall continues. "It's not just a mechanical process. We have to discuss what a person has done, weigh things…. Sometimes you have to sift through their answers. They might say 'yes' to a question, but then go on to say things that indicate 'no.' We're having to read carefully what they say. … We took more than five hours. It was a hard slog, but productive."
The GLAA process employs a point system ranging from -10 to 10, with different candidate components – experience or questionnaire answers, for example – carrying different weights in one's overall score.
So what were the ratings?
In the mayor's race, Gray earned an impressive 8.5 points, while Fenty scored only a 4. Notably, while the GLAA is nonpartisan, the group obviously has its own set of priorities and issues. Among those has been criticism of Fenty's choice of Peter Nickles to serve as D.C. attorney general. While Nickles wasn't mentioned by name in the GLAA release of its ratings, the group didn't pull any punches.
"We were struck by the numerous promises made four years ago that were promptly broken," the group wrote of Fenty's rating. "GLAA was excluded from the selection process for the Chief of Police and the Director of the Office of Human Rights."
But Fenty's rating certainly put him in Gray's neighborhood, compared to that for Leo Alexander, who has been backed by the homophobic National Organization for Marriage (NOM). Alexander may not have returned his questionnaire, but that did not spare him a rating, -3, for "running an explicitly anti-gay and anti-marriage-equality campaign."
Alexander was by no means alone in not returning his questionnaire. In the mayor's race, only Fenty and Gray did, leaving three other candidates – Democrats Sulaimon Brown and Ernest E. Johnson, and Statehood Green candidate Faith – with neutral zero ratings.
Still, says Rosendall, "I thought we had a very good response rate. All the incumbents responded to us. Those perceived as their leading challengers responded to us, by and large."
In the case of council chair, that means Councilmember Kwame Brown, earning a 5.5, and Vincent Orange, earning a 4.5, both running for the seat Gray is vacating. In that race, Democrat Dorothy Douglas earned a 2, while the Statehood Green candidate, Ann C. Wilcox, did not return her questionnaire and earned a zero rating.
All in all, of the 25 candidates to whom GLAA sent questionnaires, 13 returned them. While D.C. is a solidly Democratic city – with both the lowest (-3 for Alexander) and highest (10 apiece for Graham and Mendelson) ratings going to Democrats – there were several Statehood Greens and Republicans in the GLAA lineup. Marc Morgan, the gay Republican running for Graham's Ward 1 seat, earned the best GOP showing with a 3. For the Greens, David Schwartzman got the highest marks, earning a 6 in his campaign for Mendelson's seat.
Rosendall says that criticism of GLAA's rating system has included claims that the group favors incumbents and Democrats. But Rosendall strongly defends the group's ratings, which they've been making since 1974. He grants that an otherwise qualified candidate will obviously receive low marks if his or her agenda doesn't align with GLAA's, that the process is not entirely objective. He insists, however, that it's nothing if not fair.
"We present a very well-organized set of materials. We go through the trouble of presenting a well-organized policy brief (GLAA's "Agenda 2010"), and give [candidates] plenty of time to report," says Rosendall. "We don't just give a score. We provide a points breakdown, explain the breakdown, publish it on our website. We provide the full [questionnaire] responses on our website, and then we provide a narrative explanation of our ratings.
"We have a long record of having given high marks to Democrats, Republicans, Statehood Greens and independents," he continues, adding that non-incumbents such as activist Philip Pannell have also earned high ratings. "We don't put our finger on the scale for any candidate. They get what they deserve."
For a complete breakdown of GLAA's ratings and candidates' answers, as well as the group's Agenda 2010, visit glaa.org.
–Will O'Bryan
Watching the House
In the Maryland and Virginia suburbs, incumbents seem safe
Along with the District's primaries on Sept. 14, voters in Maryland also will head to the polls on Tuesday to select their choices for the parties' nominees to the U.S. House of Representatives.
For local Maryland Reps. Donna Edwards, Steny Hoyer and Christopher Van Hollen Jr., none of whom face serious primary challengers and sit in safe Democratic seats, the primary election lacks the suspense of the volatile national political narrative.
All three are generally supportive of LGBT issues, with all three voting for Rep. Patrick Murphy's (D-Pa.) amendment aimed at ending "Don't Ask, Don't Tell" earlier this year. Edwards and Van Hollen are co-sponsors of the Employment Non-Discrimination Act, and Hoyer – as majority leader – had suggested his support for the legislation in April when discussing his expectation of a vote on the bill this year. Both Edwards and Van Hollen also are co-sponsors of the Respect for Marriage Act, which would repeal the anti-gay Defense of Marriage Act.
Despite this only being her first attempt to win re-election for a full term, former progressive activist Edwards, representing portions of Prince George's and Montgomery counties, faces little likelihood of not returning to Congress in 2011. She faces Kwame Gyamfi, George E. McDermott and Del. Herman L. Taylor Jr. in Tuesday's primary. The winner will face Robert Broadus, who was a write-in candidate in the 2008 election for the seat. Edwards received more than 85 percent of the vote in 2008 in the general election after unseating then-Rep. Al Wynn in the Democratic primary.
Running for his 15th term in Congress, House Majority Leader Hoyer faces only nominal opposition for re-election. He won re-election in 2008 with nearly 75 percent of the vote. He faces Sylvanus Bent and Andrew Gall on Tuesday and likely will then face the winner of the Republican primary, in which Collins Bailey, Chris Chaffee, Charles Lollar and Chris Robins are competing.
Van Hollen, who is chair of the Democratic Congressional Campaign Committee, faces Robert Long for the Democratic nomination in the 8th Congressional District. The winner will face Michael Lee Philips, Bruce Stern, Bill Thomas or Christine Thron following the Republican primary. Van Hollen won with more than 75 percent of the vote in the 2008 general election.
In Virginia, the primaries have been held and most of the races, as in Maryland, are likely to be held by the incumbent. There is one area race – the seat held by first-term Rep. Gerald Connolly (D) – that is one of The New York Times's "99 Seats In Play," although it is still considered to be leaning Democratic. Connolly has been a strong advocate for LGBT equality, voting for the Murphy amendment and signing on as an ENDA and RMA co-sponsor. He will face off again in November against his 2008 opponent, Keith Fimian, who has not expressed the same support for LGBT equality as Connolly.
In the other Virginia races, Rep. Jim Moran (D) will face Republican Patrick Murray, Rep. Frank Wolf (R) will face Democrat Jeffery Barnett and Rep. Rob Whittman (R) will face Democrat Krystal Ball.
–Chris Geidner