The results may not be final, but they have been accepted: Council Chair Vincent Gray has secured the Democratic nomination to run for D.C. mayor on the Nov. 2 general election ballot, with early tallies showing him well ahead of incumbent Mayor Adrian Fenty. And considering D.C.'s heavily Democratic demographics, Gray has all but won that Nov. 2 election.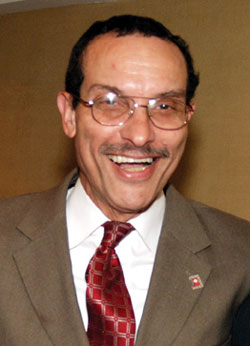 Vince Gray
(Photo by Ward Morrison )
Hundreds of Gray supporters certainly knew this to be the case Tuesday night, Sept. 14, after the polls closed in the Democratic primary, filling the Washington Court Hotel with jubilance and chants of "Vince Gray."
Peter Rosenstein, who once supported Fenty, but turned to Gray this time around, was among them.
"We have some positive proof that [Gray] is willing to stand up for us and with us," said Rosenstein, a longtime gay activist, who has given much of his attention recently to violent crimes against LGBT people in the District, offering his insights Wednesday morning. "He has also stated that he is willing to speak to the police commissioner about once again upgrading the Gay and Lesbian Liaison Unit."
"He is Catholic and he's from Ward 7," Rosenstein added. "Both those constituencies vehemently opposed marriage equality and Vince Gray stood up as a leader of marriage equality and spoke out strongly. I think that took a lot of guts.
"Like any politician, it is going to be up to our community to hold his feet to the fire to keep the commitments he's made."
Lane Hudson, another of Gray's prominent supporters in the LGBT community, was also at the Gray celebration.
"I think it's a big win for the District," Hudson said Wednesday morning, in the wake of the Gray victory.
"It's the right person at the right time to keep D.C. moving forward, and he'll heal a lot of the divisive wounds that have been left over the past four years by the Fenty administration," he said, offering a critique that was hardly unique: that Fenty was not accessible as mayor, that his style of leadership was colored with arrogance.
While the Gray win Tuesday night was not a foregone conclusion, it was not much of an upset, particularly from the LGBT perspective, considering Gray secured the endorsement of the Gertrude Stein Democratic Club, a prominent LGBT political club, and earned a ranking well above Fenty's in the Gay and Lesbian Activists Alliance candidate ratings.
Where the gay community may have shown more concern – and more relief – was in Councilmember Harry Thomas Jr.'s (D-Ward 5) fight to hold on to his seat, given that the National Organization for Marriage was throwing its weight behind his opponent, Delano Hunter.
But NOM failed.
Thomas, a Democrat who voted for the Religious Freedom and Civil Marriage Equality Amendment Act of 2009 – putting him in NOM's sights – is confident that his vote was not just right, but also good politics, saying, "[I]f I had been on the other side of this issue as a councilmember, I wouldn't have been as successful [in my re-election campaign]."
"I was … very confident that I could vote my conscience and my honesty and not even try and take anything into account except for the fact that what's right for people, for fairness," he said.
Thomas was right. And he easily won re-election on Tuesday night, securing more than 65 percent of the vote in a four-way race, according to returns listed by the D.C. Board of Elections and Ethics. His leading opponent – the NOM-backed Delano Hunter – received just 826 votes, or a little more than 17 percent of the votes cast in the race.
"This has been a resounding success for democracy and justice, for human rights," Thomas said. "That's what I get out of this."
NOM opposed Thomas on fliers distributed earlier this year and supported Hunter with donations and mailers, as recently as this past week. Unexpectedly, Hunter also got the endorsement of The Washington Post on Sept. 2. The editorial focused on Thomas's actions of "trying to stop" Fenty's various plans, but endorsed Hunter for running a "grass-roots campaign," while downplaying his opposition to marriage equality by stating that Hunter "is not the homophobe his critics make him out to be."
Of Hunter's opposition to marriage equality, Thomas said the Post's editorial "just dismissed it."
Thomas called the editorial "short-sighted" and warned that "the paper really needs to look at the integrity of the editorial process and how it reflects on them."
Noting his success regardless, Thomas said, "I'm really glad readers and the public went beyond that and looked for themselves."
Also of particular interest to the LGBT community in D.C. was the Democratic race between Councilmember Kwame Brown (D-At Large) and former Ward 5 Councilmember Vincent Orange, as well as Dorothy Douglas, for council chair. Orange had to spend time during his campaign making up for a homophobic statement he made when running for mayor in 2006, telling reporters that supporters of marriage equality were morally unfit to hold public office. Unofficial results had Brown nearly 20 percentage points above Orange.
Another race grabbing the LGBT community's attention was Clark Ray's run for Councilmember Phil Mendelson's At Large seat. Ray, who is gay, served for a time as the director of D.C.'s Department of Parks and Recreation, making him the highest-ranked openly gay Fenty appointee. Mendelson, meanwhile, who is straight, has been a strong, longtime ally of the LGBT community on the council. And by Wednesday morning, Mendelson seemed to have the nomination – and his likely continuation on the council – secured with nearly 64 percent of the vote.
For a complete list of results in the D.C. primaries, visit the D.C. Board of Elections and Ethics online at dcboee.org.