Keenan Orr didn't choose to spin for straight events. You might say he was born to do it. "Growing up in Northern Virginia, I didn't know too many gay people, so straight people were my friends," says Orr. "And they continued to be when I moved into the city [a decade ago]. So it was just kind of second nature. It's just something that happened."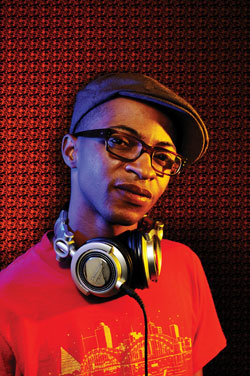 Keenan Orr
(Photo by Todd Franson)
In fact, the gay 34-year-old, a regular for many years now at straight parties around town, only started spinning for gay events last year, beginning with Cobalt. "I always wanted to play in gay bars, but the circuit-y music that I was hearing wasn't exactly what I wanted to DJ. So I didn't think there was an opportunity for me there."
In addition to every Friday night downstairs at Cobalt, Orr also spins for that venue's monthly Bare lesbian party, and for Rock and Roll Hotel's monthly party The Gayest Kids You Know. That's in addition to various straight parties, at venues including the Black Cat, the Donovan House and U Street Music Hall. He's been employed full time as a DJ for most of this year. "I've been lucky enough to have a lot of support," says the man who won the Washington City Paper's 2010 Readers Poll for Best DJ.
Orr grew up as the oldest in a family of one brother, three stepbrothers and one stepsister. "My mother's a big fan," he says. "She loves coming out to hear me play." And while his dad, a former member of a funk band, hasn't heard him play yet, "he's Googled my name, and my name pops up all over the place. So he's very excited and very happy about my career."
Orr intends to continue playing both straight and gay parties, making him a rare breed. "People tend to segregate themselves, keep themselves in one group of people. I'll never do that," he says. He also doesn't limit himself to one style of music — he plays house mixed with hip hop, hits from the '80s and '90s, even disco, as well as new pop tunes. That's true regardless of the crowd's orientation.
"People, whether gay or straight, really appreciate just good music in general. So I don't really switch it up too much," he says, though noting, "I might play a few more Gaga tracks for the gay crowd."
For more about Keenan Orr, including a list of upcoming gigs, visit djkeenan.tumblr.com.