Sgt. Carlos Mejia of the Metropolitan Police Department's Special Liaison Unit (SLU), which includes the Gay and Lesbian Liaison Unit (GLLU), spoke to a crowd of about 30 people at The Center on Thursday, Aug. 26, one year after the stabbing death of a transgender woman, Tyli'a "NaNa Boo" Mack.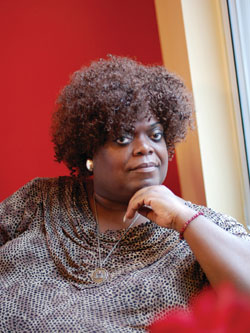 Earline Budd
(Photo by Todd Franson)
Though Mejia had no new information to offer regarding that unsolved homicide, he did try to assuage concerns by reassuring the audience that progress is being made with the GLLU, the role of which has been debated as MPD retools the unit to include fewer dedicated officers while giving limited GLLU training to more officers in various parts of the city.
Despite Mejia's assurances, Earline Budd, a transgender treatment and healing specialist at Transgender Health Empowerment (THE), who knew Mack personally, expressed frustration as she shared how things have changed since Sgt. Brett Parson, who is gay, no longer heads the GLLU.
When Parson was in charge, Budd said, she would often get calls at any hour from Parson asking for help in investigations. That was not the case when she reached out to the detective who is working on solving Mack's murder, she says.
"The young lady that actually was the surviving victim with NaNa Boo on August the 26th, I had the opportunity to actually interview [her]…," Budd said. "I called the assigned detective and said here is the information and affidavit that the surviving victim gave. … And he said to me, 'You will compromise the investigation if you provide any of this information she has given you. … I said, 'What should I do? How long is this going to take?'
"Here we are a year later – a year later – and nothing has been said to the family or done in regards to the brutal stabbing of NaNa Boo Mack."
Joining Budd on the panel at The Center, the area's LGBT community center, were local activist Ruby Corado, and co-chairs of Gays and Lesbians Opposing Violence (GLOV), Kelly Pickard and Joe Montoni.
Pickard shared with the audience that statistics show that bias-related crimes in the District have in fact seen a rise, and Montoni added that those statistics do not include three "pick-up homicides," including that of Delando King.
"Also what's belied by the statistics," Montoni added, "is the brazenness and the viciousness of the attacks that we are seeing.
"When a mob of 15 people is chasing someone down and then beating them up, or when someone is being stabbed 30 times, we think that is a sign that the types of crimes that are taking place are particularly vicious and warrant more of a response from the mayor and MPD."
Niurka Reyes, a transgender woman who spoke at the meeting, claims to have reported to MPD more than one incident in which she has been chased by a group of teenagers threatening her and throwing rocks. Reyes claims MPD personnel have told her they cannot take any sort of action because the perpetrators are "young."
Several attendees at the meeting agreed that returning more full-time officers to GLLU's central Dupont Circle location would be one of many steps in the right direction.
Peter Rosenstein, a local gay activist, said the Aug. 26 meeting could be a turning point for the local LGBT community, suggesting that the community's collective voice should be louder than in months past.
"We get a hundred people out and we hold the candles, and we think and we pray for the people who have been attacked," Rosenstein said. "The time may have come that we take that action to [the mayor's office] to demand action before the next murder, before the next robbery, before the next person is attacked."