It's been nearly seven weeks since Delando King, 34, was found dead in his apartment at 1117 Quincy Court NW, from more than 30 stab wounds.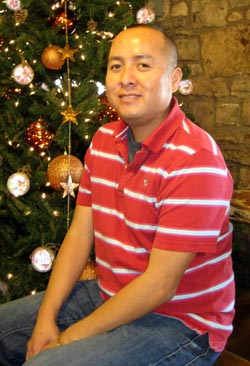 Delando King
(Photo courtesy of King's friends)
Marcus Mclean was arrested on Aug. 14, suspected of committing the homicide. On Friday, Sept. 24, Judge Gerald Fisher, of the D.C. Superior Court, said he found "ample evidence" that Mclean committed the homicide, citing the "substantial evidence" presented by U.S. prosecutor Jennifer A. Kerkhoff.
During Mclean's preliminary hearing, Fisher said there was "probable cause that [Mclean] committed this murder with premeditation and deliberation."
Judge Fisher added that he did not hear anything from the defense to convince him that Mclean is not dangerous, and that he was to be held in jail and placed on felony status. A felony status conference is scheduled for Monday, January 10.
The prosecution, meanwhile, has requested a DNA sample/blood order.
Family members of Mclean were present during the hearing, as were friends of King's. The only witness called to the stand was Metropolitan Police Department homicide detective Hosam Nasr, who offered details about Mclean's arrest.
According to Nasr, police believe Mclean used King's stolen credit card to purchase sodas, snacks, headphones, and a movie ticket to see Salt following the alleged murder.
Nasr claimed that Mclean, during questioning following the arrest, admitted to committing other crimes, including homicides. "He said something to the effect of, 'I will only admit to it if you can get me on it,"' Nasr said.
According to Nasr, Mclean offered inconsistent answers when questioned by police about his whereabouts the night King was killed. Nasr added police were able to conclude that the two had met at Omega, and were seen on video embracing and holding each other. Nasr said Mclean finally admitted to going to King's apartment after officers presented him with images from surveillance video.
According to Nasr, "[Mclean said] he was forced to prostitute himself for large sums of money in different countries," referring to King as "his pimp."
Nasr said Mclean told police the two had gotten into a "big fight" and he stabbed King in the chest in self-defense and then blacked out.
Nasr said that story was not consistent with the crime scene, as police found blood only in "one contained area," and there was no broken furniture. King suffered multiple stab wounds that Nasr described as defense wounds on his arms, legs and chest.
According to police, Mclean poured bleach on King's nude body then covered him with bed sheets before calmly exiting the building.
Mclean is seen on video leaving King's apartment with a lime green recyclable grocery bag. According to Nasr in surveillance tape caught at CVS, a white Macbook is visible in the bag, which is missing from King's apartment. The only item police have recovered since the homicide is King's iPod. Nasr said MPD found that in Mclean's home.