Today, in a long-awaited decision, the Florida Court of Appeals for the Third District unanimously upheld the trial court's ruling that Florida's statutory ban and gay and lesbian people adopting children in the state is unconstitutional. Noting that Judge Cindy Lederman conducted "lengthy hearings" at trial, the appellate judges today upheld her conclusion that the law violates the state's equal protection clause because "there is no rational basis for the statute."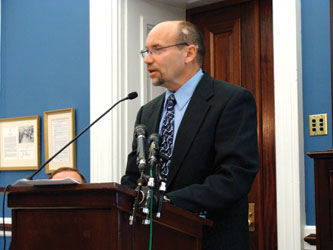 Martin Gill
(Photo by Cathy Renna)
The court first pointed out that no parties, including the Florida Department of Children and Families, contest that Martin Gill — the would-be adoptive father who brought the case — is "a fit parent" or that "gay people and heterosexuals make equally good parents." The court then went on to detail the specific facts of this case and the Florida law generally before addressing the underlying legal questions.
Citing to an earlier Florida Supreme Court decision, the appeals court noted that — even under the rational basis, or lowest, level of equal protection scrutiny — a classification such as the one at issue in the case "must be based on a real difference." The court found no such difference and, accordingly, no rational basis for the law.
To reach that conclusion, the court held that "[e]xcept for homosexual persons, there is no automatic, categorical exclusion of anyone from consideration for adoption." To show the exceptional nature of this exclusion, the court noted that would-be adoptive parents who have "previous verified findings of abuse, neglect or abandonment of a child" are subject to a "special review" — but face no outright bar on adoption.
The court was no more sympathetic to the state's alleged basis for the law — that children will have "better role models, and face less discrimination, if they are placed in non-homosexual households, preferably with a husband and wife as the parents." The court held that this alleged basis was undermined because single heterosexual people are permitted to adopt and because gays and lesbians are permitted to be foster parents.
For a few pages, but without mentioning any of the more salacious questions raised about Dr. George A. Rekers in recent months, the appeals court reviewed the trial court's view of his testimony for the state in the case. The court concluded that Judge Lederman was "entitled to reach the conclusion, which she did, that [Rekers's] opinions were not valid from a scientific point of view."
Because the ruling declared the Florida gay adoption ban statute to be unconstitutional, the court noted that "a party may appeal to the Supreme Court of Florida." it is not clear, however, whether Gov. Charlie Crist (I-Fla.) — running as an independent candidate in the state's gubernatorial election this November — will ask the department to appeal.