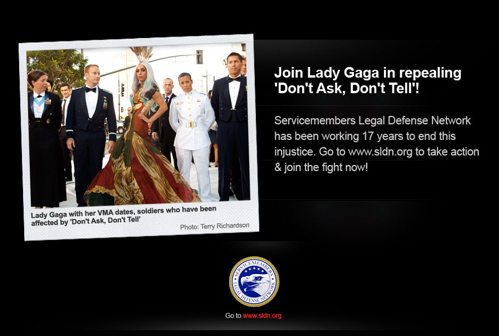 [UPDATE AT 2AM: After winning eight awards at MTV's Video Music Awards, the above capture is now the landing page for Lady Gaga's website. It links directly to Servicemembers Legal Defense Network's site.]
Although President Obama didn't talk about it at Friday's news conference, Lady Gaga tonight is addressing "Don't Ask, Don't Tell" at MTV's Video Music Awards — having been escorted to the awards by four clients of Servicemembers Legal Defense Network. Three of the four were discharged under DADT — David Hall, a former U.S. Air Force Staff Sgt.; Mike Almy, former U.S. Air Force Major; and Stacy Vasquez, former U.S. Army Sgt. First Class. The fourth is Katie Miller, the West Point cadet in the top of her class who resigned from the academy in August in protest of DADT.
Gaga first addressed the issue on the "White Carpet" before the awards (below), but continued to address the policy and her guests inside the awards, acknowledging — while accepting the award for Best Female Video — "the discharged soldiers that came with me tonight. I love you."
At the end of the evening, after winning Video of the Year, Gaga announced that her new album would be called "Born This Way" and sang, a cappella, a line from the song (see end of post).
"God makes no mistakes," she sang. "I was born this way."
The SLDN website calls on people to "Join Lady Gaga and Repeal Don't Ask, Don't Tell" and focuses attention to three "key" senators: Majority Leader Harry Reid (D-Nev.), Minority Leader Mitch McConnell (R-Ky.) and Senate Armed Services Committee Ranking Republican John McCain (R-Ariz.), who threatened prior to the August congressional recess to hold up consideration of DADT repeal.
The move at the VMAs comes on the heels of Gaga visiting with several former servicemembers before her concert in D.C. this past week.
Gaga also was talking directly to her fans on Twitter about the message:
Silks, fabrics, shoes + jewels, fashion dreams + breaking rules. Real heroes on my arm, tonight, is for us monsters, and our fight. X
Tegan and Sara got in on the DADT-repeal action, tweeting:
Seriously amazing moment in the pre show with @ladygaga . Can't believe her. An artist with a message. Finally. #dadt #vma's
From SLDN's executive director, Aubrey Sarvis, in a statement:
"Lady Gaga's recognition of these fine patriots casts a spotlight on the unjust burden that 'Don't Ask, Don't Tell' imposes upon the brave men and women who defend our country every day, and further underscores why the Senate must swiftly act to get rid of this despicable law for good. With expected votes on the Senate floor later this month, advocates of open service still have time to contact both their senators and urge them to show support for all our veterans by voting to end DADT."
Finally, a rough video of Gaga's acceptance of the Video of the Year award and introduction of "Born This Way" is below.