When Patricia Highsmith created Tom Ripley, she created an evil that was terrifying because it was so deliciously attractive. Smart. Disturbingly sexual. Enticingly dangerous.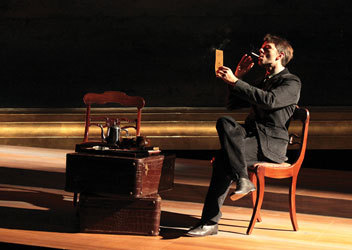 Karl Millerin in The Talented Mr. Ripley
(Photo by Danisha Crosby)
Writer Phyllis Nagy has dug into the twisted heart of Highsmith's The Talented Mr. Ripley and emerged with a play just as shocking and unnerving as the original novel. Shocking for the deftness with which she has pulled Tom Ripley from page to stage. Unnerving because, in spite of yourself, you want Tom to emerge unscathed. Perhaps even happy.
For the Bethesda-based Round House Theatre's production of Nagy's The Talented Mr. Ripley, producing artistic director Blake Robison has fully, and with great success, embraced the alluring nature of the play's dark humors.
The Talented Mr. Ripley is, not surprisingly, the story of Tom Ripley (Karl Miller), a man commissioned by Herbert (John Lescault) and Emily Greenleaf (Naomi Jacobson) to track down their playboy son Richard (Marcus Kyd) and convince him to come home to see his dying mother. The young Greenleaf has been living in Italy, kept company by the lovely Marge (Kaytie Morris) and kept in his lifestyle by regular checks from his wealthy parents. The Greenleafs' plan would be a perfect one were it not for the fact that Tom Ripley is a sociopath.
Designers Narelle Sissons (scenic), Matthew M. Nielson (composer/sound design, with co-designer Elisheba Ittoop) and Kenton Yeager (lighting) have come together to craft a jaw-dropping stage that does not so much evoke place as atmosphere. A constantly shifting dreamscape where Ripley's fantastic cast juggles past and present, memory and falsehood, with easy dexterity.
Miller is stunning as Tom Ripley. In a perfectly paced performance we watch him unfold Ripley's madness in slow, ever-expanding spirals. There's a tooth to his work, a palpable and horribly satisfying texture.
Kyd and Morris bring similarly noteworthy performances to bear. Morris by finding a kind of naive innocence in Marge, a sensibility that earns the character compassion rather than pity.
Kyd is, to be sure, charming in his role. But there is also a tension layered into his scenes with Miller that conveys a deeper, frustrated turmoil. Tom Ripley is affecting Richard much more profoundly than he would care to admit and we watch his unease palpably grow.
The Talented Mr. Ripley is a captivating journey into some exceptionally dark corners. Ironic that this production should prove to be such an early bright spot on the theater scene.
SET IN A COMMUNITY center in the fictional town of Shirley, Vt., Circle Mirror Transformation tells the various stories of the students and instructor of an adult theater-games class. This series of beautifully drawn vignettes is a clever and smart season opener for Studio Theatre and provides an excellent opportunity for David Muse to make his debut as the theater's new artistic director. While Muse has directed shows at Studio previously, this is a rare instances where one has a second chance to make a first impression.
With Circle Mirror, Muse has taken full advantage of the opportunity, building on playwright Annie Baker's melancholy tinged comedy (meaning it's a play that has the feel of real life) to create something quick, engaging and brilliantly executed.
Helping to make Muse's introduction is Circle Mirror's cast, a collection of actors whose remarkable sense of collaboration and ensemble is clear from the play's opening moments.
As Marty, the class's touchy-feely instructor, Jennifer Mendenhall offers a performance full of nuance and gentle warmth. She is well-joined by Kathleen McElfresh's eager and bubbly Theresa, and Jeff Talbott doing an outstanding turn as the fragile, recently divorced Schultz. The ensemble is brought to satisfying completion by Harry A. Winter as Marty's not-very-long suffering husband and MacKenzie Meehan who, as Lauren, becomes the most enjoyable sullen teenager you may ever meet.
Circle Mirror Transformation marks an auspicious start to artistic director David Muse's tenure at Studio. It also signals great things ahead for the theater's audiences.
GANYMEDE ARTS' PRODUCTION of Falsettos is, appropriately enough given its location, stylish to a fault. Set up in the intimate, cabaret-scaled "Noi's Nook" in the back of Go Mama Go!, set designers Dan Van Why and Christopher McKenzie, and costumer Dennis Kitmore, have dressed William Finn and James Lapine's musical in a sophisticated palate of black, gray and bold turquoise.
THE TALENTED MR. RIPLEY





To Sept. 26
Round House Theatre
$10-$60
240-644-1100
roundhousetheatre.org

CIRCLE MIRROR TRANSFORMATION




To Oct. 17
Studio Theatre
$35-$65
202-232-7267
studiotheatre.org

FALSETTOS


To Oct. 10
Ganymede Arts
$30
202-709-3698
ganymedearts.org
Visually, it's a smart interpretation for this still very modern story about a family in upset. Marvin (Jeffrey Johnson) has come out of the closet and left his wife Trina (Lisa Carrier Baker) so he can be with the commitment-phobic Whizzer (Michael Sazonov). Their young son Jason (Noah Chiet) is caught in the middle of the drama, struggling not just with the divorce, but with his parents' desperate desire that he see a psychiatrist (Tony Gudell) and, most horrifying, with his pending bar mitzvah.
Unfortunately, the production as a whole does not measure up to its impeccably tailored trappings. While there are certainly some fine performances there are too many frayed and ragged elements. Too many times when members of the ensemble appear to be desperately attempting to telegraph entrances and exits to one another. There are too many places where the musicians offstage and the actors onstage seem to be fighting with one another – with the musicians winning more often than not.
Almost everyone manages to find a moment or two to shine. Baker delivers with "Trina's Song" while Sazonov scores with "You Gotta Die Sometime." Johnson's voice works well for "What More Can I Say" while Gudell's "Everyone Hates His Parents" is laugh-out-loud. But the company never manages to blend their voices, to work off one another in a solid and satisfying way. The complex patterns of the show's music fail to have the sharp finish required.
That said, huge applause must go to Chiet. An incredibly mature performer at a very young age, Chiet displays a brilliant comic timing. He often – very rightly – steals the show.
It's hard not to wonder what will happen with Falsettos as the show continues to march along. Maybe some of the issues that hinder its success will begin to work themselves out. Or maybe it will just keep leaving audiences with too many things to bitch about.