"It's amazing how accessible and fun it is. It's not a dry, dusty, old, antique museum of an occasion," says the Folger Consort's Robert Eisenstein. He's implicitly talking about concerts by the celebrated consort itself, but especially this weekend's season kick-off with the small male-vocal ensemble Lionheart, whose membership happens to be predominantly gay. "They're not a pale, washed-out early music ensemble," says Eisenstein. "They sing with a lot of verve and gustiness."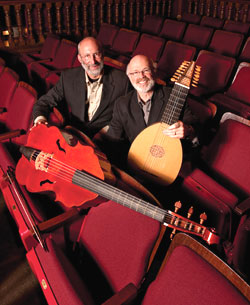 Lionheart will sing what are called "freeman songs," which Eisenstein, an early-music expert at the University of Massachusetts, says sound "kind of like early 16th century barbershop: close harmony, very sweet." The full program focuses on English music from the time of Henry VIII, half a millennium ago. Five musicians from the consort will perform, including Eisenstein, who will chiefly play the viol, the Italian string instrument Henry VIII is credited with introducing to England.
Eisenstein is one of two artistic directors of the consort, which he co-founded more than 30 years ago as a way to enhance exhibitions and the scholarly work of the Folger Shakespeare Library. The library's current "Vivat Rex!" focuses on the 500th anniversary of the accession of Henry VIII, who was more of a champion of music than most British rulers. In fact, he was a composer himself. The consort will play several of his compositions this weekend.
Says Eisenstein: "Henry actually turned out to be not such a bad composer for a king."
The Folger Consort performs Friday, Oct. 1, at 8 p.m., Saturday, Oct. 2, at 5 p.m. and 8 p.m., and Sunday, Oct. 3, at 2 p.m. Pre-concert discussion Friday, Oct. 1, at 7 p.m. Folger Theatre, 201 East Capitol St. SE. Tickets are $35. Call 202-544-7077 or visit folger.edu.