"I'm not just exclusively living a bear life," laughs Bob Mould. But gay bear life has certainly been good to Mould, who moved from D.C. to San Francisco a little over a year ago.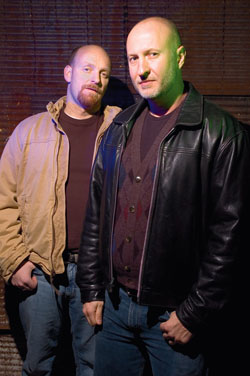 Bicoastal bears
(Photo by Todd Franson)
Mould's strong ties to the bear community started in D.C. nearly eight years ago, when the alt-rock legend teamed up with fellow singer-songwriter Rich Morel to start Blowoff. Over the years the furry-friendly gathering moved from being a small basement party to a big-room main event at the 9:30 Club. More recently it has expanded to become a national phenomenon. It now happens six times a year in D.C., five times a year in San Francisco and New York, and at least once a year in Provincetown, Mass., Chicago and San Diego. The party returns to D.C. after a summer hiatus this Saturday, Sept. 11.
Some fans even travel the Blowoff circuit.
"It's [created] a network of guys who are familiar with it, so they show up in all the different cities," says Morel, who lives in Takoma Park. "The basics are the same: It's really low on attitude, everybody just seems to have a good time."
Mould credits Morel's domestic partner Nick Lopata for enhancing the mood and the music. "I think Nick's visuals have gotten so amazing over the years," he says. "Every season he seems to come up with something new."
Since Blowoff started, other parties have sprung up playing similar music — the variety of music heard in gay parties has certainly expanded — and several even attract a similar crowd. But the aesthetic is usually either more sexually charged, or less focused on original visual art. And then there's the incomparable variety of music the two play, with Mould leaning toward indie-rock and electro one hour, Morel more toward pop and deep house the next. "If people like what Rich plays more than me, they only have to wait an hour," Mould laughs.
In addition to traveling the country for Blowoff, the two are busy with their own projects. Mould has been DJing for a couple other parties in San Francisco, while putting the finishing touches on his autobiography, due next spring. Morel, meanwhile, started last month what he intends as a four-times-a-year DJ party at Liv, a small bar on U Street. He's also writing songs with Cyndi Lauper for a Broadway musical adaptation of the British film Kinky Boots. And he's started a new "psychedelic," experimental rock duo, Deathfix, with D.C. punk-rocker Brendan Canty of Fugazi fame.
But plans are to continue with Blowoff. "As long as both Rich and I are enjoying it, and our schedules allow it, and people are coming out and having fun," says Mould, "it'll go as long as it feels right."
The next Blowoff is this Saturday, Sept. 11, starting at 11:30 p.m. TheNewGay.net's Transformer party happens concurrently in the basement Back Bar. Nightclub 9:30, 815 V St. NW. Tickets are $12. Call 202-265-0930 or visit 930.com or blowoff.us.