So you're about to embark on an amazing international vacation, with all your plans set – except for that extended layover in Paris, which is not at all uncommon if you're flying Air France or Delta. Afraid you'll be spending all those hours in the airport?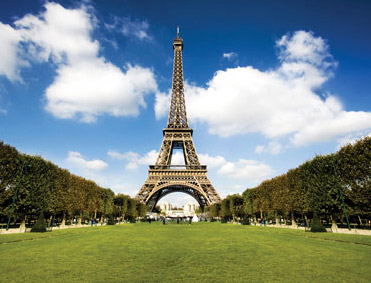 (Photo by Domen Colja)
Fear no more. Here's how to make the most of your brief time in the "City of Lights."
For a four-hour layover, spend some time at a local café where the casual atmosphere has guests seated facing toward the street, providing a great view of the European lifestyle while enjoying a small meal or cup of coffee. Café de Flore would be a great choice. Though there are cafes strung throughout the city, this somewhat pricey restaurant gives tourists exactly what they've seen from any movie or picture in America. Enjoy the meat or cheese platters over a drink and by the time you get the check, you will begin to feel the heartbeat of Paris.
Café de Flore is minutes from the Saint-Michel/Notre-Dame RER stop (the direct commuter-rail route to Paris Charles De Gaulle Airport) sitting on the corner of Boulevard Saint-Germain and Rue Saint-Benoit.
For a six-to-nine-hour layover, stop by the café and
then take a stroll through one of the city's most talked about shopping districts.
Hugo Boss, Louis Vuitton, Gucci and Massimo Dutti stretch their stores along Avenue des Champs-Elysees. The shopping runs from the Charles de Gaulle-Étoile RER station to Champs–Elysees metro stops and the occasional McDonald's and Starbucks give the Americana vibe some may seek while traveling in Europe.
For those hunting for a bargain, small knock-off malls are also available in this part of the city. Like American strip malls, multiple signs are cemented between designer stores promoting "genuine" brands like Dolce & Gabbana and Gucci for almost half of the retail value.
If you 12 to 15 hours, after you've done all that then it's time to catch a movie.
Watching a movie in Paris may sound bland, but the theater experience itself is sure to spark your interest as you walk into a world before stadium seating and the multi-screen Cineplex. The typical cinema features carpeted walls and floors as well as velvet seats.
Before the movie, the traditional previews are screened. The typical eight to 10 minutes is doubled in Europe, featuring trailers from a vast array of films. Then as soon as it seems the actual feature is about to start, the lights brighten, giving moviegoers an opportunity to refill their popcorn bags and chat about future shows before the main attraction begins.
Tickets average 10 Euros (about $13) and snacks are priced a bit higher than the typical American theater. But who can resist some popcorn and beer while watching Joseph Gordon-Levitt's zero-gravity fight scene during Inception?
If you have an entire day, add some nightlife to your schedule.
Paris is known as one of the most gay-friendly cities in Western Europe and the scene doesn't disappoint. And depending on what kind of night you may want, it could begin as early as 7 p.m. and end late as 6 a.m.
Start at Open Café, a rainbow-painted diner in the heart of the Marais district (Rambuteau metro stop). The crowd generally peaks around 9 p.m. with the latest pop hits and designer-dressing professionals. The drinks are moderately priced and the bartenders are very friendly to tourists, especially Americans.
At your next stop, FreeDJ, house music blares through what seems a small space – but packed with quantity (and quality) of men for the neon-light spectacle. Just for kicks, the management butches up this venue by adding a foosball table in the back corner, providing entertainment for every kind of guy.
Finally, the night can't end without a trip to some risqué club. Raidd Bar, just up the block from both Open Café and FreeDJ, is where men of all ages flock to see gym-addicted, sweaty men enter shower rooms to "cool off." Unfortunately, besides what's on draft, drinks are relatively expensive and the lines are long, making it nearly impossible to grab a beverage. The best advice is to walk in and enjoy the show before turning in for the night and ending your Parisian layover.