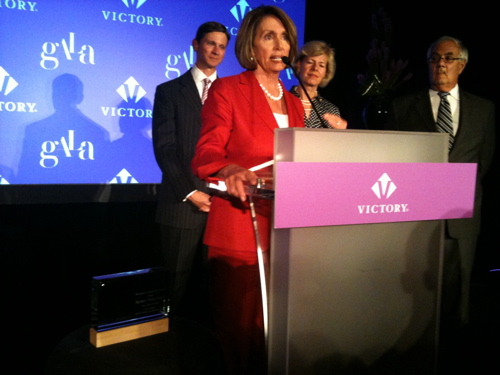 Photo: House Speaker Nancy Pelosi addresses the crowd at the Victory Fund's Gay & Lesbian Leadership Awards, where she was the honored guest. (Photo by Chris Geidner.)
House Speaker Nancy Pelosi (D-Calif.) was optimistic about the end of the military's ban on gay and lesbian service, saying on Wednesday night, "'Don't Ask, Don't Tell' will be gone by the end of the year. It will just be a sad memory." This, she said, despite last week's vote in the Senate against bringing the bill containing repeal language to the floor for debate.
Talking about "the pain [DADT] has caused people," Pelosi told the crowd at the Victory Fund's 10th annual Gay & Lesbian Leadership Awards that "some are here tonight who served in our military. … Because of the courage of some of them, this will be gone by the end of the year."
Pelosi was introduced by Reps. Barney Frank (D-Mass.) and Tammy Baldwin (D-Wisc.), who had been, in turn, introduced by Victory Fund president Chuck Wolfe.
Her comments, however, about the Employment Non-Discrimination Act — a bill sponsored by Frank — were far more equivocal.
Pelosi — whose decision not to bring ENDA the House floor for a vote has led to multiple occasions in which people were arrested for protesting that inaction — on Wednesday said that the upcoming mid-term elections were essential to moving forward the bill outlawing anti-LGBT job discrimination.
"[A] lot is riding on this election," she told the crowd gathered at the W Hotel's main ballroom on Wednesday evening. "And part of the choice that will be made will either accelerate the pace of passing ENDA or set us back, and we have to realize that. We have to realize that."
For the co-director of Get Equal, the organization involved in those protests of Pelosi, tonight's speech was about leadership — but more about, in Robin McGehee's view, Pelosi's lack of leadership on the bill.
Talking to Metro Weekly, McGehee said, "Leadership is about doing the right thing, not the politically safe thing. What I heard her saying is that even with controlling both chambers of Congress and having a Democratic president — even with all of that — her leadership has not been able to get ENDA passed out of committee and onto the floor.
"I don't want to have a Republican-dominated Congress. But I also don't believe we're the only progressive community dissatisfied with the lack of leadership," McGehee said. "I feel like she's punting on our position and our rights and yet asking us to give, and I'll give when we get equal. I'll vote for her, but I'm not going to give money or time."
Photo: Rep. Barney Frank introduces honoree House Speaker Nancy Pelosi at the Victory Fund's Gay & Lesbian Leadership Awards. (Photo by Chris Geidner.)