"I watched a lot of porn when I was younger, and I guess I thought I could do it, too," says Pierre Fitch. Just like that, Fitch started his decade-long career as an international porn star the day after he turned 18.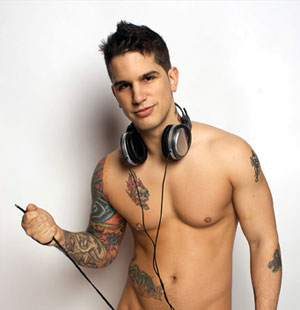 Pierre Fitch
The 28-year-old Canadian, who hails from Cornwall in Ontario but now makes his home in Montreal, started as a Falcon exclusive "to get my name out there." After only a couple years, he started his own company, Fitch Media. "I'm still doing porn but not as much anymore," he says. "I'm focusing on many other things." Besides directing porn, Fitch is beginning to sell his own line of water-based lube "made to look like cum." He'll soon be a Fleshjack.com boy, with molds of his penis, mouth and butt available to buy. He also intends to start his own clothing line.
But right now, his chief focus is on becoming a "big top DJ in the gay scene," he says, playing a standard bed of progressive house and circuit tribal with vocals. It's a goal he set out to achieve less than two years ago. "Well fuck," he reasoned, "I have a big name [from porn], may as well use it to become a big famous DJ." He proceeded to buy the best equipment on the market, even setting up a veritable club in his basement, and hired a private trainer to teach him the decks.
After spinning "pretty much in all of Canada," Fitch is eager to go on tours of Australia and Germany later this year, as well as a high-profile gig next month at New York's Hustlaball. But first he'll make his U.S. debut at Baltimore's Club Hippo this Saturday, Sept. 25. Baltimore-based promoter Ethan Graham tapped Fitch to spin his second party at the Hippo, an alien- and military-themed event called Invasion. Graham plans to bring Fitch to D.C. in a limo Friday night, "to take him out and show him off, trying to get people to come to the party the next night."
"I used to date girls," says Fitch, teasing, "but guys give better blow jobs. No, I still like both, but I'm more gay." His last relationship with a boy was eight months ago.
"It's hard to keep a boyfriend, you know?" Fitch says, offering another reason he's scaled back on making porn. In his youthful heyday he was filming a new scene every week, but now it's a good year if he releases two.
Still, Fitch admits he's as sexually charged as ever. "Oh dude, I'm a Scorpio," he says, "I love fucking sex. Everywhere I go I'm always hooking up."
Pierre Fitch spins Saturday, Sept. 25, starting at 10 p.m. Club Hippo, 1 West Eager St. Baltimore. Cover is $15 in advance; $20 at the door. Call 410-900-4484 or visit clubhippo.com or invasionbaltimore.eventbrite.com.