Men will be at Phase 1 this weekend. And by men, organizers don't just mean MEN, the queer electro band featuring JD Samson of Le Tigre, headlining the lesbian bar's fourth annual PhaseFest: DC's Queer Music Festival this weekend.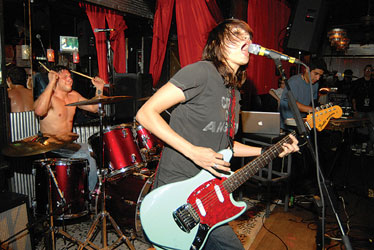 Phase Fest
(Photo by Ward Morrison)
"This year we probably have the most actual bio-male performers," says the bar's Angela Lombardi. "We're kind of all over the spectrum here. And of course we still have girls with guitars represented." In all, there will be 23 acts, performing back to back.
"We have it down to a system now. We're becoming more of a well-oiled machine," says Lombardi, organizer of the all-volunteer event, in which all money raised goes to the performers. PhaseFest is "grungy, so queer D.I.Y." It's also become something of a tight-knit community, with a true festival atmosphere. The bar's basement becomes a shared dressing room and valued space for socializing and making connections. "The bands that perform, they become buddies," explains Lombardi, "and some have taken off on tours together.
"And actually," she continues, "last year there was definitely some romance to be had," as the lead singers of Hunter Valentine and Rad Pony started dating. With both bands returning this year, more sparks could fly.
Or maybe new sparks. With their names, the Pushovers and Mzery Loves Company just seem destined for each other.
PhaseFest 2010 runs Thursday, Sept. 23, through Saturday, Sept. 25. Phase 1, 525 8th St. SE. Cover varies each night. A $40 weekend pass is available. Call 202-544-6831 or visit phasefestdc.com.