The Senate voted this afternoon, Sept. 21, to block consideration of the National Defense Authorization Act, which includes an amendment aimed at repealing the military's "Don't Ask, Don't Tell" policy. On a 56-43 vote, the Democrats in the Senate failed to secure any Republican support and lost the support of two of their own – Sens. Mark Pryor and Blanche Lincoln of Arkansas.
Under DADT, gay and lesbian members of the military are required to conceal their sexual orientation or face discharge from the military. While a Pentagon working group crafts a report on repealing DADT, the House of Representatives already approved NDAA language in May allowing for repeal. Today was the Senate's chance to begin debate on following suit, with today's vote being a procedural requirement to circumvent Sen. John McCain's (R-Ariz.) threatened filibuster to block that debate. But without 60 votes to move forward, McCain's threat blocked movement on the NDAA – and the DADT-repeal language within.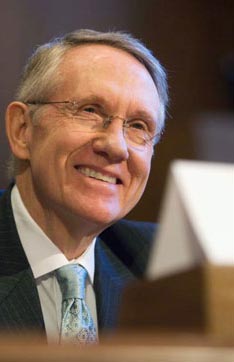 Senate Majority Leader Harry Reid (D-Nev.)
Talking with reporters following the Senate vote, McCain (R-Ariz.) – one of the most vocal opponents of repeal – called the DADT-repeal provision "an attempt to energize the gay and lesbian vote." Nonetheless, McCain stressed the need to pass the defense bill at some point.
Sen. Joseph Lieberman (I-Conn.) had noted as much in his floor speech prior to the vote that Senate Majority Leader Harry Reid (D-Nev.) had said the NDAA would be brought up again following midterm elections if the bill failed to pass the 60-vote threshold today.
McCain said, "I think the opinion of our service chiefs, all four, who stated in very strong terms that they wanted this survey completed before moving forward legislatively, was an important factor in keeping Republicans together."
With a chuckle, he added, "And since we got two Democrats' votes, both senators from Arkansas, we will now call it a bipartisan victory."
Accusations about who is to the blame for the failure to move forward the most prominent piece of legislation benefiting the LGBT community this year were plentiful, even before the Tuesday vote. Beginning on Monday, Sept. 20, leaders of several organizations placed the blame with Senate Majority Leader Harry Reid (D-Nev.). Others, however, looked toward the White House or the Republican minority in the Senate.
The Human Rights Campaign quickly placed the blame with Republicans, with President Joe Solmonese saying in an HRC release, "This filibuster was election year politics at its worst. It's a shame that during a time of war, Republican Senators wouldn't even allow debate on the bill that provides a pay raise for our troops."
In fact, McCain added a new level to his opposition in his statement today, noting when asked about his previous concern about passing legislation prior to the conclusion of the Pentagon's implementation review, "I'm also very concerned about this survey itself. This survey itself is how to best implement repeal. What we really need is a survey that says what would be the effect on battle readiness, morale and recruitment."
When asked by Metro Weekly to clarify those remarks, McCain pulled back somewhat, saying, "Obviously, I need to know how this survey was conducted, I need to know how complete it was, I need to know all of the aspects of it, and that's how I've always operated and how I'll continue to operate."
The view from another nonpartisan organization, Servicemembers United, placed blame with Reid. Executive Director Alex Nicholson wrote in The Hill on Tuesday, "Just more than 60 votes had been lined up to break a filibuster on NDAA and allow the legislation to move forward for debate … until Sen. Reid announced he was going to use his status as Senate Majority Leader to block the minority's customary ability to also offer their amendments to the massive annual defense-spending bill."
Sen. George LeMieux (R-Fla.) appeared to agree, announcing on the Senate floor today, "One of the most frustrating things to the American people" is the limitations placed on amendments to Senate legislation.
Quickly, however, he turned to DADT, saying of repeal, "Does anyone doubt what the impact would be?"
Despite the language aimed clearly at DADT repeal from LeMieux – as well as McCain, and Sens. Lindsey Graham (R-S.C.) and James Inhofe (R-Okla.) – it was Log Cabin Republicans' Executive Director R. Clarke Cooper who offered in a statement following the vote, "Obviously, we are disappointed.
"Senator Reid failed to reach a compromise with Republicans and our military servicemembers will need to wait until the November elections are over for the US Senate to vote on a repeal," he said in the LCR release. "This partisan arrogance is an example of why voters will be turning away from Democrats on November 2nd."
Chris Barron, the chairman of the board of GOProud, was unsurprisingly more blunt in his press statement: "The defeat of Don't Ask, Don't Tell repeal lies solely with Harry Reid and the Democrat leadership. It's clear now that Lady GaGa should have held her Don't Ask, Don't Tell repeal rally in Nevada instead of Maine."
Neither Sen. Susan Collins nor Sen. Olympia Snow – the two Republican Maine senators targeted by Gaga's Monday visit to Portland – voted to proceed on debating the NDAA.
Sen. Scott Brown (R-Mass.), the other senator mentioned by Gaga on Monday, didn't have much to say about the DADT repeal amendment, telling Metro Weekly only, "My votes already speak for themselves." Brown voted against the DADT amendment in the Senate Armed Services Committee.
Michael Mitchell, the executive director of Stonewall Democrats, shot back at the criticism from the GOP, saying in a statement following the vote, "Shame on the Republicans for not even allowing the repeal of DADT to be brought to the Senate floor for debate."
Sen. Joseph Lieberman (I-Conn.) echoed that statement, saying on the Senate floor ahead of the vote, "This ought to be an easy vote regardless of what you think about" DADT or the DREAM Act.
"We will support our armed forces," the longtime DADT opponent said, "by ending this nonsensical, unfair policy."
Sen. Jeff Sessions (R-Ala.) disagreed, saying the bill was "being rammed through before a fair and objective review … because of a fear" that the voters will "sen[d] some new senators to this Senate" in the November midterm elections.
The White House, in issuing its Statement of Administration Policy on the NDAA, formally stated its support for the amendment. The SAP read, "The Administration supports section 591 [which contains the DADT-repeal language approved by the Senate Armed Services Committee in May] as it would allow for completion of the Comprehensive Review, enable the Department of Defense to assess the results of the review, and ensure that the implementation of the repeal is consistent with the standards of military readiness, effectiveness, unit cohesion, recruiting and retention."