Christopher Henley photographed by Julian Vankim on Friday, Sept. 10
Going to a Washington Shakespeare Company performance at the Clark Street Playhouse was always something of an adventure.
If you took the metro it meant departing the well-lit, better-traveled sections of Crystal City and braving your way through a kind of limbo that was neither residential nor commercial. If you passed the seedy-looking motel parking lot, you had not gone too far.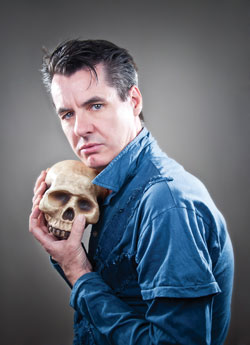 Christopher Henley
(Photo by Julian Vankim)
If you drove, your first time out at least, even the most trustworthy of GPS devices was no guarantee that you would arrive at the low-slung warehouse building.
But all that is about to change. WSC will soon move into one of the D.C. region's newest arts spaces – the Artisphere. The multi-disciplinary center (created thanks to a renovation of the former Newseum and including the Spectrum Theatre) will house galleries, a ballroom, a Wi-Fi town square and two theater spaces. When the complex opens to the public on Oct. 10, WSC will take up residence in the versatile Black Box.
WSC Artistic Director Christopher Henley seems as excited for his audiences as for his company.
"As unique and as much character as Clark Street had, it was not only falling apart, it was on the wrong side of civilization. We never really felt part of Crystal City. We were in the margins. For some people it wasn't a fun trip.
"Of course leaving is bittersweet," he continues. "We have a lot of memories of the space and we had some really good times there. We started renting the building in 1994 and did our first production in 1995, so it's been 15 years. It was just an old rent-a-car place when we came in. We built the walls to create a lobby and stage and dressing rooms. A lot of work and effort went into that place. But now, we'll be right by the Rosslyn metro station. We're right across the bridge from Georgetown. We're moving into a real neighborhood, with amenities around it and places to eat. WSC is going to be part of a community in a way that – as cool as Clark Street was – we never really managed to be in Crystal City."
And while WSC is certain to make an impression on Artisphere audiences with their opening production of Richard III at the end of October, the curtain will first go up at the Rosslyn Spectrum on Sept. 25.
The play?
Well, as Chancellor Gorkon put it so eloquently in Star Trek VI: The Undiscovered Country, "You have not experienced Shakespeare until you have read him in the original Klingon."
The company that has gained a reputation for regularly challenging audiences and boundaries will celebrate the start of their 21st season with "By Any Other Name: An Evening of Shakespeare in Klingon." Joining WSC will be openly gay actor and equal-rights advocate George Takei, an individual whose career continues to flourish more than four decades after he first took his place on the deck of the original Starship Enterprise as Mr. Sulu.
"I was in junior high when the original Star Trek was on," says Henley. "I would sometimes watch the other series with Patrick Stewart because I had seen him onstage and admired him. And," he adds, dropping his voice to a whisper, "I kind of had a crush on Will Wheaton."
As it turns out, WSC's ties to the final frontier are somewhat unique. Takei first met the company's board president, Marc Okrand, working on one of the series's films. Takei was reprising the role of Sulu. Okrand, a linguist, was coaching the actors on how to speak a language he devised for the movie: Klingon. The two struck up a friendship and Okrand would eventually introduce Takei to Henley.
"I always thought it would be great to get George out here to do Prospero or something. He's an inveterate theatergoer and works with some companies in Los Angeles. He was actually playing the doctor in a production of Equus about the same time WSC was doing it here. But the idea that he could take the time to come here and do a full production seemed like a pipe dream. With this, he can just come and do something fun with us.
"It's going to make for a really unique and interesting benefit and what better time than when we're making a move and introducing ourselves to Rosslyn. It's just a logical thing for us to do."
That's right, captain. It's logical.
Washington Shakespeare Company, By Any Other Name: An Evening of Shakespeare in Klingon featuring George Takei is Sept. 25 at 8 p.m. at the Rosslyn Spectrum in Arlington. Tickets are $150 (includes ticket to By Any Other Name and four flex-use theater passes for the upcoming WSC season) to $250 (includes previous package plus a ticket to a VIP reception following the performance). Call 703-418-4808. Visit washingtonshakespeare.org.