GALA Hispanic Theatre is launching its 35th anniversary season with a production that will not only make you want to be certain the company has another 35 years ahead of it, but serves as a strong reminder that the history of classical theater does not begin and end with a certain English-speaking William Shakespeare. In fact, we ignore the art's global history at our own peril.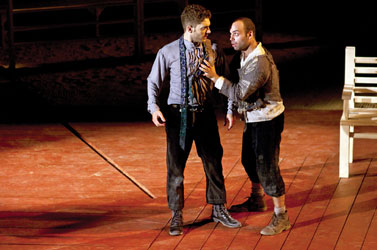 El Caballero de Olmedo
Okay. Perhaps "peril" is too strong a word. How about, we risk of missing some theater that is really quite brilliant.
El Caballero de Olmedo (The Knight from Olmedo) was written in the 17th century by the Spanish playwright Félix Lope de Vega y Carpio. Born two years before Shakespeare and some fifteen years after his more widely known brother of Spanish letters Cervantes, Lope de Vega was almost maniacally prolific. He's credited with the writing of more than 2,000 dramatic works, roughly 300 of which were published. As an artist, he is viewed as the master of Spanish Golden Age theatre, the individual largely responsible for lending shape to the dramatic work of the time.
Bearing some of the marks familiar to fans of classical theater – romance impeded by family obligation, violence wrought from jealousy and a comedic subplot to make sure the audience enjoys some laughter with their tears – El Caballero de Olmedo has been given an utterly modern feel by director José Luis Arellano García. Perhaps it's the refreshing spontaneity of the performances. Maybe it's the clean lines of the production, a measured treatment that leaves room for actor and interpretation.
Or, it may simply be that there is something entirely sure-handed about GALA's presentation of Lope de Vega's work. In their performance, GALA's company never hesitates, never stumbles. There is a sense of collaboration and generosity that not only imparts a sense of genuine purpose to the work occurring on stage, but gives the overall production an undeniable charisma.
That collaborative spirit sets off another important element of GALA's season opener. El Caballero is a bi-national production, produced in collaboration with Acción Sur S.L. from Madrid. This means that a number of the cast are making their first appearances at GALA and the mix, of faces familiar to area audiences and approaches and talents entirely new, lends even more depth to this poetically arresting show.
Based on a traditional Spanish folk tale, El Caballero tells the story of what happens when a handsome young man, Don Alonso (Juan Caballero), spies a noblewoman disguised as a peasant at a country fair. Unfortunately, Doña Inés (Emme Bonilla), the beauty in question, is already being pursued by Don Rodrigo (Jerry Nelson Soto). In an effort to ensure they can maintain contact with one another without raising the suspicions of her father, Inés and Alonso enlist the assistance of her sister Leonor (Karen Morales-Chacana), Alonso's right hand Don Tello (Pedro Martín) and Fabia (Monalisa Arias), the village crone.
It's a treat to say that any further discussion about El Cabellero risks revealing too much of the story. This is something that García appears to understand, as his production gives nothing away until it is hopelessly, thrillingly, too late to turn back.
EL CABALLERO DE OLMEDO





In Spanish with English Surtitles
To Oct. 17
GALA Hispanic
3333 14th St. NW
$20-$36
202-234-7174
galatheatre.org
Juan Caballero is absolutely magnetic in the role of Alonso. He performs with great intensity, forging a close and unbreakable bond with the audience. Paired with Bonilla – who crafts Inés with a fearless confidence – GALA offers a couple whose passion for one another would most certainly fan the flames of jealousy.
Playing the frustrated Rodrigo, Nelson Soto seethes in a fashion that will inspire a jealousy all its own. In his hands, Rodrigo is not the rival who merely wishes to possess Inés for the sake of selfishness, but a lover driven mad by the sting of rejection. That careful layering makes for a rich and full-throated performance.
Mention must also be made of Aria whose presence onstage is always thoughtful and welcome. She presents a Fabia who is comic, quick-witted and delightfully, sometimes scandalously, bawdy.
El Caballero de Olmedo is a rich, beautifully rendered work of classic Spanish theater. Audiences making the trip to Columbia Heights will not only be rewarded by GALA's gorgeous production but, for some, the fantastic realization that the world of dramatic possibilities has grown that much larger.