"Somebody alert the authorities, I got criminal intent," Robyn raps on one hip hop-flavored track on her playfully sublime new EP, Body Talk Pt. 2. Her professed crime? She likes to get a little dirty on the dance floor.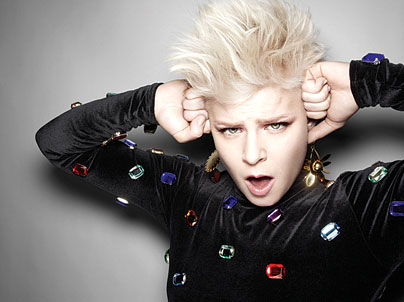 Robyn
(Photo by Rankin)
Her real crime? She's disturbing the pop peace. The industry keeps churning out so-called artists with nothing new to offer, just trite sounds and pandering provocations. I'll turn to a prime offender in a moment.
Robyn, the sassy and sweet Swedish singer-songwriter, continually proves to be in a league of her own. In fact, the 31-year-old, who reemerged in 2008 after a couple late-'90s hits ("Show Me Love," "Do You Know [What It Takes]"), is getting better and better all the time. Less than three months ago she released the eight-track Body Talk Pt. 1, featuring the hit "Dancing On My Own." Now, she's ready with Pt. 2 in what's to be a 2010 trilogy. I had concerns about the whole concept of three releases in one year — it seemed a bit unfocused, indulgent, and a process that could too-easily favor quantity over quality. But Robyn has already proven my concerns unfounded, and Pt. 3 is still to come (reportedly in December). That's how phenomenal Pt. 2 is. With again only 8 tracks, it may be a couple short of a full album in the traditional sense. But in every other way this is pop perfection, pure and simple.
In fact, for all her charming sassiness, the new set begins and ends with such sincere sweetness, it will likely provoke chills, maybe even tears. "It's gonna be okay," Robyn says at the start of the album's opening electronic ballad "In My Eyes." She then powers her strong little-girl voice to coach a listener, "Hey little star, don't be afraid. We all fall apart and make mistakes." At song's end, she coos, "Hey little star. I got you. You'll be okay." The set ends with "Indestructible (Acoustic Version)," a beautiful, string-laden ballad, about allowing oneself to fall in love again. "And I never was smart with love," Robyn cries. "I let the bad ones in and the good ones go. But, I'm going to love you like I've never been hurt before. I'm going to love you like I'm indestructible."
The first single "Hang With Me," initially heard as a beautiful string-laden ballad on Pt. 1 (see a pattern?), expresses similar caution about falling "recklessly, heedlessly in love." The grimacing "Love Kills" confirms the reason for reservation. "If you're looking for love," Robyn snarls, "get a heart made of steel, 'cause you know that love kills."
Later, Robyn's sassy side emerges stronger than ever, as she once again proves her rap mettle. This time, she even gets the better of Snoop Dogg, of all people. On the bouncy "You Should Know Better," the two go mano a mano, taking turns rapping humorously about their prowess. Robyn then flips the script and has Snoop sing the chorus refrain, "You should know better than to fuck with me." Meanwhile, Snoop just raps about getting high and getting laid, and getting away with not doing much. But Robyn? She's doing absurdly, amusingly too much, taking on the music industry, the Vatican, the CIA — even the devil.
"I danced with the Devil in Kathmandu, I came hummin' and blastin' with the boogaloo too," she raps. "Now I declare most solemnly — the prince of darkness know better than to fuck with me." She lets out a chuckle as she says "me." How's that for solemnity?
ONLY TWO YEARS ago, Katy Perry kissed a girl in song — and also, used the word gay as an insult — to get attention. Whether her boyfriend minded it, I have yet to forgive her. After all, she said the same-sex kiss was "no big deal. It's innocent." The always-straight girl — and former contemporary Christian singer to boot — used us, the not-so-innocent kind, for shock value. And it worked.
ROBYN
Body Talk Pt. 2





Konichiwa Records/Interscope
$7.99
Available Sept. 7

KATY PERRY
Teenage Dream


Capitol
$18.98
Available now
Well, the 25-year-old is just as sexually liberated on her new set, Teenage Dream. On the title track, for starters, she tells her date, "Let's go all the way tonight… I'ma get your heart racing in my skin-tight jeans, be your teenage dream tonight." And yet, she doesn't once resort to using the gay card. So, there's that. Progress, in a way. But her lyrics are still pretty egregious, riddled with clichés and maxims that only a day-dreaming teen would find profound.
With a few exceptions, her music, created with the best producers money can buy — familiar names like Max Martin, Dr. Luke, Stargate — is as hooky yet as formulaic as ever. The first single (and huge hit) "California Girls" — featuring Snoop Dogg — is exhibit A. It's the type of tune that gets on your nerves either right away or after only a couple listens — but still manages to stick with you anyway, stuck on repeat ad nauseam.
I'm so not falling in love, or putting my hands up.