"You're no one unless you're on television, baby," says Luke Cazwell, the New York performer who goes by his surname. "You can get 13 billion hits on YouTube, but when you're on TV, it's like, 'Oh, okay."'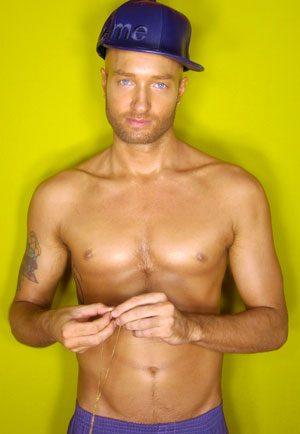 Cazwell
(Photo by Marco Ovando)
Cazwell's videos may not have generated 13 billion hits on YouTube, but the tally is well into the millions. Even Beyoncé has reportedly laughed at the hilarious spoof the gay rapper made about her last year, "I Seen Beyoncé At Burger King." (Where "she was eatin'.") And people far removed from the gay New York club scene are enjoying his latest boy-crazy video, "Ice Cream Truck," a sort of antidote to the typical hip hop video. And then there was last year's entertaining full-length debut album, Watch My Mouth.
But Cazwell is still savoring his time on the small screen. He appeared last year on RuPaul's show on Logo — where, of course, his videos are in heavy rotation. "I think everyone should demand that I go back on RuPaul's Drag Race and teach those queens how to rap again because I was really good," he says.
The 33-year-old grew up in Massachusetts, in the town pronounced "Woosta." He grew up a fun-spirited troublemaker, one who first started rapping to rhymes from Shel Silverstein and was drawn to the genre by New York party acts Deee-Lite and the Beastie Boys. After high school and a few years struggling in vain to find acceptance as a gay rapper in Boston's hip hop scene, he moved to New York City, where he has slowly but surely charted his own course to the spotlight. From early performances with a pre-famous — pre-Fame — Lady Gaga to regular work with Amanda Lepore, Cazwell has certainly helped to enliven the scene. Nearly every night of the week he DJs at a different club, playing a mix of "happy" music: "A little house, a little rock, a little dance, a little remixes."
But as his career builds, Cazwell is increasingly performing around the country. Metro Weekly spoke to him last week, just as he landed in San Francisco for a gig with two of his dancers from the risqué "Ice Cream Truck" video. He'll fly solo for his DJ-and-rapping performance this Friday, Sept. 24, at Town Danceboutique. "Yeah, but I'm fine," he teases, "I can do it!"
Given that he intends to perform shirtless, it should be a sweet treat.
METRO WEEKLY: Let's start by talking about "Ice Cream Truck" — you've got a bevy of hot boys in skimpy clothing doing seductive things. How did you find the people to be in the video?
CAZWELL: Me and Marco Ovando [the video's director], we both work in the club scene. I DJ and throw parties, and he throws parties. So the boys in the video are just dancers that work in the club. Not like strippers, just like go-go boys basically. I wanted the video to be dedicated to New York Latino boys. We just grabbed the guys we knew. We didn't hold an audition or anything. We know enough cute boys.
MW: The video has gotten more than 2 million hits. What response have you gotten to it?
CAZWELL: Something that I've really enjoyed about "Ice Cream Truck," which also I felt with [2006's] "All Over Your Face," too – what I've seen in the YouTube comments and e-mails, is that it definitely gives gay people a sense of empowerment and feeling that they're entitled to talk about the sex that they want to have. "Wow, finally somebody is objectifying guys the way that women are always being objectified." I always do that. I didn't really think about it too much. I wasn't trying to make like a gay version of a hip hop video, but ultimately that's what I did. I love objectifying guys, I guess. What I totally didn't pick up on is that kids that live in the Midwest or even parts of California or whatever, they don't really [ever] see that. This is New York clublife living.
MW: So obviously now that means you need to make more videos in that vein.
CAZWELL: Yes. More objectifying hot guys bouncing their asses and grabbing their dicks, right. [Laughs.]
MW: How did you come up with the concept for the song?
CAZWELL: There's this movie called Spork that my friend J.B. Ghuman Jr. wrote and directed. It's a musical comedy about a hermaphrodite in high school, and he wanted me to write a couple songs, so I did. And I kept sending this one song back and forth, and he just wasn't liking it. He's like, "Just do an '80s rap, fun summertime [jam], with a beat — think of an ice cream truck." I didn't take it too seriously at all, which is probably why it came out so catchy. I didn't really think too much about it. Then it got in the movie, and then my manager said to me in June, "You should just make a quick video for the song for summer."
MW: What is the "banana split" you refer to in the song: "We'll do a banana split on the dance floor?"
CAZWELL: Honestly, I didn't put too much thought into it. I was just grabbing different ice cream names and putting it in there.
MW: Well, there are some wild definitions for the term on Urban Dictionary.
CAZWELL: Oh really? Okay, good. I didn't look at Urban Dictionary before I wrote the song. It could mean, grab my dick on the dance floor, but I'm not saying. [Laughs.]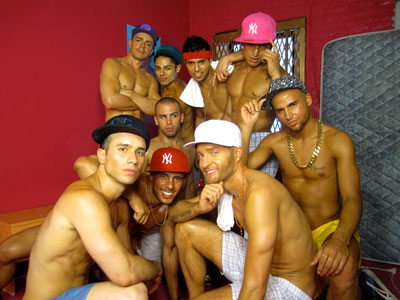 Cazwell
(Photo by Marco Ovando)
MW: Where do you get ideas for your tracks?
CAZWELL: I get ideas from everything. But mostly, I just have a lot of funny friends. A lot of my friends, they say funny shit, so I think most everything I say just comes from hanging around funny people. I steal it all!
MW: Last year's YouTube sensation with Johnny Makeup, "I Seen Beyoncé At Burger King," generated more than 1 million hits. What inspired that?
CAZWELL: Johnny was going on with this 20-minute monologue about how he met Beyoncé at American Apparel. I just thought it was like the funniest thing in the world that Beyoncé would even do her own shopping. I probably wrote it in 30 seconds. I was thinking in my head that it'd be a girl that sings it, but I thought I owed it to [Johnny] to put him in the song, because he gave me the idea, and he kind of sounds like a girl anyway. So it kind of worked out.
MW: Long before you were riffing on boys and Beyoncé, what were you doing? What kind of a kid were you growing up in Worchester, Mass.?
CAZWELL: I was a gay kid. I was a gay brat. I definitely caused a lot of trouble. Me and my friends used to make puke bombs. We used to take one of those Ziploc freezer bags and fill it up with eggs and water and milk and then drop it from the second or third floor of the mall, and then run. We used to do some crazy shit.
MW: Who did you target with the puke bombs?
CAZWELL: I don't know if there was a target. I think whoever would be the easiest. But I remember one time, there was a lady wearing a died-blue fur, floor-length coat. And black hair. And she thought she was Demi Moore and shit. I remember it like in slow motion of her looking up and it happening.
I used to cause trouble a lot. Out of all my friends, I think I was the only one that graduated high school. Most of my friends dropped out when they were 15 or 16 years old.
MW: What about your family life? Do you have brothers and sisters?
CAZWELL: I have two brothers. I'm tight with my younger one. I haven't talked to my older one in a long time. And my dad is getting married next month for the fifth time. [Laughs.] My parents' divorced when I was 16.
MW: I imagine you were the wild child of the family.
CAZWELL: Yeah, I was the wild gay child in the fam.
MW: The only gay one?
CAZWELL: Yeah, yeah, both my brothers are straight. Thank god.
MW: Do they know about your career?
CAZWELL: Oh yeah. My dad thinks I'm awesome.
MW: When did you come out?
CAZWELL: Officially the day I graduated high school.
MW: When you look back on high school, do you look back fondly? Or is it sort of a traumatic memory?
CAZWELL: I wouldn't say that it was traumatic, but I think that [by] my senior year I had a better idea of who I was. I had more of an identity. I knew I wasn't popular and I wasn't going to try to be. I guess that I was coming in to knowing that I was gay, but I wasn't like saying it or anything like that. So I think I was in some kind of denial until after high school.
MW: Were you writing songs or raps in high school?
CAZWELL: I've always been attracted to rhyme and the power of rhyme. I remember as a kid I would memorize Shel Silverstein. I think when I first started performing as a kid I would memorize bits from Where The Sidewalk Ends. That was my first introduction to rhyme. I think it draws more energy from the planet if you say [something] in rhyme form. I kind of caught on to that quick. I definitely enjoyed rhymes. But I knew I couldn't sing so that's why I started rapping.
MW: Were you musical as a kid? Did you play an instrument?
CAZWELL: I played the saxophone for like three days. I was in chorus all through high school. I was a tenor, but I was kind of tone-deaf, which I still am, when it comes to singing.
MW: So you weren't a star singer.
CAZWELL: No, I wasn't. Actually, the teacher would move me away from the microphone if we had to do a recording.
MW: Which must have hurt, because you wanted to be the center of attention.
CAZWELL: No I didn't. I mean, I think everyone wants to find a way to get attention. I think it's kind of a human trait. But I don't think I knew what platform I wanted to do it on. I certainly didn't think that I could sing, but once I knew that I could rap, it gave me the opportunity to create something, and create a song.
I would always, in my mind, fantasize about being some type of star on stage. But I don't like Broadway. I can't sing. I don't like acting at all. I just feel like, I don't know, it looks weird to me. A bunch of grown adults playing pretend all day. I never got into acting or that type of stuff.
MW: So you don't see yourself becoming an actor?
CAZWELL: No, I don't see that that's anything I want to do. I mean, I'll never say never, you know? But that's not something I want to pursue.
MW: I'm curious, do you watch Glee?
CAZWELL: I actually don't have a television.
MW: So you don't watch TV?
CAZWELL: No, but I watch the Internet. I watch YouTube and stuff like that. I download Bad Girls Club once a week. They put eight girls together in a house, give them nonstop booze and watch them fight. That's the whole premise.
MW: What would you do without YouTube?
CAZWELL: I would watch a lot less Judge Judy.
MW: You watch Judge Judy on YouTube?
CAZWELL: Yeah, I swear it's like watching God work. She's just always right, she knows how to catch a lie. I just really, I like her. I think she's fucking fierce.
It wouldn't be as easy to be gay [without YouTube]. Or to sell music and be gay. And it wouldn't be as obvious how gay the fucking world is either. With all those gay little 8-year-olds dancing to "Put A Ring On It." [Laughs.]
MW: How did you support yourself once you made the move to New York?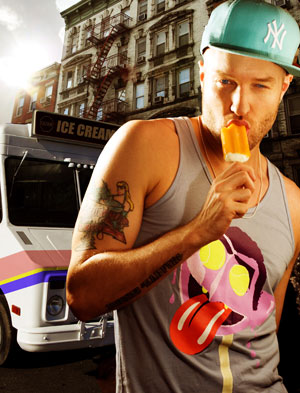 Cazwell
CAZWELL: Cocktail waiting and shit like that. Oh, and I started to massage guys' feet for money. I had an ad — it was called "Foot Hooker." And I used to massage guys' feet. I don't know how the hell I started. I just had this idea that everyone wants to get a foot rub, so I was like, well, I'll come, I'll take off my clothes, I'll massage your feet. Some guys would have foot fetishes and things like that. And I was told I had nice feet and I was like, let me try to work this. Basically, giving foot massages to gay guys. The thing about it is, I didn't try to put it out there for foot fetishes, but if you put the word "foot" out there, someone with a foot fetish is going to gravitate towards you.
So yeah, I was a foot hooker, and my name was Ludwig. I don't think I ever said it right. But the whole story was that I was a Pole – I moved here from Poland.
MW: So being a foot hooker was a pretty lucrative line of work?
CAZWELL: No, it wasn't super. It was probably like 800 bucks a week.
MW: That's pretty good.
CAZWELL: Yeah, it's not bad. It ain't waiting tables.
MW: What inspires you musically today? Do you listen to hip hop?
CAZWELL: I pay attention to it. A lot of it ain't so good. I don't think hip hop's going through a great time right now. I really like Nicki Minaj. I'm really feeling her, I'm feeling her style. I'm really getting re-influenced by Peaches. To tell you the truth, I actually just met her last night. She's an amazing person. I'm really hoping to work with her. I like things that have a punk rock soul to them. That have sort of a rebellious side.
MW: Actually, in some sense you're like the male, or gay male, counterpart to Peaches.
CAZWELL: Well thank you, I take that as a compliment.
MW: Though you're not usually quite as raunchy.
CAZWELL: Well, give me the opportunity. I mean, she's had four albums. I can get raunchier.
MW: Do you intend to?
CAZWELL: I intend to say what's on my mind. And I just think that what's on my mind the most is food, sex and money, so that's what I talk about the most.
MW: Do you think we'll ever have a mainstream gay rapper?
CAZWELL: You mean, like winning VMAs? Grammys? No. Hip hop would have to change, and I don't see that happening. Hip hop has been going on for 30 years and no one's gay, out and proud. I mean, anyone who's gay and in hip hop is faking it to make it. When I think of hip hop I don't think of anything that has to do with accepting gay people.
But I'm not going to wait for it to change. There are some people who would consider me hip hop just because I rap, and there are other people who wouldn't consider me hip hop for whatever. I mean, I don't care. I don't think about that any more. Because I used to. And it used to stress me out, and it used to prevent me from growing as an artist.
MW: It's healthier not to dwell on other people's perceptions of you.
CAZWELL: Yeah. When I lived in Boston, all I really wanted to do was to get accepted by the hip hop community there and what was going on. I knew I had what it took. But I basically came to the conclusion, no matter how good you are, straight people in hip hop really don't want to have anything to do with gay people — besides them being a stylist or something like that. Straight people in hip hop don't hang with gay people. It's two different worlds! And gay people don't want to be in a situation where they could get bashed. I just want to be around people I can be myself with.
MW: Many or most of your rhymes aren't terribly autobiographical. You're often observing other people, or talking about your tricks, past or potential. Do you have trouble talking about yourself, or putting yourself out there in your rhymes?
CAZWELL: Yeah, I mean, I'm not convinced people really want to know that much about me as far as like personal shit about my life. I hate hearing songs where people just yap about how hard their life was, and look at me now! I don't like songs like that.
MW: We should talk about your history with Lady Gaga. I hear she used you and abused you, in a manner of speaking.
CAZWELL: I performed with her a couple times in New York City before she got super-huge. I rapped on a few remixes of [her first single] "Just Dance." The first time I performed with her was in a crummy bar on Avenue C. She never broke face once. I showed up at sound check and she was in like tight, shiny black pants and sunglasses and blond hair. She was really cool. She had a stage the size of a door, and she still had a vision for what she was going to do. She had her dancers. She was like, okay, well, we do this. But she would ask me, "Oh, do you like it this way or that way?" She was like, "Well, how do you feel we get to this part after you rap and I'm going to throw you on the stage and I'm going to start riding you." So that's what she did. I was lying on the stage and she was riding me, like fucking me. And then we rolled off the stage on to the floor. Right now it would seem like a really crazy wild thing that everyone would just go nuts over, but at the time, the funny thing about it is, she just started pushing the "Just Dance" song, and all these gays were just watching her with their arms folded, like, what is this crazy person doing? And no one even cared. I mean, some people kind of cared, but everyone was just [blasé], "Oh, another club kid with a quote-unquote song." That type of attitude.
MW: Have you spoken to or seen her since?
CAZWELL: No, I hear she's a little busy. [Laughs.] A year or two ago – a while back, she had given me and Amanda Lepore like a shout out and stuff. My feeling about her is — how I feel about most people — is that, if you have my back, I have yours. And when it comes to being gay and gay rights, I don't see any other pop divas saying no to Prop 8 and standing up for gay rights, and doing awards shows thanking the gays. Beyonce ain't doing it. Rihanna's not doing it. So as far as I'm concerned, she has my back, and that's so important to me. So I have hers. She's really good to gay people. And you know, no one else fucking does that! It's awesome. And it hasn't hurt her record sales. So maybe if people stuck up for basic human rights a little more often, it would help their bid-ness.
Cazwell performs Friday, Sept. 24, after 10 p.m. at Town Danceboutique, 2009 8th St. NW. Tickets $5 before 11 p.m. $10 after. Call 202-234-town or visit towndc.com.