The American. It's rather a bland title. But if you bring a star's name into it — for example, "George Clooney is…The American" — you get a bit of a rush. But it still seems understated. And if you look at the marketing for the film – the trailer is filled with drawn guns, scantily clad women, and ominous men lurking in shadows – you wonder why it's not The Assassin. Why pick the milquetoast title instead?
Because it fits the film.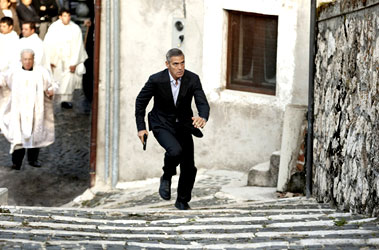 The American
(Photo by Giles Keyte)
Jack (Clooney) is a hatchet man. But instead of flying around on airplanes firing people, he fires at them. When, in the film's opening moments, a pair of Swedes attacks trained assassin Jack, his methodical and sure-handed elimination of the would-be killers will make you think that Jason Bourne's brother has been hiding in the snowy mountains of Italy. However, after this brisk slaughter of rival professionals, Jack becomes a little more meek. Aided by a handler Pavel (Johan Leysen), Jack seeks sanctuary in a tiny Italian town where he can pass the nights in a diner, question whether his soul can be saved, and dispatch the occasional man. Call it Eat Pray Kill.
In his attempt to blend into the Italian landscape, Jack stands out like a sore thumb. Within hours the local priest is trying to convert him. Torn between protecting innocent lives by staying isolated and desperate for human interaction, Jack seeks affection in the arms of a prostitute (Violante Placido), spars with the old priest (Paolo Bonacelli), and builds a sniper's rifle. Oddly, butterflies seem to be his recreational enjoyment. When Jack takes on one last job before he "gets out," he meets the beautiful Mathilde (Thekla Reuten) who will change his life forever. Yeah, it's cliché.
The American was adapted by Rowan Joffe from Martin Booth's novel, A Very Private Gentleman. Joffe has taken such a minimalist approach to the dialogue that perhaps The Quiet American would have been a more suitable title. One of director Anton Corbijn's challenges is that Jack's identity is drawn in harsh relief within the first five minutes of the film, vivid like blood sprayed across snow. He then has to spend the next 90 minutes trying to alter that initial perception of the man. And that's where the film's reality belies the marketing. The American is about one lonely man questioning his life's choices. The suspense is a long, slow build, not an action flick filled with explosions and rapid fire. In the one chase scene of the movie, Jack rides a Vespa. That's not vroom, vroom, that's putter, putter.
Even though Clooney isn't dashing across the tops of buildings and crashing through windows, he still provides a strong anchoring presence for the film. There's a stoic resolve to Jack, which Clooney manages to embody. Though the character's pensive side tends to show itself through lingering shots of Jack unable to sleep at night with a gun next to his head for protection, Clooney fills the silences well.
Since much of the film is spent capturing Jack's solitude, his moments of interaction with other characters carry a heightened importance. As the friendly priest who sees through Jack's facade, Bonacelli gives a fine performance. He's both benevolent and flawed and there are brief moments that reveal the complexity in the character. Bonacelli makes the part intriguing rather than just utilitarian.
As the hooker with a heart of gold, Placido breaks free of the cliché and really makes Clara an intriguing love interest for the emotionally reserved Jack. Placido bridges the gap between Clara's professional and personal life with ease and provides weight to what could have been just a typical older man/younger woman film romance.
THE AMERICAN



Starring
George Clooney
Rated R
102 Minutes
Now Playing
Area Theaters
As much as the actors manage to transcend the story's flaws, Corbijn's direction ends up being the biggest constraint. After starting briskly, Corbijn's pacing slows to that of a snail, which turns out to be fine once you accept that you're no longer in an action movie and not every one of the lurking shadows will materialize into real danger. But Corbijn's attempt to bring an artistic bent to every scene is too distracting to actually provide the film with a unified esthetic. The bigger problem is Corbijn's over-reliance on symbolism that does nothing for the narrative – case in point, the butterfly hobby.
The American is about a man questioning his own identity. While "American" is actually never one of the labels he questions, it's a good enough title for a film that misfires just as often as it hits the target.