On Tuesday, Sept. 14 – with a wide swath of primary elections across the country – the National Organization for Marriage focused its attention on one race: a challenge to marriage-equality supporter D.C. City Councilmember Harry Thomas Jr.
NOM failed.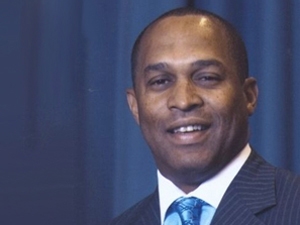 Harry Thomas Jr.
Thomas, a Democrat who voted for the Religious Freedom and Civil Marriage Equality Amendment Act of 2009, is confident that his vote was not just right, but also good politics, saying, "[I]f I had been on the other side of this issue as a councilmember, I wouldn't have been as successful [in my re-election campaign]."
Thomas represents Ward 5 in Northeast D.C., which – as he described it to Metro Weekly at his campaign headquarters during a victory party on Tuesday night – has "a large African-American population, a large Catholic community, a large Baptist and religious community."
Referring to NOM's perceptions of his ward, Thomas said, "People automatically assumed they would be so adamantly against someone's rights."
Thomas, though, said that he made no such assumptions.
"I was … very confident that I could vote my conscience and my honesty and not even try and take anything into account except for the fact that what's right for people, for fairness," he said.
Thomas was right. And he easily won re-election on Tuesday night, securing more than 65 percent of the vote in a four-way race, according to returns listed by the D.C. Board of Elections and Ethics. His leading opponent – the NOM-backed Delano Hunter – received just 826 votes, or a little more than 17 percent of the votes cast in the race.
"This has been a resounding success for democracy and justice, for human rights," Thomas said. "That's what I get out of this."
NOM opposed Thomas on fliers distributed earlier this year and supported Hunter with donations and mailers, as recently as this past week.
"I would never try to tell someone in the profession of religion how to be a religious leader," Thomas said, "but I think they should focus on their message about the principles of church and what they believe in – instead of trying to understand the politics of what was a human-rights issue."
What's more, Thomas said NOM's actions "solidified [his] position" on his vote for the marriage bill.
"I think that what you see is voters were not singularly focused [on marriage], and there was a small group of individual who I believed focused on – frankly – a lot of misinformation," he said. "[NOM] tried to deceptively cast their campaign around people being denied the right to vote – without explaining the human-rights issue."
Unexpectedly, Hunter also got the endorsement of The Washington Post on Sept. 2. The editorial focused on Thomas's actions of "trying to stop" Mayor Adrian Fenty's various plans, but endorsed Hunter for running a "grass-roots campaign," while downplaying his opposition to marriage equality by stating that Hunter "is not the homophobe his critics make him out to be."
Of Hunter's opposition to marriage equality, Thomas said of The Post's editorial, "They just dismissed it."
He couched his criticism, though, noting, "I don't think it was institutionally The Post. I think it was an individual editor. It was an individual editor who did a singular editorial interview with me and confused her issues with education and my being strong for my constituents.
"On the education issue, I was very strong in being very adamant about the Fenty administration and the lack of things they did for my ward.
"So they used this issue to now go and endorse somebody against every principle [expressed in other editorials]," he said. "The Post, I believe, has been one of the most liberal papers in the past and, quite frankly, when you look at other editorials, had been right onboard [with marriage equality]."
Thomas called the editorial "short-sighted" and warned that "the paper really needs to look at the integrity of the editorial process and how it reflects on them."
Noting his success regardless, Thomas said, "I'm really glad readers and the public went beyond that and looked for themselves."
Looking back for himself on the race and NOM's intervention in it, Thomas was not caustic – but instead contemplative. Speaking of his strong grounding in religion, he said, "My message is one of tolerance. I think NOM needs to understand that we're not trying to trample on anything this great country was founded on – religious equity.
"Everybody should have a fair choice of what they want to do," he said. "When laws are created by men, I think laws should be equal for everybody. As a legislator, that's what I would say to them."
Adding with a grin, though, Thomas said, "They didn't get the upset they were thinking. I never thought they would."