Planet Snoopy will be closed next Saturday night, Sept. 11, during Brother Help Thyself's annual outing at Kings Dominion.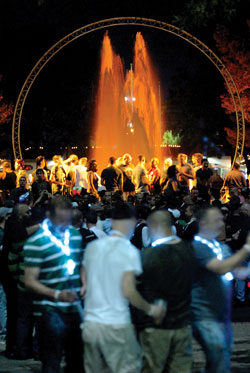 Kings Dominion
(Photo by Ward Morrison)
"[That section] is for the kids… and people who are really into furries," says BHT's Tim Woody, quickly adding about bears like himself, "Not that kind of furry."
Don't worry, that kind of furry will definitely be in attendance — and not just Woody, this year's BHT events chair, who promises to be "bright-eyed and bushy-tailed" most of the night greeting patrons. The annual trek to Kings Dominion, about 20 miles north of Richmond, is one of the largest fundraisers for BHT, the all-volunteer local alliance of leather, Levi, drag, bear and fetish communities. The private, nighttime event attracts well upward of 2,000 thrill-seeking people from all walks of gay life, plus straight allies.
And Planet Snoopy has nothing on this year's real draw, the new Intimidator 305, said to be the fastest and highest roller coaster on the East Coast. Of course, the park was no slouch in the coaster-enthusiast department before the Intimadator 305, with 15 different coaster rides to give you thrills, from the classic, wooden Rebel Yell to the Volcano Blast Coaster to the Dominator.
After the rides shut down around 11 p.m., Cherry presents DJ Steve Henderson, a regular at Secrets and Capital Pride. Henderson will spin for a dance party at the park's main entrance area, International Street. Beer and mixed drinks, as well as food, will be served all night at the park.
Beyond supporting the community through BHT, Woody ticks off the advantages of the event, from the manageable lines in accessing the rides, to having the park "open just for us," to "the nighttime thrill of riding a rollercoaster in the dark."
A coaster enthusiast, Woody hopes he's able to "sneak away" to ride one of the coasters. If not, at least maybe he can find himself a furry to have fun with. Yes, that kind of furry.
BHT's Annual Gay and Lesbian Night is Saturday, Sept. 11, from 8 p.m. to 1 a.m. at Kings Dominion, Doswell, Va. Tickets are $32 in advance, $35 at the gate. Call 202-347-2246 or visit brotherhelpthyself.org.