"I would have loved for my mom to have had a relationship with someone," says comedian Loni Love. Love was raised with her brother by a single mother in the projects of Detroit. "And I can tell you this: As a child, I wouldn't have cared if it was a man or a woman. I just wanted my mom to not be alone."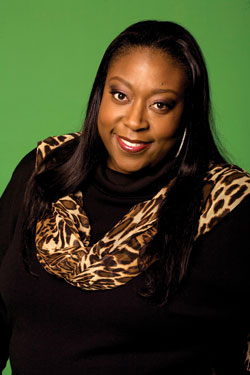 Loni Love
Of course, she jokes, "If it was a woman, I wish she could play basketball, so she could show me how to play!"
Instead of basketball, Love is scoring major points these days as a standup comedian — one who gives real meaning to her surname. She is gaining prominence for her straight-up comic sensibility and her support for gay rights, including marriage equality. "I think we all should be treated [equally] and have the same rights," says the straight comedian, who is single. "I don't see why people should not be allowed [to marry]. Because, you know, love is hard. To find somebody and have chemistry with somebody, and then not be allowed to have a [legal] commitment with that person? I don't understand that."
The 39-year-old Love didn't set out to be a comic. After a stint working on a General Motors assembly line in Michigan, she decided to get a degree in electrical engineering from Texas's Prairie View A&M University. She subsequently found work in Los Angeles. "I was the worst engineer in history," she says. Soon enough, she was inspired to quit, setting out for a different industry also with a dearth of women. "I had started doing standup in college, but when I saw this girl in L.A. doing standup, it was just one female [performing] with a whole bunch of guys. And I'm like, let me get back into it, because I know there has to be more to be said [by] females."
Love first came to national attention nearly a decade ago offering color commentary for VH1's pop culture series I Love The…, each episode focusing on a different decade. She went on to become the 2003 runner-up as best comedian on the short-lived, re-launched Star Search.
These days, Love is constantly touring, including this weekend's gig at the DC Improv. She's working on a book, and currently developing a show with "gaysian" Alec Mapa, which will air on an L.A. station. She's a regular on national television, from Comedy Central's recently aired standup special Loni Love: America's Sweetheart to truTV's The Smoking Gun presents: World's Dumbest… to various E! shows, most significantly Chelsea Handler's show Chelsea Lately, where she appears biweekly.
"Chelsea is reviving standup comedy," Love says. "She is sharing the stage. Every night, she puts on [other] comedians. It's really helping to bring back people to the comedy clubs."
Love's support for gay rights in particular increased over the years with increased exposure. She singles out a moment a decade ago, when her lesbian makeup artist suffered a bad breakup. "She was so heartbroken over the breakup, and it was all because the [other woman's] parents didn't know that their daughter was gay," according to Love. "And so she broke off the relationship. It really hit me. It put a face on it.
"I think that that's the issue — because [a lot of] people don't know gays," she continues. "That's just like a lot of people don't know any black people, so they have this stereotype in their mind of, 'Oh, they're like this, or they're like that. And that's different, I can't be for that."'
"What I try to do in my standup… [is] give my opinions. And if it helps someone else to recognize what I'm talking about, or maybe turn on a light, good.
"My comedy is feel-good comedy," she continues. "Every now and then, I may throw in a message or two, but at the end of it, you're going to walk out feeling good. That's really my focus right now. Because we're going through a lot in this country and we really do need to laugh and lighten up and know that everything will be okay."
At the DC Improv, 1140 Connecticut Ave. NW., Thursday, Sept. 2, through Sunday, Sept. 5, at 8 p.m. Second show Friday, Sept. 3, and Saturday, Sept. 4, at 10:30 p.m. Tickets are $15 to $17. Call 202-296-7008 or visit dcimprov.com.