If ever a jukebox hit was made for a Shakespearian play, it is Diana Ross' "I'm gonna make you love me," as applied to All's Well That Ends Well. As Ross vows to "use every trick in the book" to win the love of a reluctant target, so does the more poetic but just as determined Helena. But while Ross keeps it kittenish, breathy, and hopeful, Helena hatches an improbable plot and activates. It may involve the most unlikely of co-conspirators and an uncanny sense of her ovulation cycles, but Helena sees it through without compunction. To the modern sensibility, an unseemly victory, but still a reasonably entertaining play.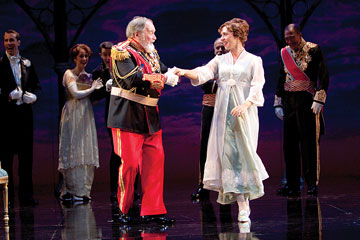 All's Well van Griethuysen and Silverman-
(Photo by Scott Suchman)
For the way to take All's Well is much the way one might take Ross' anthem — by enjoying the music without dwelling too much on the point. Here, the "music" is the flow of Shakespeare's language, his mesmerizing partnership of words and images, the way he draws us with miraculous ease into contemplations of grief, old age, illness, the heart's longing, and in the ticklingly clever repartee in between. And with perfect pitch, director Michael Kahn creates a gimmick-free zone, a psychically clear, simple and intimate space in which the best aspects of this not-terribly-easy play can flourish.
We join the precocious Helena, ward of the Countess of Rossillion since the death of her physician father, mooning over the Countess' son, Bertram. Before she can declare herself, Bertram is called to the court of the King, who is gravely ill. Helena soon follows and convinces the King that she can cure his ills with her father's unique medicines. In exchange, the King agrees to give her whomever she chooses for a husband. When her cure succeeds, she chooses Bertram as her groom. But the young man balks mightily. Though he soon caves under the King's pressure, Bertram runs away to war with his friend Parolles, vowing only to return to Helena under the most impossible of circumstances. Thus begins Helena's agony and the workings of her steely mind.
As the determined Helena, Miriam Silverman walks the tightrope well. Though this woman's sense of entitlement is matched only by her stalker's genius, Silverman gives her an innocent's longing, a kind of irrepressible schoolgirl energy, which adds convincing color and distracts from the more calculated reality. It is a sustained, quality performance.
Yet the real potency here, and truly the reason to see the show, are Ted van Griethuysen's King and Paxton Whitehead's Lafew, a Lord at Court. Though Shakespeare eventually devolves his King into the ceremonial, the early scenes in which he battles his illness offer the play's finest contemplative moments and poignancy. And there is no one better than Van Griethuysen to give us this despairing, aging monarch. With extraordinary subtlety and insight he evokes the man as he was in his prime – still there amidst the age and illness – reconciling, mourning, staring full-face into the abyss. These are the moments that linger long after the plot has been tied up in its odd little bow.
As another ageing tiger, Lafew has many of the best one-liners but it is Whitehead's impeccable sense of rhythm and language that make them ping and zing like tiny grenades. His is another man looking back at youth – without having lost any of his sense of himself – and although it is done via witticism versus monologue – it often delicately touches a nerve.
ALL'S WELL THAT ENDS WELL




To Oct. 24
Lansburgh Theatre
450 7th Street NW
$47-$88
202-547-1122
shakespearetheatre.org
Much of Lafew's ire is directed at the feckless Parolles, Bertram's n'er do well buddy, but Michael Bakkensen never quite gels as a foil. His Parolles is uneven, more a contender than a clown. So, when Parolles eventually reveals his vulnerable inner core, the impact is diluted. And it is hard not to think of the Washington Shakespeare Company's Ian Armstrong two seasons ago when he interpreted his Parolles as such a memorably complex and affecting mess of a man.
As the Countess of Rossillion, Marsha Mason works hard to tame her Broadway-style charisma in favor of the bookish subtleties of Shakespeare, but the process is somewhat distracting. If she can shed her entertainer's skin, she has depth, dimension and facility with the language. Though there is an aloofness to Tony Roach's portrayal of Bertram, he is a sketch of a man to begin with, and this reticent performance works well against the rather delusional Helena, at least until the improbable finale.
Finally, a nod must be given to the vivacious Natalie Mitchell as Diana, and the undercast Caitlin O'Connell as the Widow Capilet, who supply memorable oomph to two somewhat incongruous latecomers.
And so Helena gets her would-be adulterer and we get our Shakespeare unadulterated. Everybody wins! Except the bamboozled Bertram.