There was a time when Riley Folds didn't think it was anyone else's business at his workplace to know that he was gay.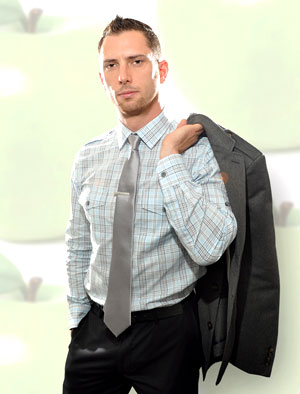 Riley Folds
(Photo by Todd Franson)
"I was always of the nature that who I was with and my sexuality was my business," he says. "It was no one else's and it had nothing to do with my work."
But Folds, 35, changed his mind after reading The Lavender Road to Success: The Career Guide for the Gay Community by Kirk Snyder.
"It just really talked about the challenges and then the successes with being out and open in the workplace," he says. "It talked about how individuals, if they're closeted, are sometimes segmented into areas within communities that are LGBT-safe, stereotypical roles.
"But if you're in that environment where it's inclusive and everyone can participate and you can be who you are, then a person doesn't feel as limited in their growth and success within the organization."
Folds, a native of Monaca, Pa., discovered Snyder's book in 2004, seven years after earning his bachelor's degree from La Roche College. It led him to wonder how different his career might have been had he been out all along.
"I was [working] at the National Democratic Institute doing operations and logistics. I was leaving that organization and going to a government contractor, and I made the firm decision that when I went to that government contractor, I was going to be out from day one."
It was during his first day at this new job that Folds was put to the test, shortly after meeting his many new co-workers.
"My supervisor takes me around the entire company and introduces me to everyone. We get back to his office and I sit down and he says, 'Oh, I'm sure I'm going to get a lot of calls from the girls this afternoon.' [I thought] this is that intersection whether I'm coming out and this is the time to do it, or again you push yourself back in the closet."
Feeling overwhelmed, Folds was not able to do it. At least, not until the next morning.
"I said, 'Listen I have to talk to you. You know that comment that you made yesterday, about the girls calling you about me? I'm gay and I have a partner, so if they're calling, feel free to tell them I'm not interested."
Folds was relieved by his supervisor's reaction.
"He was very accepting. From that day we had honesty and truth. You never had to have that awkward weekend conversation. If there was a holiday event, I brought my partner to it, no big deal. It just became part of every daily conversation that everyone has in the office about their normal lives.
"I wasn't asking for any special consideration. I just wanted to be able to share the same things everyone else was sharing."
Folds was so inspired by Lavender Road that he decided to create a diversity program that would implement some of its suggestions.
"I actually called the author and told him I was inspired to base a program on some of the things he talked about. He was totally onboard and came and spoke at the conference."
Naturally, Folds decided to take it one step further by establishing a nonprofit organization in 2006.
"I shopped the idea around the Human Rights Campaign first, and I got less than lukewarm feedback from them."
He did however get some help from the National Gay and Lesbian Chamber of Commerce (NGLCC), and its co-founder Justin G. Nelson.
"Justin was actually the first champion of creating Out for Work," Folds says. "He [represented] the first LGBT organization that came onboard and said this is a great idea. He introduced me to a high official at IBM, and IBM was the very first company to give us seed money."
With IBM's initial $15,000 contribution, Folds says other Fortune 500 companies followed suit.
While Out For Work hosts an annual conference in D.C. to help students begin their careers without closets, Folds says future goals for the organization include an alternative option for those who cannot afford to travel to Washington and attend the event: an online college resource center.
"What we're trying to do is build up the tools and resources on college campuses, because we realized that not everyone can't afford to come to D.C. for a conference.
"Students who are graduating now are very out and open on campus and they don't want to go back in the closet to try to find a job," he says.
"When we started this program six years ago, I firmly remember a good number of students who were like, 'My personal life has nothing to do with my work so I'm not going to share that.' I think there's been a shift on campus inclusion where now they're going into the workplace but they don't want to be closeted."
To register for Out for Work's 2010 National OUT for Work LGBTQA College Student Career Conference, Sept. 25-26, at the Washington Plaza Hotel, 10 Thomas Circle NW, visit outforwork.org. Students $45, professionals $75.
Additionally, Out for Work hosts a fundraiser reception for the organization, featuring Tim Gunn, 7-10 p.m., on Saturday, Sept. 25, at Mova, 1425 P St. NW. Tickets start at $20.