When gay-fave Margaret Cho takes to the Warner Theatre stage Friday, Oct. 29, she won't be alone. Aside from the audience, there will be one John Roberts.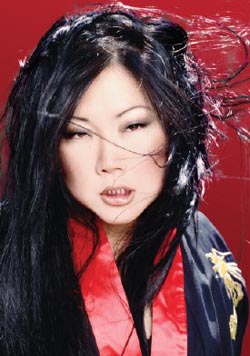 Margaret Cho
(Photo by Austin Young)
OMG – chief justice??
"That would be great," says Cho, clarifying that, no, not Chief Justice John Roberts, but gay comic John Roberts.
That's not to say Cho doesn't have some high-powered friends in Washington, as she learned in May during a visit to the White House for an event celebrating Asian American and Pacific Islander Heritage Month.
"I met the president and he was awesome," she says. "He's a fan. He told me he really loves what I do."
Cho isn't long on specifics, but denies Obama ran up to her yelling "ass master!"
Mingling with the mighty isn't just a D.C. hobby, however, as Cho recently danced with the stars on ABC, along with Bristol Palin, who – as far as Cho could tell – remained abstinent throughout.
"Bristol is really, really nice. I didn't talk to her at all about politics. She was so nice, so supportive. Very classy as a competitor."
LiveNation Presents Margaret Cho at the Warner Theatre, 513 13th St. NW, Friday, Oct. 29, at 7:30 p.m. Tickets are $28.50 to $45. Call 202-783-4000 or visit warnertheatre.com.