"Everything — everything is new," Antony Hegarty says, apprehensively, at the top of his new set Swanlights.
What's new here? Well, not everything exactly. But certainly quite a bit. For starters, this time out the gay Hegarty has created complementary art: A special edition of Swanlights includes a whopping 144-page hardbound book with Hegarty's own dreamlike and often bleak paintings, collages, photography and writing.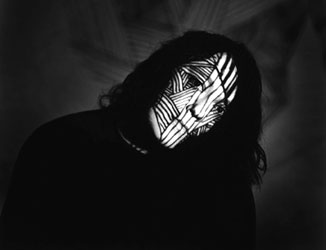 Antony & The Johnsons
Hegarty, who records using just his first name along with that of his six-piece, string-based band the Johnsons, still makes music to match his exceedingly eccentric, multi-octave, androgynous voice. But his voice is a bit bolder than before, and the mournful music is brighter, more orchestral, more classically oriented than ever. In fact, Swanlights should find special appeal with any fan of avant-garde music, especially in the classical realm. Many of the songs register like studied, secular adaptations of Colonial Protestant hymns. They develop slowly, dramatically, through layers of rich instrumentation: first piano, then cello, violin, bass, percussion, maybe a woodwind or horns, only occasionally guitar. It's so old in sound and spirit, it's new.
Even for the most adventurous pop and rock fan, however, the music remains an acquired taste. You won't take to this readily if you listen to it in the background, as you go about your everyday existence. And with a subtle contemplative core and only occasional bombast, it won't likely compel full attention from many listeners, either. Of course, those who revel in the eccentric school of pop pioneered by Björk should have no trouble. Björk even duets with Antony on the sweet but stormy "Flétta," her elastic voice offering dazzling counterpoint to his.
But more power to those who get it. Swanlights continues Hegarty's musical fascination with the natural and spiritual world, something established with the 2005 set I Am A Bird Now, which brought this New York band to fame, even earning them the esteemed British Mercury Prize (besting M.I.A. to boot). But since last year's The Crying Light, the British-born American has come around to appreciate — which is not to say admire — man-made developments, especially the human capacity to love.
He speaks of love on a couple occasions here, and his angst at the sentiment is as palpable as is his joy. After the gentle hymn "I'm In Love," which seemingly draws influence from Aaron Copeland, Antony stews over his vulnerable emotional state through the 30-second coda "Violetta" and then the anxious but lush title track. Eventually, he becomes stricken by grief with the haunting "The Spirit Was Gone." Antony defines "swanlights" as "the reflection of the light on the surface of the water at night," or "the moment when a spirit jumps out of a body and turns into a violet ghost." You know, a kind of awesome, eerie incandescence.
The ability of human love to linger past its prime seems to spook Antony the most. For example, the positively cacophonous "Ghost," featuring the London Symphony Orchestra with an arrangement by gay classical composer Nico Muhly, finds Antony in full-fledged anxiety as he metaphorically tries to rid himself of vestiges of loves passed. "Snake, snake, shed your skin," he sings. "Shed your skin and go away."
ANTONY & THE JOHNSONS
Swanlights
Secretly Canadian
$15.98




Available Oct. 12
First single "Thank You For Your Love" is a thank-you card to someone who stood by him during his darkest moments. It isn't exactly a Hallmark greeting though. The music picks up speed and his voice turns a little manic as he repeats the titular phrase at song's end, as if to ask his beloved, why so obsequious? Or at least to say enough already.
Even when Antony goes figuratively skipping through a fairy tale, the giddy wonder of it all can't last long. "Salt Silver Oxygen" gets less ethereal as it goes, building to a moody orchestral climax that is very much of the Earth.
He returns to the lyrical idea that launched the set in the album's closing track, "Christina's Farm." "Everything is new," he repeats, this time rather sweetly, tenderly, as part of a funereal hymn. The song churns up some musical drama as it goes — even at the end, Antony's not going to get happy without a struggle. But it concludes with orchestral resolution and some sense of optimism. Against all odds, he sounds ready to love again.
A notion so old, it's also new.