Facebook is either the greatest contribution to social networking or, according to Betty White, the greatest time suck ever invented. Whatever you think it is, odds are you have a profile. Or at least most of your friends do. Perhaps even your grandmother.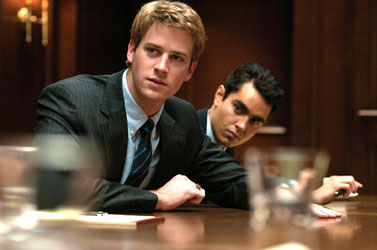 What's on your mind? Hammer and Max Minghella
(Photo by Merrick Morton)
Ben Mezrich, whose previous book Bringing Down the House about counting cards was made into the film 21, hit the jackpot this time. His book The Accidental Billionaires about the founding of Facebook has been adapted into a spectacular film that may make you reluctant to log into the site ever again.
According to The Social Network, Facebook founder Mark Zuckerberg (Jesse Eisenberg) is an asshole. And it's a pretty convincing argument. In a partly fictionalized version of the story, Harvard undergrad Zuckerberg creates a site in retribution for being dumped, allowing fellow students to rank the attractiveness of coeds against each other. This misogynistic computer exercise is just the beginning and leads to the creation of a site that allows undergrads – at Harvard only – to create public profiles that can be linked to their friends. The question is, as the site grows exponentially faster than Zuckerberg's maturity, whose brainchild was it in the beginning?
The film has all the verbal characteristics of an episode of The West Wing, unsurprising since it was penned by that show's creator, Aaron Sorkin. Dialogue fires across the table at machine-gun speed, overlapping and crisscrossing until you're leaning forward in your seat to catch every word. If Sorkin scripted the world, we'd all sound 10-times smarter than we are – and in reality that's probably just how smart Zuckerberg actually is. But to be effective, Zuckerberg doesn't just have to be smart, he has to be the biggest jackass on the planet. And Sorkin's script allows Eisenberg to be just that.
Told through a series of time jumps, from the first tentative forays into building the platform to the multiple lawsuits filed against Zuckerberg, the format raises the stakes and creates a level of tension where it might not otherwise exist. By allowing the audience to see the ramifications of each decision in tandem with the outcome, both pity and hatred are evoked. Yet it's the direction of David Fincher (Seven, Fight Club) that makes the film succeed.
Fincher ensures the first 30 minutes feels like an injection of speed. And just when the film starts to lag in the middle, he cranks up the volume and the audience is swept up in the same excitement that fueled Zuckerberg forward. Fincher doesn't let the film's mundane setting of reality prevent him from showing off his directorial accomplishments. Playing twins who sue Zuckerberg for allegedly stealing the concept, Armie Hammer fills both roles, and he is flawless. Not only does Hammer provide each brother with a distinct personality, Fincher's ability to seamlessly seat them beside one another is masterful.
In fact, the biggest beef to take with the film may be that the "nerd" quotient for each of the characters is greatly diminished. You can only make Justin Timberlake – who plays Napster founder Sean Parker – so geeky. This is the guy who brought sexy back after all.
For Eisenberg, the role of Zuckerberg is truly a break-out. All too effective as the awkward, bumbling teen he played in Adventureland and Zombieland, Eisenberg has fully stepped out of the Michael Cera shadow. Playing Zuckerberg so well not only proves his acting abilities, it demonstrates that he's no one's No. 2.
THE SOCIAL NETWORK





Starring
Jesse Eisenberg,
Justin Timberlake,
Andrew Garfield
Rated PG-13
120 Minutes
Now Playing
Area Theaters
But it's Andrew Garfield, as Zuckerberg's best friend Eduardo Saverin, who really deserves credit for providing the film a soul. Eisenberg's Zuckerberg is cold and calculating, delivering his lines with a razor-sharp tongue designed to cut. Garfield has to make Saverin, who is screwed out of the company, trusting, enthusiastic, and wronged. It's not just that Saverin is a more likeable character, but Garfield brings heart to the role. Without it, the entire story might have felt like a bunch of vapid, overeducated elitists wallowing in self-righteousness. Sorkin's script tends to the latter, but Fincher's direction pulls it back to the center.
If Saverin is the good angel on Zuckerberg's shoulder trying to steer him in a moral direction, then Timberlake's Parker is the devil on the opposing shoulder. The Napster founder represents what Zuckerberg aspires to – success that will allow him to flip off all who wronged him. The Victoria's Secret model on his arm also doesn't hurt. Timberlake is remarkably strong in his role, and carries off Parker's bravado and manipulation with great skill.
Just before the film ends — after all the betrayal and backstabbing we've witnessed — we're reminded that the basis of Facebook is friendship. It's about building a network that branches out and encompasses a wide swath of loved ones, acquaintances, colleagues, and yes, even the oxymoronic long-lost BFFs. Perhaps the most interesting question is whether you'd want Mark Zuckerberg to be your Facebook friend? Probably not.