It would be easy to read too much into the musical You're a Good Man, Charlie Brown and the fact that No Rules Theatre Company's production of the show at the H Street Playhouse opened the same week that much of our national conversation was occupied by a discussion about the fatal consequences of bullying.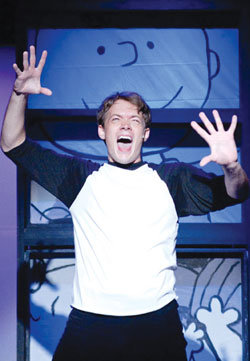 Doggy Treat: French as Snoopy
(Photo by C. Stanley Photography)
After all, the other members of the Peanuts gang didn't really bully Charlie Brown. Except, maybe, for Lucy. But Lucy bullied everyone.
And the show is hardly intended to be a meditation on what it is to feel lonely and out of place. It's a musical, after all. A lighthearted musical based on Charles Schultz's comic strips about a round-headed kid whose enemies include a football he would never kick, a dog whose popularity would always exceed his own and a kite-eating tree.
Okay, maybe there's a little bit of lonely here.
In fact, despite the conventional wisdom that says audiences go to the theater to escape, for some it will not be possible to watch You're a Good Man, Charlie Brown without just a touch of melancholy. Maybe it will strike when Charlie Brown (Augie Praley) sits down by himself on the playground to eat his peanut butter sandwich. Or when he strikes out at the baseball game. Or when his 5-cent therapy session encourages him to admit that, really, no one actually likes him. Not even Snoopy (Chris French).
Which is what makes Charlie Brown so successful as a musical. Much like the comic strip on which it was based, the musical has a habit of taking you by surprise, offering a laugh at the right moment or inspiring a collective cry of "Good Grief!," letting us feel a little bad, maybe even a little helpless as we sit in the bleachers, fingers crossed that Charlie Brown will not strike out and cause his team to lose the big game.
Also like the strip (and like some of the most successful cartoons and comic strips) Charlie Brown is something kids will enjoy even while it's clearly intended for the grownups. This is the element that No Rules has embraced and why this production is so engaging, witty and positively wonderful. They're taking all this child's play very seriously.
Consider that, before Charlie Brown, Snoopy played Hedwig in Hedwig and the Angry Inch, Lucy (Carolyn Cole) has done cabaret at The Duplex, Sally (Kristen Garaffo) was in Macbeth and Schroeder (Sean Maurice Lynch) did Passing Strange. This is, in other words, an incredibly strong cast performing on a set that is downright ingenious and with level of execution that demonstrates clear respect for the material comprising this vignette-driven musical.
A musical whose show-stopping number is a dog, literally, singing for his supper. And let's just say on that count that French earns every last kibble. Or, let's not just say that. French delivers "Suppertime" with an envy-inspiring level of energy and charisma. It's a whirlwind and a fantastic showcase for this actor who has pulled out all the stops.
Which seems to be the philosophy of the Charlie Brown ensemble: Don't hold anything back. We see it with the their performance of the beautifully crafted "Book Report," Lynch and Garaffo's performance of Sally's "My New Philosophy," Praley's "The Kite," and Cole and Joshua Morgan's (who plays Linus) "Little Known Facts."
Actually, if we're being perfectly honest, pretty much every number that Cole's Lucy is involved in takes on a particularly lovely shade. Snoopy might be the dog, but Lucy is this musical's real bitch.
So, while Lucy might still believe that it's a terrible idea to do a whole show about that blockhead Charlie Brown, No Rules Theatre Company has created something better than good at the H Street Playhouse. Their Charlie Brown is great.
Playwright Young Jean Lee wants to talk about race. Or, more accurately, she wants to scream about race. She wants to kick and punch and cut and stab and commit all manner of (simulated) atrocities in the name of talking about race.
More than anything, playwright Young Jean Lee wants to so confuse her audience, so catch them off-guard and throw them off kilter that she appears willing to do just about anything to capture their attention. And then, once she has them focused and questioning, she upends the table and sends everyone back to the beginning.
It's for all these reasons that Lee fits so wonderfully into the program of Studio Theatre's 2ndStage, and why her Songs of the Dragons Flying to Heaven feels so much at home in this city where the element most guiding the conversation about race is the consistent and willful desire to not talk about race. Not because we are so comfortable with the racial and ethnic lines that sometimes divide us, but because we struggle so mightily to assure everyone that we are.
Which is why it is shocking (particularly in this time when we are told that we are post-race) when the character known only as the Korean American (Jiehae Park) stands in front of the audience and informs them that Asian-American children will always seem to be a little retarded because they were raised by Asian parents. That they struggle to reconcile a culture that tells them to behave and be polite in a society that is not.
YOU'RE A GOOD MAN, CHARLIE BROWN





To Oct. 17
H Street Playhouse
$15-$25
202-396-2125
SONGS OF THE DRAGONS






To Oct. 24
Studio 2ndStage
$30-$35
202-332-3300
And it is this peculiar retardation that attracts some white men to Asian women. That, and the fact that some Asian women are willing to date White men no white woman would touch.
Park's Songs of the Dragons – a show that is more jagged kinetic poem than traditional narrative – plays with stereotypes at a pace that is at once furious and carefully studied. It offends intentionally and without borders, simultaneously jabbing the media images created by testosterone junkies like Quentin Tarantino and the global pop culture that has transformed both the Asian schoolgirl and the traditionally garbed Asian woman into fetish porn.
Park is a phenomenal guide for this intricate though occasionally meandering show. All of the connections are not immediately clear, and there are those moments when it feels as though Lee is testing how far she can push an audience before they abandon her altogether. But Park has fully committed to the challenge and refuses to leave a single soul behind.
Abrasive and often offensive, Songs of the Dragons Flying to Heaven dares its audience to look away. Try if you'd like, but there is very little chance that you will be able to.