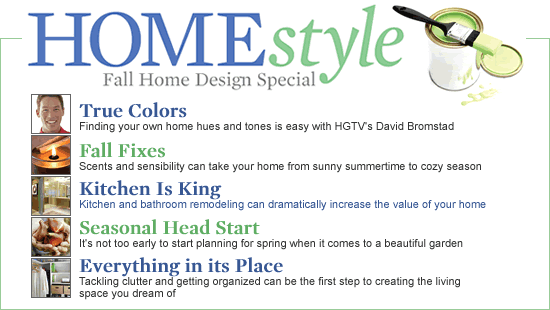 As you're looking around your home wondering how you ended up with so much stuff, you may be tempted to blame the clutter for keeping you from achieving the living space you desire.
But you'd be looking in the wrong direction.
"It's never about the things," says Scott Roewer, a man who knows a thing or two (or three) about getting organized. His company, Solutions by Scott, offers organization solutions for people looking to get their home (and professional) life together.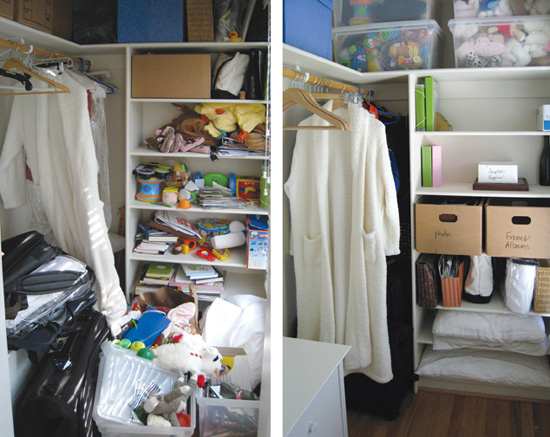 Combating clutter: Before (l) and after (r)
(Photo courtesy of Scott Roewer)
"Life situations have allowed them to accumulate the things," he says. "New home, new job, new family, that's what happens."
Finding yourself hemmed in by too many things isn't simply a function of the size of your living space. As Roewer notes, whether we live in a 500-square-foot studio apartment or a 6,000-square-foot house, "There's a rule: If you have the space, you fill it."
Naturally, there are ways to get your clutter under control. The first step, Roewer says, is to "focus on what you want your home to look like." Understand what belongings you have and be ready to get rid of the things "if you don't love it or don't use it."
He does warn not to set your expectations according to design and furniture catalogs.
"Everyone wants to have that cute home," he says, but those models are unrealistic. "In the photos, there's never cables, mail, shoes. It's staged living."
For living in the real world, Roewer offers a number of tips for getting your house in the shape you desire.
"Don't have anything in your home that you don't believe to be beautiful," he says. For people in smaller spaces, it can be especially helpful to set up such rules as "one in, on out." If you buy a set of dishes, get rid of the old ones; bring in a new pair of jeans, toss an old pair.
He also suggest "thinking vertically" when considering storage options. This can be particularly important in smaller spaces where rooms do double duty, such as the living room that doubles as a home office. Setting furniture away from walls and designating specific boundaries with area rugs can make your space both fully functional and slickly stylish.
In a desire to get themselves organized, some people attack the problem by purchasing bookshelves or installing expensive closet systems. Roewer stresses the importance of tackling clutter in the right order.
"Only buy storage solutions after you have purged and edited your belongings," he says. The system you use can be an expensive customization or shelving you pick up at Home Depot — the important thing is first making the decision about what you want to have in your home. Reduce your collections to the items that mean the most to you, borrow books and rent DVDs rather than buy, purge your wardrobe of unworn items — all are ways to get through the stuff and to the uncluttered home you desire.
As Roewer says, "Giving yourself a fresh, clean slate is good."
Find more about organizing and Scott Roewer by calling '202-249-8330 or visiting solutionsbyscott.com.