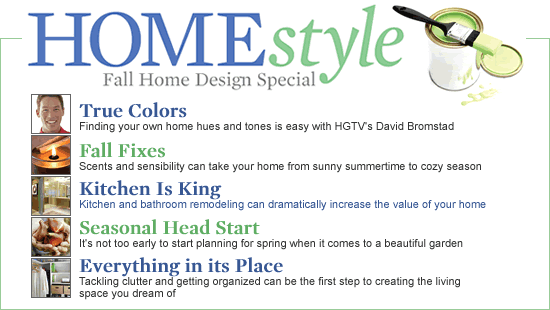 Imagine you live in Miami. It's hot in the summer. It can be pretty hot in the winter, too. And as far as seasonal variations go, it's roughly hurricane season and sun season. A lifelong Miamian might notice a bit more nuance, but that's about it.
As a result of the scant seasonal variation, tweaking a home's style to match might mean the difference between closing the storm shutters or not. Otherwise, those aqua-blues and indoor palms should be right at home year-round.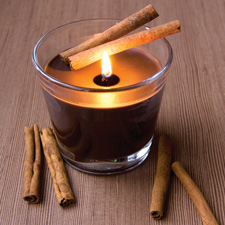 Cinnamon candle by Nadezda Sitnikova
The mid-Atlantic, however, is far from Miami. Here, there are four distinct seasons, as traditional as they come.
You might think that designer Chad Alan, a native Nebraskan, would be right at home in such a clime. Not so. As he remembers it, autumn would stick its head up only to have it chopped off.
"Nebraska autumn is very short-lived," he explains. "It goes from blasted heat to snow on Halloween. It's rough out there."
His designing peer, Gene Delgado, on the other hand grew up in ever-sunny south Florida. But after years in the District, he's certainly warmed to D.C.'s four seasons.
"We might keep a plant in the fireplace in summertime. We'll bring out the fireplace screen, the big basket for logs, little by little as it gets colder," he says of his own home. "We're all busy. As time permits, you get inspiration. As the temperatures drop, you instantly start to want that warmer, cozier feeling."
While Alan and Delgado may react to the changing seasons with differing degrees of enthusiasm, they both agree that design touches to welcome the new weather need not be grand to get the job done.
"It's not like anybody redecorates or remodels for the season," Alan says of autumn, adding that it's not until Christmas season that clients might ask him to add seasonal – albeit brief – flair to their homes. "With fall, it's the small touches. Nothing beats a nice wreath of fall foliage on the front door. It's more – I hate to say it – Martha Stewart crafty, decorative things."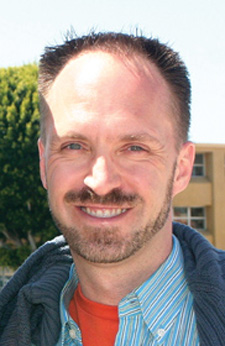 Chad Alan
And one can almost imagine Martha advising that autumnal scents are a good thing. Alan is partial to the aromas of baking cinnamon rolls himself. Both Alan and Delgado advise, however, that a spicily scented candle is a far easier route to the same effect. So it's out with the flowery scents, and in with the spices, such as cinnamon, clove and ginger.
It's also time to bring in fabrics appropriate for when the mercury drops, such as flannel sheets in the bedroom. Delgado says some of his clients will have him go a step further with fabrics.
"You could change out the throw pillows, the curtains, the slip covers," he says. "Go from easy-breezy to cozy and warm."
Delgado notes that there is a practical purpose for some autumnal embellishments around the home.
"If it makes your home a place where friends want to come and spend time – as opposed to one they want to avoid – that could affect your quality of life," he offers. "The color of the pillows, the candles in the room…. They might complement, but they're the backup singers to your life. It's all about the memories you create, the laughter, the time spent with loved ones."
For Chad Alan Designs, visit chadalandesigns.com. For Gene Delgado Interiors, visit genedelgadointeriors.com.