It's a formula that seems ridiculously easy.
You need a set with multiple doors to facilitate fast exits and unexpected entrances. You need a young couple to fall in love. You need an affair or the possibility or rumor or suspicion of an affair. You need a variety of clues, eccentric set-ups and sight gags and then a means of communicating these various items to the audience in as direct an indirect fashion as possible. Oddly one-sided phone calls are generally a safe bet.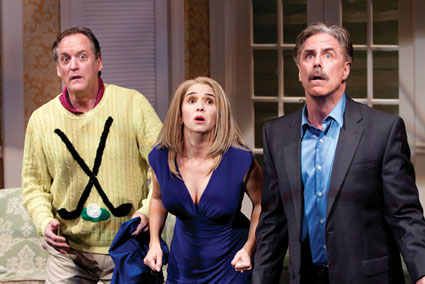 Subpar Fairway: Long, Twyford and McCarthy
(Photo by Scott Suchman)
Ring. Ring.
"What's that you say? Mr. Markleforth's cousin from Bulgaria is arriving today instead of tomorrow to meet his fiancé for the first time? And you say he does not speak English and will instantaneously fall asleep if someone says the word 'pudding' in his presence?"
These are the basic ingredients of a farce. The slamming-door-mistaken-identity-improbable-situation comedy that, like pornography, you know it when you see it.
They are entirely familiar and, more often than not, their humor springs from the creak in their quaintly dated bones. We laugh because there is something comforting about their mustiness. Or, in the case of a show like Noises Off, we laugh because it is letting us in on the day-old jokes.
This is unfortunately not the case with playwright Ken Ludwig's show A Fox on the Fairway, now having its world premiere at Signature Theatre. While it can't be said that there are no laughs to be had from this country club comedy, the overall effect is a play that is trying much too hard to squeeze new laughs out of an old joke.
As the Quail Valley and Crouching Squirrel Country Clubs square off for the annual inter-club golf tournament, Justin (Aubrey Deeker) lands a job as the assistant to Mr. Bingham (Jeff McCarthy), the quick-tempered head of Quail Valley.
This is great news because it just so happens that Justin's girlfriend Louise (Meg Steedle) also works at the club and now that they both have jobs Justin can finally ask Louise to marry him.
Ring. Ring.
"What's that you say? Mr. Bingham has made a bet on the tournament with Dickie (Andrew Long)? The head of Crouching Squirrel? And Dickie's boozy, sex obsessed ex-wife Pamela (Holly Twyford) is going to help make sure Bingham wins the bet even though Quail Valley's best golfer has switched sides? And hilarity will ensue?"
Yes. It's kind of like that.
What works with A Fox on the Fairway is entirely due to director John Rando's fantastic and ultimately underserved cast. Deeker and McCarthy play wonderfully off one another, while Long makes the most of every minute onstage. Steedle does some great things with a particularly rich though completely under-realized story thread that involves her night-school study of Greek epic poetry.
A FOX ON THE FAIRWAY


To Nov. 14
Signature Theatre
4200 Campbell Ave.
Arlington, Va.
$50-$76
703-820-9771
signature-theatre.org
And then there's Twyford, who tries very hard to breathe fresh comedy into a drunken socialite character that appears to have been directly cribbed from evening's study of Will & Grace's Karen Walker.
With neither enough spark to feel particularly contemporary nor enough winking to let the audience in on some larger, inside joke, Fox instead feels cobbled together and haphazardly crafted. As farces go, it ultimately fails.
THERE SEEMS TO be a lot more yelling these days. Whether that is a concrete fact or simply the appearance cast in a city that teeters more than most on the cliff of the partisan divide is difficult to say.
Without question, some of the emotional outrage pouring from the television talk shows and radio call-in hours seems completely justified. People fighting for the recognition of basic civil rights, for access to healthcare or the opportunity to fairly earn a living wage. These are things for which most would agree it's worth vigorously raising one's voice.
The performance troupe UNIVERSES (though that description hardly does justice to this dynamic quartet) is raising its brilliantly woven voices on these issues and many others in the heart pounding rush that is Ameriville, now playing at Bethesda's Round House Theatre. An inspiring and potent mix of gospel, spoken word, beatbox, call-and-response, monologue, video and brilliantly crafted choreography, Ameriville starts in post-Katrina New Orleans and quickly spirals out across the country.
Most striking is the ability of the piece to build a complex and nuanced argument despite the fact that, once started, the performance never slows, never stops for breath. Instead, words and motion move seamlessly into one another — the stomp of a march shifting into the rhythm of a step climbing into the stamp of a scrap of flamenco. Barbershop chatter becomes gorgeous round becomes a chilling advertisement that, for some in the audience, will feel all too familiar.
AMERIVILLE





Round House Theatre
4545 East-West Highway
Bethesda, Md.
$10-$60
240-644-1100
roundhousetheatre.org
Comprised of Steven Sapp, Mildred Ruiz-Sapp, Gamal Abdel Chasten and William Ruiz (aka "Ninja"), UNIVERSES manages the difficult task of seeming completely accessible despite their staggering talents. While one can easily picture any of them speaking just as passionately about the issues they bring to the stage over a cup of coffee, the points being raised are all the more arresting in the rich tumble that is this show.
With Ameriville, UNIVERSES shows that problems we face are problems we all face; connected through a network of roots that neither started nor stopped with Katrina. The floodwaters simply laid them all bare.