In the gay community, Halloween is like Christmas: A chance to get presents and prizes, if you dress up for the occasion. Gay bars and nightclubs go out of their way to suit customers' demands. Every bar in the area has some sort of a prized costume contest, Saturday being the most popular night. But this year, with Halloween falling on a Sunday, many are having two.
Leave it to Freddie's Beach Bar to outdo everyone else, hosting three costume contests: one Friday, Oct. 29, another Saturday, Oct. 30, during Freddie's Employee Halloween Show & Karaoke, and a third Sunday, Oct. 31 — this one specifically a Halloween Drag Show. First prize is $100 each night.
Town Danceboutique will offer cash prizes for Best Beyonce, Best Bieber, Best Group Costume and more on Friday night, with a $10 cover at 11 p.m. But its main party happens Saturday night, when the whole place becomes a Ghostown. Ed Bailey spins scary house tunes upstairs and Wess is downstairs, for the usual $12 cover after 11 p.m. Costume contest features a $1,000 grand prize and $250 second prize.
Apex hosts a contest at midnight during its Gloss ladies party Friday, Oct. 29, with a $200 cash prize. DJ Rosie spins for this Halloween Bash 2010 dance party, and the DC Kings and DC Gurly Show also perform, all for a $10 cover. The next night brings Apex's Nightmare on P Street, with DJs Gigi in the main arena and Michael Brandon in the Caliente East Wing Video Lounge, all with a $10 cover. Kristina Kelly hosts the midnight costume contest, garnering a $200 cash prize.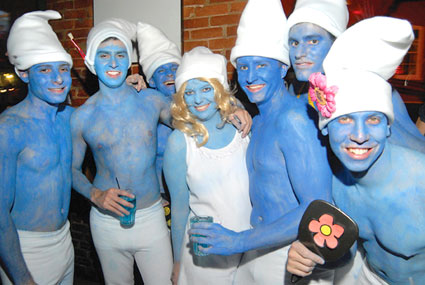 And the big girl will be busy: A half-hour before on Saturday, Oct. 30, Kelly hosts a $200 contest at Omega down the alley — the second of two back-to-back $200 costume contests at Omega. Remington's is also hosting back-to-back costume contests Friday, Oct. 29, and Saturday, Oct. 30. Sign-up is at 11:45 p.m. both nights for a chance to win a $150 cash prize.
If you think York, Pa., is too far to go for a costume contest, maybe $1,500 in cash and prizes would change your mind? Club XS will offer that during its Saturday night contest at midnight. The club also offers the very first costume contest of the weekend — tonight, Oct. 29. The reward is $750 in cash and prizes. Cover is $5 both nights for those over 21.
The Green Lantern presents its costume contest, with a grand prize of $100 in cash and bar tab, Saturday at 11 p.m. The night before, the Lantern hosts its 6th annual turn-about show, featuring employees in drag, plus a raffle and auction, all as a fundraiser for the Matthew Shepard Foundation.
Saturday night Cobalt hosts its costume contest at midnight, with a $1,000 cash prize for first place. DJs MAJR, Lemz and Mad Science spin for the party, with a $10 cover. Down the street, JR.'s hosts a contest, with a $250 cash prize, at 11:30 p.m. The question is: What will Dave Perruzza wear?
PW's Sports Bar & Grill costume contest is at 11:30 p.m. on Saturday night, also the night of its "Scaryoke finals." Frightening! Also Saturday, Latin party Fuego throws an Avatar-style party, complete with a $200 Best Avatar costume contest at 12:30 a.m. hosted by Miss Gigi Paris Couture. For a $10 cover, you also get a "drag show performance from the land of Pandora," and music by DJ Xtasis. Lace Lounge presents the "biggest all-girl Halloween party in the Northeast" Saturday, with a costume contest at 12:30 a.m. featuring prizes of champagne, gift cards and other surprises. Cover is $5 before 11 p.m. And the DC Eagle hosts its annual Leather Sabbat Night starting at 9 p.m., a night of fun and fundraising for leather lads from several leather clubs, plus a costume contest.
And then there are the clubs hosting costume contests right on All Hallows' Eve — Sunday to you and me. Baltimore's Club Hippo offers $500 for Best Overall Costume, $250 for Best Look-A-Like and $250 Best Group at midnight, with a $10 cover and tunes from DJ Kuhmeleon. Nellie's Sports Bar, meanwhile, offers $250 in cash to its contest's first place winner, plus a $100 bar tab for second place. DJ India's Euphoria DC presents a ladies party at one of the city's hottest new clubs, District Nightclub, with a midnight costume contest offering a $250 cash prize, hosted by WKYS-93.9 radio personality Jeannie Jones. Cover is $10.
Finally, there's the Sunday night "Halloqueen" contest at Ziegfield's, in which costumers can win $200 for best overall costume and $200 for "Best Act" — yes, Ella Fitzgerald and her Ladies of Illusion will share the stage to let mere amateurs, solo or in a group, entertain the crowd and go for the gold. Upstairs, Secrets hosts a Blacklight Party with DJ Steve Henderson all weekend long — since blacklight paint is the only thing anyone wants Secrets' dancers wearing.
And everyone looks better glowing in the dark.
For more info on these and other area gay bars, visit metroweekly.com/nightlife.