Can people make it through the entire process of buying or selling a home without real estate agents assisting them? Maybe.
Whether they should try is another question.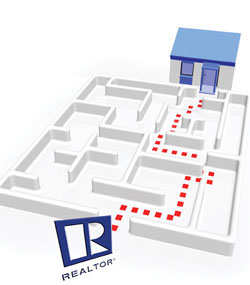 "It's not that a home buyer or seller couldn't do it themselves," says Matthew Roberts, an agent with Long & Foster Real Estate in D.C. "But just because they can doesn't mean they should."
A real estate transaction can be one of the largest financial transactions – if not the largest – in someone's life. And it's not just a big deal — it's a complex one. Financing approvals and home inspections are often involved in the process. A buyer or seller may seek to negotiate concessions from the other party. The National Association of Realtors' Code of Ethics requires agents to treat all parties honestly. Still, having representation in those discussions can save the person from "potential shortfalls," says Denny Horner, of Evers & Co. Real Estate in D.C.
"A Realtor's job is to look out for the best interests of their client," he says. "Our full-time job is to help them get through the process."
The argument for working with a real estate agent doesn't end with ensuring a level playing field in negotiations with the other party. Working with an agent can also save time, says Mark Rebstock, who bought his first home last year in Washington.
"I didn't have a whole lot of time to do the process by myself," he says. "It would have been really difficult for me as a first-time buyer."
Home buyers and sellers can choose to work either with a real estate agent or Realtor. There are licensing requirements for real estate agents, but Realtors are also members of the National Association of Realtors.
"Somebody's who's a Realtor subscribes to a certain code of ethics and certain real estate standards that are set by the association," says Bob Kenney, a Realtor with Re/Max Allegiance in Arlington.
Once a prospective home buyer or seller chooses to work with an agent, there's a matter of choosing whom to work with. Rebstock chose to work with Roberts after being introduced to him. Others may choose more extensive evaluations.
The hunt for the right agent should include reviewing references and meeting the prospective agent face-to-face, advises Horner. How the agent presents information – whether by dumping a book in front of the client or directly explaining the process and their role – is important as well. The buyer or seller, after all, is entrusting the real estate agent with a large investment.
"You want to make sure you have a good connection and get good vibes from the person," he says.
Another potential factor to consider is that real estate professionals can obtain advanced certifications, such as Certified Residential Specialist. Industry professionals can earn these designations through additional education and experience.
Prospective buyers should make sure their agents know neighborhoods, that their agents save time by effectively targeting searches, and that they themselves have received pre-approval from a lender and completed all other necessary tasks before house hunting.
Prospective sellers should make sure their real estate agent knows the area, and should inquire about online marketing.
"I'd really want to know how Internet-savvy their marketing plan is going to be and what are the different resources on the Internet that they use," says Kenney.
Prospective LGBT buyers or sellers seeking an agent's services can contact real estate professional through websites and print advertisements aimed at the LGBT community. Horner says he advertises directly to the gay community because he likes to do as much business in the community as he can.
"I know there are a lot of GLBT community members who do the same thing," he says.
Ray Gernhart, with Re/Max Allegiance in Alexandria, does about 40 percent of his business with the gay and lesbian community, for example. That's down from previous years, however, as his work for the gay community specifically filtered to mainstream friends and family.
"Most of my business now comes from referrals," he says, which, again, are key to finding a good agent.