Last year it was The Blind Side. This year it's Conviction. That feel-good, based-on-a-true-story film that allows established stars to flex their acting muscles by inhabiting someone else for a spell and proving that they can play real people, too.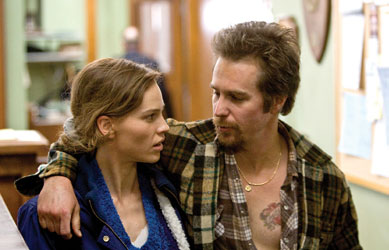 Conviction
(Photo by Ron Batzdorff)
The difference is that The Blind Side allowed Sandra Bullock to shine (and win an Oscar). Conviction, however, limits Hilary Swank, and while she gives a good performance, she's impeded by a film that prevents her from being great.
Hailing from a lower-income family and placed in foster care as children, siblings Betty Anne (Swank) and Kenny Waters (Sam Rockwell) know that there are few people in the world they can depend on besides each other. So when Kenny is arrested and convicted for murder, Betty Anne never waivers in her belief that the verdict was a miscarriage of justice. Few share her unwavering devotion to Kenny, so she has to fight for him on her own. She just has to get her undergraduate degree, her law degree, pass the bar (while running one), and raise two kids while Kenny sits in prison. Definitely material for a film that's designed to tug at the heartstrings.
Directed by Tony Goldwyn, the film hops around through time, capturing Betty Anne and Kenny's borderline juvenile delinquent antics as children, the trial and damning evidence that put Kenny behind bars, and Betty Anne's nearly two decade-long commitment to school and revealing the truth.
Key to the film's success is the stellar cast that Goldwyn has assembled. All click wonderfully. Swank, who slips into the thick Rhode Island accent flawlessly, gives a fine turn as the determined Betty Anne. Swank is primarily responsible for tracking the film's ups-and-downs over the 18 years of legal battles, and while she gives each moment her all, the film's "best of" approach to Betty Anne's story never allows her to build much momentum.
Rockwell, as the imprisoned Kenny, has a fine line to walk in portraying the convicted, but likely innocent, killer. Having run into trouble with the law for years, Kenny's an obvious suspect, and his attitude toward the police don't help his case. Rude with a short fuse when provoked, Kenny is a time bomb. However, Rockwell not only captures this side of Kenny, but also the gentler, downtrodden man who's slowly broken down by the prison system. Rockwell's ability to portray both Kenny's public and private sides gives credence to his sister's long struggle to free him.
Despite the fact that they have three of the more minor roles in the film, Melissa Leo, Minnie Driver and Juliette Lewis are truly the most memorable. Leo, as the cop who refuses to look beyond Kenny as a suspect, is the closest the film comes to painting anyone as a pure villain. Her performance is coldly calculating and chilling. Driver provides some needed moments of levity as law student who is almost larger than life. But it's Lewis who provides the performance that deserves to be buzzed about. As Roseanna Perry, an alcoholic ex-girlfriend of Kenny, Lewis's performance is at first entertaining and then heart-breaking. She could easily have turned the part into a caricature of the woman, but Lewis takes it to the next level and truly shines.
CONVICTION



Starring
Hilary Swank,
Sam Rockwell,
Juliette Lewis
Rated R
107 Minutes
Opens Oct. 22
Area Theaters
Once Betty Anne is a lawyer and struggling to find the evidence and navigate the criminal justice system, the film becomes a promotion for the Innocence Project, a nonprofit organization that uses DNA to free wrongly convicted felons. As Barry Scheck, the head of the organization, Peter Gallagher comes off as a little too slick and polished.
The time jumps are clearly necessary in telling this long tale, but while they occasionally heighten the pathos, they just as often prove to be disorienting. It's the deliberate structure and manipulation in the storytelling that causes the whole project to feel too crafted and too deliberate to be purely emotional. The filmmakers are using their heads too much, forgetting that the core of the story is the heart. Which is why, despite the strong performances, the happy ending, and the belief that justice can be found, the film still lacks the one thing that would make it better: conviction.