Discharges under the military's "Don't Ask, Don't Tell" policy will now take the approval of the service branch secretary, and only in consultation with the defense department general counsel and the undersecretary of defense for personnel and readiness, according to a pair of memoranda issued by senior military leadership on Thursday.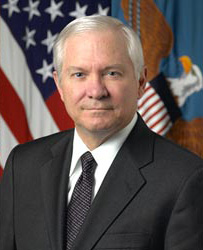 Robert Gates
Until further notice, pursuant to a memorandum from Defense Secretary Robert Gates and a follow-up memorandum from Undersecretary of Defense for Personnel and Readiness Clifford Stanley, no service member can be discharged under DADT without the "personal approval of the secretary of the military department concerned, and only in coordination with me and the General Counsel of the Department of Defense."
A senior defense department lawyer briefed reporters on Thursday afternoon about the memos, saying, "These two memos are primarily in reaction to … the temporary stay last night. We are clearly in a legally uncertain territory."
"What Secretary Gates decided to do," the official said, "was to issue this directive … that from this point forward [directs] they are the ones who will be the separation authorities … in coordination with" Stanley and General Counsel Jeh Johnson.
When asked if the "coordination" required would allow Johnson or Stanley to effectively "veto" the decision of a service secretary, the lawyer said that that is not the case. He said that the purpose of the change was "to ensure greater uniformity and care in the enforcement of the law" but noted it was "not a substantive change in the decision making" involved in the enforcement of DADT.
The lawyer also acknowledged that the standards put in place on Thursday could have been put in place when the policies and regulations for DADT enforcement were changed earlier this year. In March, Pentagon officials had raised the level of the officer who is authorized to initiate a DADT separation proceeding to a general or flag officer in the servicemember's chain of command.
Referring to U.S. District Court Judge Virginia Phillips's Oct. 12 order halting all enforcement of DADT, the official acknowledged, "We anticipated the possibility that she would issue an injunction this broad." Despite that anticipation, the military's response to the order came two and three days after the order was issued.
On Oct. 20, however, the U.S. Court of Appeals for the Ninth Circuit granted the government's request to stay enforcement of the injunction temporarily. The stay only was granted for a brief period until the court can decide whether to issue a stay that will last during the course of the case's appeal.
"In the environment we're in," the official said on Oct. 21, "we wanted the separation authority in the hands of fewer people in coordination with fewer people.
"What we are doing here … is to comply with the law and comply with the court's order as it's given to us."
The lawyer, asked about the recruitment of out gay and lesbian people for the military, said, "[T]here's nothing specific in this guidance about the recruitment situation."