In July, Kushaba Moses Mworeko, a Ugandan seeking asylum in the United States on the basis of sexual orientation, told his story to Metro Weekly. It's a story he'd been telling to varying degrees since coming to America in February for an HIV conference, largely through the organization Truth Wins Out. With TWO, Mworeko helped draw attention to the 2010 National Prayer Breakfast's invitation to David Bahati, the Ugandan parliamentarian who introduced the notorious "kill the gays" bill.
Come September, the Ugandan tabloid Red Pepper reprinted large portions of the interview and photographs of Mworeko. The Metro Weekly headline for Mworeko's cover story was "The Promised Land." Red Pepper's version ran under the headline, "This Gay Monster Raped Boys in School But Failed to Bonk Wife."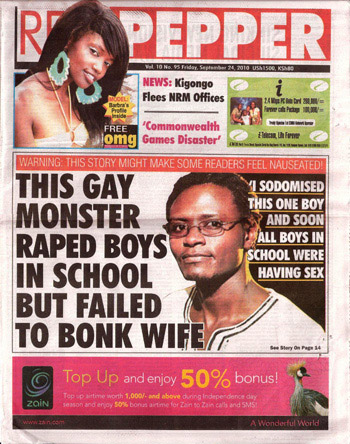 Uganda's Red Pepper uses front page to attack gay asylum seeker
Along with TWO, the blog Box Turtle Bulletin – which has long covered the situation for gays in Uganda – reported on the Red Pepper version immediately.
And TWO's Wayne Besen released a statement Sept. 28 taking Red Pepper to task. It reads, in part: "In all my years of activism, this has got to be the most disgusting, immoral, vile, smear campaign that I have ever witnessed. The Red Pepper should be immediately shut down for its libelous reporting and slimy journalism. This hit piece shows that we must redouble our efforts to stop the hate campaign that has infected Uganda and other nations in Africa. We must ensure that U.S. evangelicals stop spreading their special brand of murderous love on this continent."
Metro Weekly co-publisher Sean Bugg said it was "disturbing and sad" that Red Pepper would reprint the article without permission and present it in a way that "twists Mworeko's story to create false and dangerous outrage."
As for Mworeko himself, who has since moved from D.C. to San Francisco as his asylum request continues, this turn may not have been completely unexpected. After all, he's familiar with Red Pepper.
"I have always known Red Pepper for that kind of – how can I call it? – 'scary journalism.' They try to scare people," Mworeko said from San Francisco Sept. 28. "Of course, they go ahead and promote sexual issues. But when it comes to homosexuality, it's a different story altogether.
"People [I know in Uganda] had read the actual article from Metro Weekly, so when they saw Red Pepper they weren't so scared. It's only the people who had never read the Metro Weekly article who were scared, asking me what was going on."
To clarify the Red Pepper headline, Mworeko explained his coming-out in Metro Weekly as being caught having sex with a classmate at boarding school when he was a child – an experiment adopted by other boys in the dormitory, and one that Red Pepper sensationalized as the raping of school boys.
Bishop Rainey Cheeks, the gay founder of D.C.'s Inner Light Ministries, who housed Mworeko when he lived in D.C., says he advised Mworeko that taking his story public could lead to just such coverage. He says that when Mworeko saw the Red Pepper story, Cheeks was among the first people he phoned.
"Taa, the outrage has come!" was the way Cheeks recalls Mworeko beginning the conversation, explaining that "taa" is a phrase of respectful endearment used in Uganda, and adding that he and Mworeko speak on a nearly daily basis. "I told Moses, 'The people who know you know the truth and know that that's not you.' I just encourage him to keep telling the truth and stand on principle."
Mworeko says he's recently found more encouragement to do just that as a recipient of a 2010 Victoria Woodhull Sexual Freedom Award from the Woodhull Freedom Foundation, which he received in D.C. Sept. 23.
"This was a great surprise for me," Mworeko said. "Out of all the people who have been activists, I don't think I deserved that. I don't think I've done much more than all of those other people or groups. This was a great thing for me. This was an encouragement, something to give me courage to go on fighting for people's rights."
In a roundabout way, Red Pepper is offering Mworeko similar encouragement.
"It's good for people trying to come out," he says of the Red Pepper coverage. "It's good for such a thing to come out and have people discuss it, rather than just silence it. … I don't have any regrets. Now people have to wrestle with this. I think it's created another kind of view. If we can have people speak out, that's a good foundation."