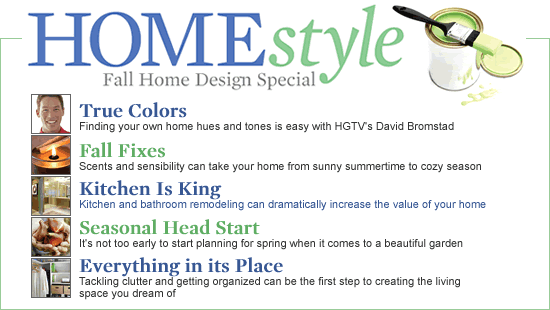 As you say goodbye to your summer garden, now is the time to prepare your plot for full bloom in the spring.
Frank Asher, a certified master gardener who operates Old City Green at the corner of 9th and N Streets NW, says mid-October is the ideal time of year to clean up, move things around, and start fresh by planting bulbs.
"This is the time of year to pull things out that you didn't like last year. This is the time of year to plant a shrub, or tree or perennial that you've never planted before," he says. It's also the time to cut back perrenials and apply compost at their base to fertilize during winter.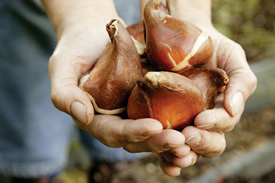 Tulip bulbs
And, while you're at it, plant your tulip bulbs. If you're having problems with squirrels digging out your bulbs before they have a chance to bloom, Asher provides a tip: "Rub your bulbs in chili powder before you bury them."
Asher adds that fall is the season to "re-envision" your garden by creating your own trend.
"What's great about gardening is that you can really create your own look," he says. "I like to have a portion of a garden that has all one color, but different textures, or different shades of a color, so you can create a spot in your garden that's monochromatic — where you would plant white tulips, white echinacea and white pansies."
And though they may have a certain autumnal attraction, steer clear of berberis and ivy, Asher warns.
"It's invasive," he says. "Ivy is also a great place for rats to hide."
For the gardenless green thumbs, GreenLOFT Design can get the ball rolling wherever you might have a bit of space, even if it's many stories above God's green earth.
"We specialize in rooftop and urban courtyard design," says GreenLOFT's Damian Chayse. "Any type of rooftop is going to be container gardens."
Chase suggests those interested in creating a rooftop garden start the design process now.
"One thing that we're stressing to people at this time of the season when most people are not really thinking about their outdoor space, is this is the best time to begin the design process."
The process can be time consuming, so a head start is a big help: "Getting that done now is really the key so that we're ready to go as soon as the weather starts to get warm and we're in that construction phase."
Asher adds that the possibilities in designing a new green space are endless.
"The most wonderful thing about gardening is that you can create your own world," he promises. "There's no one way of doing anything."
For more information about GreenLOFT Design, call 202-455-LOFT or visit greenloftdesign.com. For more on Old City Green, at the corner of 9th and N Streets NW, call 202-412-CITY or visit oldcitygreen.com.