Basketball players from across the country ­– more than 200 – will descend on Washington this weekend for Capital City Classic II, D.C.'s second biennial gay basketball tournament.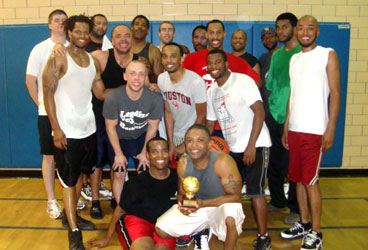 DC Sentinels
(Photo courtesy of the DC Sentinels)
The weekend of events begins at Nellie's Sports Bar with a pre-registration meet-and-greet on Thursday night, Oct. 14, and continues until the final day of the tournament on Sunday, Oct. 16, with the championship match.
The tournament is organized by the DC Sentinels, an – at the moment – all-male, all-gay basketball team. Breaking stereotypes on the court, the Sentinels welcome players of any gender or orientation.
"Most people that come to play with us usually think of us, gay people, as being soft," says Tim Francis, president of the DC Sentinels.
"But they notice that we're just as competitive as a straight team. That's why we also play in straight tournaments," he says, adding that just recently the team participated in a mainstream breast-cancer awareness tournament in Largo, Md.
The games of the Capital City Classic II tourney will play out at the Capital Sports Complex in District Heights, Md. The games will include 26 teams playing on 10 indoor courts.
But it's not all about the games. Francis says much like the first tournament in 2008, organizers have planned a series of nighttime events at local bars and clubs. Those plans include a buffet dinner for players at Cobalt on Saturday, Oct. 16.
The host hotel for the Capital City Classic II is the Carlyle Suites, at 1731 New Hampshire Ave. NW. For more info, to register, or to volunteer, visit teamdcbasketball.org.