They lurk behind their innocent facades, waiting for the moment your sense of safety lulls you into complacence. They toil and fester as they plot to launch their evil schemes on an innocent world. They are the harbingers of Halloween horror, the perpetrators of pestilence, the casters of chaos.
They are the scariest places in D.C. for gays.
From the haunted parks where gay men were once lured and tormented, to the stately town homes where international plans for a less-gay planet are hatched, these locations are guaranteed to make you shiver and shake.
So as you walk the streets on Halloween in your pumps (or sensible shoes), think twice before you knock on these doors and ask for a treat. You may get trick — and we're not talking the good kind.
"C" is for Creepy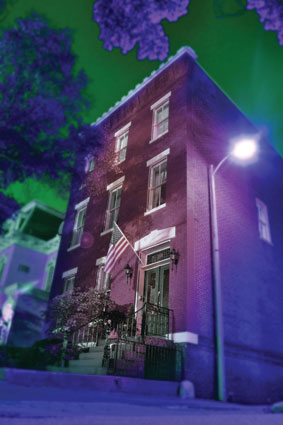 C Street house
NOTHING ABOUT the place seems quite right. Talk around it, ignore it, pretend it doesn't exist … but it's still there. And in recent years, the C Street house – run by "The Family" – won't stay out of the headlines.
The Family helps and houses many politicians opposed to LGBT families' equality at the C Street house, and has connections to Uganda's infamous "kill the gays" bill.
Although that should be scary enough, the C Street house primarily has been haunted by congressional ethics investigations and national media scrutiny because of the heterosexual dalliances in which its members have engaged.
From the recommendations Sen. John Ensign (R-Nev.) received from C Streeters like Sen. Tom Coburn (R-Okla.) about how to handle his affair with a female former staffer, to the visits Gov. Mark "Appalachian Trail" Sanford (R-S.C.) made to this haunted house, the frightening reality is that C Street houses the heavyweights of the newly emerging leaders in the Republican Party.
Jeff Sharlet, who has literally written the book on C Street, thought it would have been shut down by now.
"[W]hat kind of congressman," Sharlet wrote at The Wall Street Journal's Speakeasy blog on Sunday, "was going to tell his wife that he'd decided to keep lodging in a place that provided cover for not one but three philandering politicians?"
In this rare case, it should be noted, none of these politicians have been outed as self-loathing, gay hypocrites. But who knows what might happen in the frightening final act?
— Chris Geidner
Concerned Coven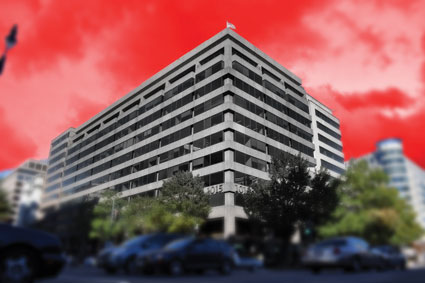 1015 K Street
FROM THE OUTSIDE, there is nothing particularly frightening about 1015 15th St. NW. Just another downtown office building. But pull back the door on suite 1100 and gird your loins – particularly your loins, as the powerful Concerned Women for America are fixated on them.
Founded by Beverly LaHaye, obedient spouse of the man who gave us the infamous "Left Behind" series that thrills the Christian Armageddon set with tales of sci-fi righteousness, the CWA is the equivalent of the LGBT community's antichrist.
From "Don't Ask, Don't Tell" and the Employment Non-Discrimination Act, to HIV and "ex-gays," the CWA is the boogeyman under your bed.
LaHaye has stirred the money pot by warning potential donors of the ghoulish gays' desire to recruit children and destroy America. "[They] want their depraved 'values' to become our children's values," she wrote, according to People for the American Way. "Homosexuals expect society to embrace their immoral way of life. Worse yet, they are looking for new recruits!"
LaHaye went further, telling Women's Touch magazine that homosexuality, among other things, is a "scheme of the devil," according to a CWA profile from the Women's Legal Defense and Education Fund – which also lists a budget of nearly $8.5 million for the group.
The final nail is the coffin is that while the CWA has railed against the Harry Potter series as satanic, Christine "I'm not a witch, really" O'Donnell once served as the group's spokesperson.
Scary stuff, indeed.
—Will O'Bryan
Hell's Own Bridesmaids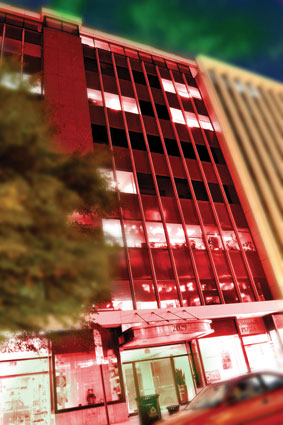 2029 K Street
IT'S NEVER REALLY over. Just when the heroine escapes on a rowboat, Jason erupts from the lake to pull her under. When the exhausted teen collapses into a victorious sleep, Freddy lunges for a final dissection. And as the ebullient gay couple finally celebrates the long struggle to cement their love through marriage, Maggie Gallagher leaps out with a snarl and an annulment.
From its downtown perch on K Street, the National Organization for Marriage wages a never-ending battle against the happiness of others. Gallagher, NOM's chairman, has crafted a career of devious efforts to block same-sex marriage under the guise of protecting children. NOM's president, Brian Brown, adopts the language of Martin Luther King Jr. to block the civil rights of LGBT people with a grin that has all the warmth of a clown toting a meat cleaver.
When not trying to hypnotize the country into believing that democracy means every person has the right to vote on how the neighbors live their lives, the dire duo of Gallagher and Brown scheme to subvert the political system by keeping their donors anonymous as they attempt to overturn every marriage equality law in the land.
NOM's acronym may sound like the offering of a tasty treat — nom, nom, nom – but you'll want to check their shiny apples for blades.
— Sean Bugg
Fortress of Fear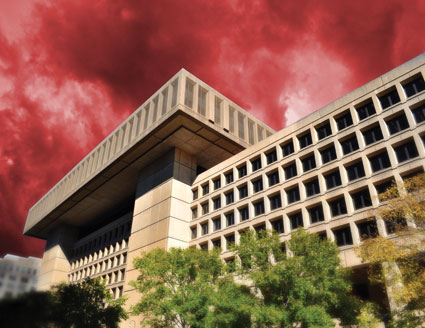 FBI's J. Edgar Hoover Building
EVEN ITS STYLE of architecture sounds scary: brutalist. The fear factor certainly doesn't end there.
Welcome to the J. Edgar Hoover Building, headquarters of the FBI.
Rumors abound that J. Edgar Hoover, first director of the FBI, and who held this position for nearly 40 years till his death in 1972, was a transvestite, was gay, or both, perhaps paving the way for the many closeted D.C. bigwigs to follow. Regardless of his orientation, Hoover had no qualms about maintaining files on others for theirs, like Rock Hudson.
The building reminds us as well of the bureau's own distinction for investigating U.S. citizens it might have regarded as rabble rousers under COINTELPRO, or Counter Intelligence Program. That meant anti-war demonstrators, civil-rights activists, and – cue scary music – The Gays.
Butch Merritt, with his boxes of heavily redacted files lending validity to his claims, says the FBI indirectly drafted him to spy on gay-rights activists in D.C. as part of COINTELPRO. A day's work, he says, might include swiping a gay-rights petition so that the FBI could include those names among its undesirables.
If you really want to be frightened by Hoover's namesake building, pick a quiet time and stand on the sidewalk perimeter of the fortress's breezeways – not drawing too much attention, of course. They say that during a full moon, that clicking sound you may hear echoing is Big Brother Edgar taking a ghostly stroll. In pumps.

— Will O'Bryan
The Horror on New Hampshire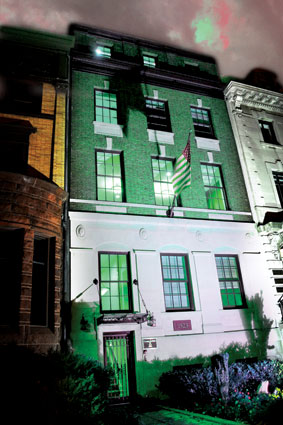 Cooper & Kirk PLLC
ON MARCH 9, same-sex couples in Washington began legal wedding ceremonies – with some of the first taking place, as expected, in the area in and around Dupont Circle. What many don't know is that one of the men trying to devise the spell to keep same-sex couples across the country from marrying does so from a Dupont Circle laboratory – er, office.
Charles Cooper, of Cooper & Kirk PLLC, is the lead attorney for the proponents of Proposition 8 in Perry v. Schwarzenegger, the case challenging California's marriage amendment.
Lurking just a block from Dupont Circle in his New Hampshire Avenue office, he bubbled, toiled and troubled to craft the words to keep U.S. District Judge Vaughn Walker from striking down Proposition 8.
"Why has marriage been so universally defined by virtually all societies at all times in human history as an exclusively opposite-sex institution?" he asked the judge in June. "It is because marriage serves a societal purpose, fundamental to the very existence and survival of the human race."
Whether or not the human race is indeed doomed remains to be seen, though Walker certainly did not fall under "Harry" Cooper's spell.

— Chris Geidner
Bathroom Goes "Boo!"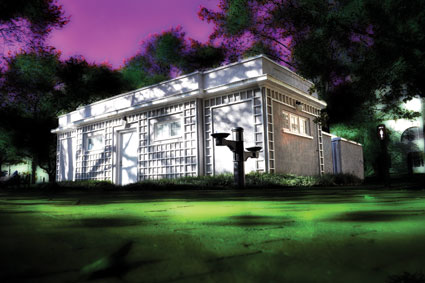 Lafayette Park restroom
LAFAYETTE PARK could make the list of D.C.'s scariest places for the adjacent Decatur House alone. After all, this 19th century patriot, Stephen Decatur, is said to haunt his former home. It's also been suggested he was gay, so that dispels some of the fright.
But this park across from the White House has also been the site of a slave market and a graveyard. It's definitely home to some foul energy.
The distinction from a "ghoulish for gays" perspective, however, is due to the park's public facilities, where in the past scores of gay men seeking out one another could be arrested. No doubt, many gay men's lives were destroyed in the Lafayette Park men's room.
Then again, this is a horror story with a somewhat happy ending, thanks to gay-rights pioneer Frank Kameny.
"When I came to Washington [in 1956], Lafayette Park was the prime, outdoor cruising spot in this city," Kameny recalled in a 2006 interview with Metro Weekly. The park's men's room featured a two-way mirror, offering police sitting on the other side a prime perch to bust gay men making contact in that painfully oppressive era. But Kameny is a handy man, not to mention fearless. He measured the two-way mirror one day when the anteroom was apparently empty, went home and cut plywood to those measurements, and returned to hammer the wood over the mirror.
"Bang, bang, bang, it was done. I don't know how long it stayed there, but for a while that mirror wasn't functional anymore." – Will O'Bryan
The Wicked Witch of the House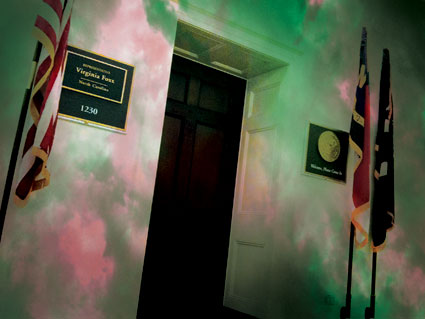 Virginia Foxx's office
IT WAS EARLY 2009 when Rep. Virginia Foxx (R-N.C.) told the House of Representatives that the "hate crimes bill was named for [Matthew Shepard], but it's really a hoax that that continues to be used as an excuse for passing these bills."
By comparison, "I'll get you and your little dog, too," seems practically neighborly.
And it was enough to earn Foxx – who stirs her brews in her warren in the Longworth House Office Building – a permanent place as the heir to the infamy once held by another North Carolinian, the late Republican Sen. Jesse Helms.
That wasn't Foxx's beginning, however, and it won't likely be her end – unless Billy Kennedy, her Democratic challenger for the 5th District congressional seat, defeats her next week.
The Winston-Salem Journal tried to throw some water on Foxx's chances, endorsing Kennedy because Foxx "has angered and embarrassed many with her sometimes wild statements that seem designed to provoke."
An unexpected win from Kennedy next week could make Foxx disappear and lead her to say one of Dorothy's lines come January: "I've a feeling we're not in Longworth anymore."
For now, however, it's best to steer clear of her haunted hall on Capitol Hill.

— Chris Geidner