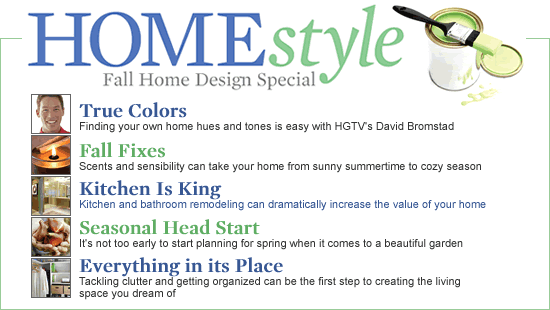 Whatever you do, don't ask David Bromstad to name his favorite color.
"Impossible!" he exclaims. "That's such an unfair question!"
Who said life was fair, David? Now, answer the question, please. What is your favorite color?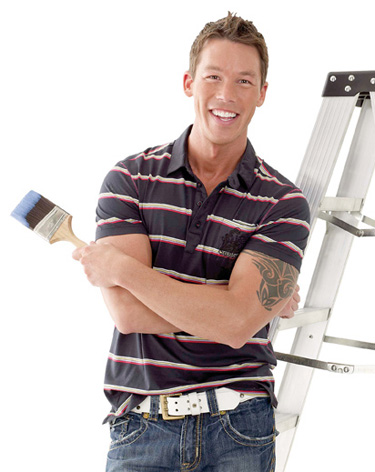 David Bromstad
"I love…"
Wait, wait! Before we get to that colorful revelation, it's possible an introduction is necessary — at least for those of you who haven't as yet been smitten by the energetic, engaging, adorable-as-a-(very muscular)-kitten interior designer, those of you who haven't yet experienced the rod-and-cone-stimulating wonders of his home-makeover shows on HGTV, Color Splash and the newer Color Splash: Miami.
The 37-year-old Minnesotan entered the American cultural landscape as so many these days do — through the ever-expanding portal of cable television. In 2006, Bromstad won the debut season of HGTV Design Star. The trophy: his own television show, Color Splash with David Bromstad, which first aired in March of 2007 and quickly became one of the network's tent-pole hits. Every episode, Bromstad enters a home in need of a color overhaul. He and his team work their magic with a few gallons of paint, a bit of construction, and revamped furnishings, and — voila! — homes are transformed from drab to fab.
It's the kind of show you watch and think, "Why doesn't this Prince Charming of Hues trot his HGTV steed into my blah little castle and splash a few royal purples and lime greens my way?" (Well, he might have had you lived in San Francisco, the setting for the first Color Splash, or, more recently, Miami.)
Still, you can learn what to do with a color-challenged room by watching Bromstad at work on his show. For that matter, you can learn a lot more by asking him directly.
"There are no guidelines [when choosing colors for your home]," offers Bromstad, "because it's like food. How do you choose the perfect chicken dish to make for yourself? [Color] is very similar." He points out, however, that while you might encounter a bad recipe one time and simply move on, you'd best be cautious about the color choices for your home, as you'll be living with them for a good long while.
He suggests starting with white walls.
"It's easier and safest," he says, noting that "there are not a lot of rooms I paint bright colors. You'll see a few I've done here in Miami where I've painted the walls all bright colors, but then we need to tone it down with neutral furniture.
"But if you're a novice or just getting into the world of design, pick a nice, neutral color. People think white is boring but it's my favorite color to put into rooms because every piece of furniture, every pillow added later is going to be shown in their true form. White doesn't limit you. It's what you put around and on it that makes the difference."
The neutrality of white makes it a safe choice for psychological reasons as well as aesthetic ones.
"Every color has a dual personality," says Bromstad. "It all depends on the shade and the hue."
Blue, for instance, can trigger feelings of despondency ("feelin' blue") but "it's also the most relaxing color." Yellow, says Bromstad, "is a great color, but there are certain shades that make babies cry and make people fight, so it's tricky."
And red?
"Hot, spicy, delicious and lusty," he says, adding, "but it also represents hatred."
Which is why color choices should be made carefully.
"It's important for people to pay attention to what colors they put in," says Bromstad. "If they love a color and they're drawn to it, it's going to bring out the positive. But you have to pay attention to what other people [living with you] feel as well. It could impact them negatively."
If white isn't your thing, your next best bet is gray.
"You can't mess up gray because every color goes with gray. Black goes with gray, brown goes with gray, orange, green — there's not one color that doesn't go with gray. Gray goes with gray. Gray's my go-to color."
There are some tricks to achieving the right results. "It's really all about preparing," Bromstad says. "It's about taking color swatches home. I never pick colors at the paint store — ever. I bring them home, look at them on my wall, compare them with other colors, compare them with my couch color.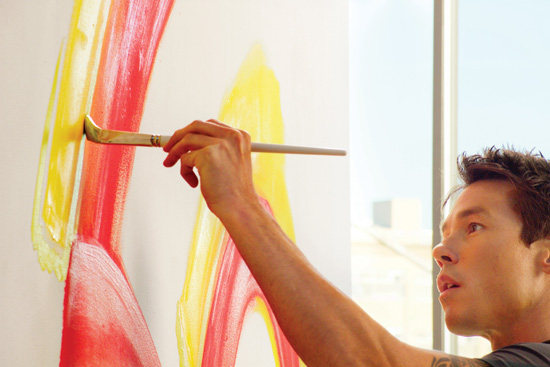 "You also have to take into account the lighting of a room," he continues. "It's a very different environment in a store — they have fluorescent lights and they want to make those colors glow. They want them to look bright and gorgeous and that's why everyone picks the brightest colors [when shopping in a paint store]. Then they bring it home, put it on their walls and start crying because it's way too bright."
Despite his field of expertise, Bromstad doesn't think of himself as a color trendsetter.
"There are professionals traveling around the world, looking at trends on the streets, looking at the environment, looking at what's happening with the economy. They see what's going on, and they pick colors depending on what's happening in the world.
"I would love to say I'm a color trendsetter," he continues, "but I'm not. I help people use trendy colors in great ways, but I could not predict three years [from now] what the new color trends are going to be because that's not my profession. My profession is to … help my viewer use those trendy colors in a timeless way."
The designer — whose career arch took him from Disney illustrator to a creator of children's fantasy rooms — feels that while some people can learn how to match colors, for others, it's a natural instinct.
"I know how to match colors because I'm an artist and I've dealt with the color palette," he says. "I was taught a lot about color theory [at the Ringling College of Art and Design] and how to match colors, but it also always came natural for me."
Currently, Bromstad serves as spokesperson for Mythic Paint, a brand that touts itself as a "stronger, safer, smarter paint." Says Bromstad, with his patented enthusiasm: "Mythic paints are nontoxic and 100 percent VOC free!"
(Wikipedia defines VOCs — or volatile organic compounds — as "organic chemical compounds which have significant vapor pressures and which can affect the environment and human health…. VOCs are typically not acutely toxic but have chronic effects. Because the concentrations are usually low and the symptoms slow to develop, analysis of VOCs and their effects is a demanding area.")
Bromstad got behind Mythic because the company "started making paint like paint never existed. They didn't take a paint formula and try to rework it. They decided to make a paint product that is zero toxin and is fabulous for the earth."
Still, he likely wouldn't begrudge someone for choosing a different brand — and many of the other well-known paint manufacturers have developed (or are now developing) toxin-free varieties of their paints. It's essential to go for a toxin-free brand, says Bromstad, because "we're in our homes the majority of the time, and what we put on the walls…affects us on a daily basis.
"If you're in your house for 25 or 30 years," he says, "it can affect you not in the short run, but over the long run."
One of the more remarkable aspects of Bromstad's Color Splash is that not once do any of the families he interacts with show even a hint of alarm over the fact that he is — how best to put this? — explicitly gay. They embrace his arrival at their doorstep with the kind of adoration generally reserved for a cherished, gift-bearing uncle, or the Publisher's Clearinghouse Man.
"Let's be real about it," says Bromstad, when asked if he ever encountered any off-camera homophobia. "I was in San Francisco — it's the gayest place on earth. If I was in Kentucky during my first series, I think I would have met a lot more resistance."
Of course, there's the stereotype of interior designers — along with hairdressers, choreographers, male dancers, poodle-groomers — as being professions that attract gay men.
"I think people are more surprised if they find out their hairdresser is straight," he laughs. "Which my hairdresser is. He is very, very straight, but he looks and dresses gay. But I think with designers, too, everyone expects the guy to be gay."
However, just because you're a gay man doesn't automatically give you an eye for design.
"I have many gay friends who are awful at design. They can't decorate themselves out of a hole to save their lives," he says. "But I do think gay people appreciate good design more than most."
Bromstad hopes to eventually branch out and move into commercial properties. "I love doing interior design for home owners but I just want to bring it into an incredible grand scale — hotels, condos, casinos. And I'd love to have a product line come out — bedding and bath, wallpaper, furniture, rugs, anything you put in your home, on your home, around your home, I'd love to have my name on it. That's my ultimate goal."
And so, we're back to where we began. The "unfair question" of what exactly is David Bromstad's favorite color?
"I love every color," he exults. "Every color turns me on, every color makes me excited."
Well, maybe not every color. It turns out there is a color David Bromstad could live without.
"Fleshy tan — a kind of beige color that looks like you've put someone's skin on the wall. That's my least favorite color — probably because I've made the most mistakes with that color."
Still, the upbeat Bromstad refuses to stay negative for too long.
"There is just no bad color," he concludes. "Just bad color combinations."
David Bromstad will give an interactive, 90-minute presentation on color and decorating at three Strosniders Hardware stores on Saturday, Oct. 23.' He'll be at Strosniders Bethesda, 6930 Arlington Road, at 9 a.m.; Strosniders Silver Spring, 815 Wayne Ave., at noon; and Strosniders Potomac, 10110 River Road, at 3 p.m. The events are free but tickets are required. Visit strosniders.com/bromstadticket.
New episodes of Color Splash: Miami air Saturdays at 10 p.m. on HGTV. Check your local cable provider. Episodes of both Color Splash and Color Splash: Miami are available at HGTV.com.