Miryam Kabakov's new anthology features first-person narratives from queer Orthodox Jewish women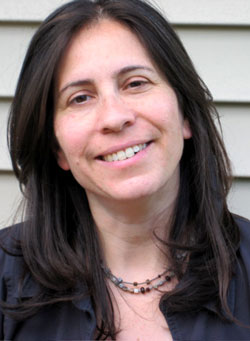 Miryam Kabakov
In his writings, the influential 12th century Jewish philosopher Maimonides speaks of a group of women. He tells men in his community, "You shouldn't let your wives go in to visit with them, and you shouldn't let them go visit your wives." In other words, stay away from non-heterosexual women.
"I was ecstatic to read that," says Miryam Kabakov, a queer Jewish scholar. "This was the first time where I found myself in ancient texts and rabbinic texts. Wow, there's a Jewish law that actually applies [to me]," she remembers thinking.
Though it is an admonition, the sheer fact of recognition is what's most important, reasons Kabakov. "[Maimonides] is actually acknowledging [queer women] as a community and as a force, and as sort of an identity. Which is more than a lot of rabbis do today."
Maimonides's admonition gives life to the title of the new anthology, Keep Your Wives Away From Them: Orthodox Women, Unorthodox Desires. Edited by Kabakov, the book is a collection of first-person narratives.
"I knew there were a lot of LGBTQ Orthodox and traditional [Jewish] women who had a lot to say and haven't really had a chance to have their voices be heard," she says. Kabakov and two other contributors to the book will participate in a reading and discussion Wednesday, Oct. 20, as part of D.C.'s Jewish Literary Festival.
"I really want the reading to be a place where other Orthodox LGBTQ women find each other," says Kabakov, who calls herself "traditionally observant" but prefers "post-Orthodox."
The book is intended as a steppingstone for a larger project on the subject. "It's joyous to be a traditional Jew and it's joyous to be gay or lesbian," says Kabakov. "And the two intersecting makes for even more joy." —Doug Rule
Miryam Kabakov's reading takes place Wednesday, Oct. 20, at 7:30 p.m. at D.C.'s Jewish Community Center, 1529 16th St. NW. Tickets are $11. Call 202-777-3251 or visit washingtondcjcc.org/litfest.