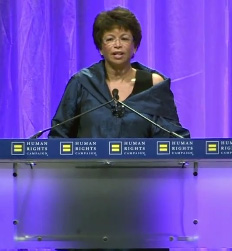 Valerie Jarrett at 2010 HRC National Dinner
(Photo by Aram Vartian)
Valerie Jarrett, senior advisor and assistant to the president for intergovernmental affairs and public engagement, addressed the nearly 3,000 attendees of the 14th annual Human Rights Campaign National Dinner on Saturday night, Oct. 9, at the Washington, D.C. convention center.
Jarrett, who mentioned the repeal of the Defense of Marriage Act and the end of "Don't Ask, Don't Tell," focused on bullying, highlighting the recent suicides of young people harassed because of their real or perceived sexual orientation, gender identity or gender nonconformity. "No young person," she said, "should have to endure a life of relentless taunts and harassment, just because they're gay."
Introduced by HRC president Joe Solmonese, Jarrett noted that she had met earlier in the evening with the mother and brother of Justin Aaberg, who was 15 years old and committed suicide recently after being harassed following coming out at age 13 as gay.