Manny Lehman. Aubrey. Reg. Cryogenic freeze.
"There are a lot of things that people think of when they think of Nation, but nobody thinks of just one single, same thing," says Ed Bailey.
As much as anything else, it's the many people you met at the storied Southeast D.C. nightclub, demolished several years ago, that really take you back. And those people will be the key to the success of the first-ever Nation Reunion Party at Town Danceboutique this Saturday, Oct. 16.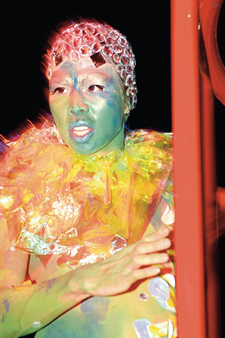 Aubrey
(Photo by Henry Lisner )
"I'm hoping people come out to this much like they might to a family reunion," says Town's Bailey, who was also responsible for Nation's gay Saturday night party, Velvet. "See some people they haven't seen in a long time. Share some stories. Laugh about how we all are a little bit older."
"I'm hoping to see a lot of faces I haven't seen in a long time," agrees Aubrey, the gender-bending performance artist whose fierce, wildly energetic shows were a staple of the club's early years.
Aubrey will also perform — and he's understandably nervous about that prospect.
"I haven't been in heels for so long!" he says — not since Nation's closing party in July of 2006, in fact. And even that was Aubrey's first performance since retiring three years prior. In the intervening years, Aubrey, 30, has moved to and from New York, working first as a makeup and cosmetic artist and more recently as a marketing and public relations consultant. He moved back to D.C. earlier this year to be closer to his family in Alexandria.
"When I said I'm not doing it anymore, I gave absolutely everything away," he says. So he's feverishly working to figure out what costume he'll wear for the reunion, not to mention selecting his performance number — or as he jokingly calls it, "a song from my rolodex." Ever the perfectionist, Aubrey says, "I hope I don't disappoint anyone's nostalgia of that time. As I told a friend, this is Aubrey Version 2.retired."
Drag queen Vita Opulence, who currently lives in West Virginia, will also return to perform, along with the X-Faction dance troupe. The reunion will feature music from Velvet veteran DJs Manny Lehman and Wess. Bailey has instructed both to spin "their best sets of Nation music."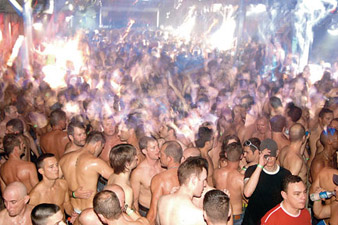 Velvet
(Photo by Henry Lisner)
There will also be a little of that cool fog that enveloped Nation's dance floor at key moments. "We do have a little cryo system," says Bailey. But like the night in general, the cryogenic freeze will be used more in homage, not as a recreation of the experience at Nation, with its more elaborate system.
The Miami-based duo RKM is shipping up decor used at various times at Velvet for the reunion. Sadly, all of the club's permanent fixtures and furnishing are long gone. But Bailey is developing a slide show of images to be projected on the walls. These include fliers and photos — some of which appeared in Metro Weekly's pages — from various Velvet events.
Bailey has also invited back Reg, one of the venue's most cherished bartenders. He was certainly the most unforgettable — the gregarious guy usually in a prime spot right off the main dance floor. Surprisingly, Reg hasn't tended bar since Nation's closing. Many other Nation employees will be there for the reunion, too: Nearly half of Town's present-day staff — a dozen employees — used to work at the mega-club.
"Nation has a little bit of its own folklore now — as anything does, years later," says Bailey. "But for everyone who was there, it really was a very special time."
The Nation Reunion Party is Saturday, Oct. 16, at Town Danceboutique, 2009 8th St. NW. Cover is $12. Call 202-234-TOWN or visit towndc.com.